This reality TV show is beneath Ozzy Osbourne
Ozzy is not too keen on this popular reality show...
In his many years as an entertainer, Ozzy Osbourne has done some pretty crazy things. For instance, he did a striptease at a restaurant while on his Blizzard of Ozz festival in Germany. On another occasion, the singer gave an air hostess four grams of cocaine that he was carrying on the plane. The stewardess received it with much gratitude and even snorted some of it while she was on duty.
And much before he found stardom, he covered his nose with indelible purple paint during one of his concerts with Earth. Unfortunately, the paint didn't wear off for weeks and he got to fulfill his lifelong ambition of looking like a clown. But if there's one life experience he'd rather miss, it is appearing on a certain reality TV show.
This show has given many celebrities a lot of fame. After all, Kim Kardashian appeared on it. Her brother Rob also made an appearance. Several other celebrities have graced its stage. Yes, we're talking about ABC's Dancing with the Stars. This TV show makes for good reality television and is one of the most-watched series on network TV. However, Ozzy said he would give it a miss.
The 68-year-old singer, who appears in his latest reality TV show, Ozzy and Jack's World Detour on History Channel, told US Weekly that he doesn't mind having another stint on reality TV but wouldn't compete on Dancing with the Stars.
"If it's something interesting then I'll give it some serious consideration, but it's not anything I'm seeking out. One thing I will say is I won't be doing Dancing With the Stars," Ozzy said.
In 2002, Ozzy and his family starred in a TV show that centered around their lives. It was aptly titled The Osbournes and even received a Primetime Emmy award. In many ways, the show paved the way for the Kardashians to jump on the reality TV wagon and star in a show that chronicles their life.
The Osbournes ran for four seasons on MTV and entertained audiences with episodes from their life, which included rebellious teenagers, a slightly slurring patriarch and a rock and roll manager who was also the matriarch of the family. America fell in love with Ozzy and his wife and they reigned reality TV for a while before other stars were born. But would Ozzy return to TV with his wife?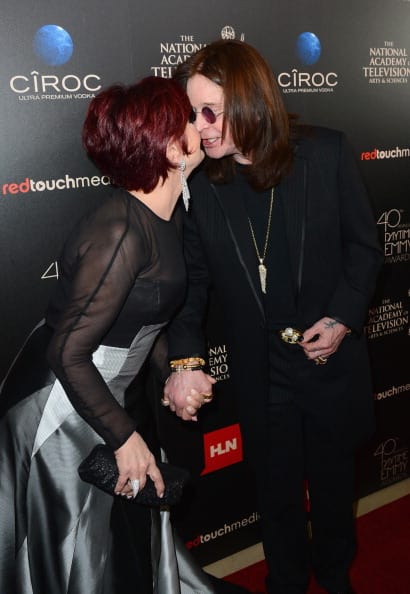 "It all depends on the quality of the show. My wife is great on TV so it would be easy," he told US Weekly. His current TV show, Ozzy, and Jack's World Detour captures the father-son duo's journey across America and is wildly different and perhaps aims to target men who want to take a crazy road trip with their buddies. As part of their bizarre journey, they've come across several colorful characters, including David Turner, a truck driver who kept saying he has a "need for speed."
"His entire property was full of trucks and cars in need of repair. David's day job is hauling dirt and digging holes and he got me behind the wheel of an earth mover which I had the best time doing even though I almost tipped it over," Ozzy said, adding that the physical distance and crazy experiences don't make him forget his wife.
"There's not a day that's gone by in 36 years that I haven't seen or spoken to Sharon. I love and adore her." Awh. Someone give them a reality TV show already!
If you have any views or stories that you would like to share with us, drop us an email at writetous@meawwworld.com