The #MeToo movement is just the tip of the larger problem that exists in our society
The #MeToo movement, which began in the wake of the Harvey Weinstein scandal, has grown, evolved and has now become a many-headed hydra that includes everyone's stories of sexual harassment and consent.
In the past few months, conversations among girlfriends, discussions on dates and even talks at business forums have centered around a feminist movement that's titled itself as #MeToo. In many ways, it feels like a new wave of feminism has arrived. 
The #MeToo movement, which began in the wake of the Harvey Weinstein scandal, has grown, evolved and has now become a many-headed hydra that includes everyone's stories of sexual harassment, some of which took place in the workplace, some in public spaces, and some on dates. Perhaps that's why women like Grace, a 23-year-old photographer from New York, could share her horrifying experience with Golden Globe winner Aziz Ansari.
Grace consented to go out on a date with the Master of None actor one night in September 2016; however, she found herself having an out-of-body experience as he rushed her through dinner, took her home and undressed her almost immediately, all the time failing to ask if she was comfortable.
In her account to Babe's journalist Katie Way, Grace said she was asked several times, "where do you want me to f--- you?" A question she was uncomfortable to answer and made it clear with verbal and non-verbal cues. The photographer, who hoped he would stop after she said, "I don't want to feel forced because then I'll hate you, and I'd rather not hate you," found herself having to respond to his request for a blowjob even after asking him to stop.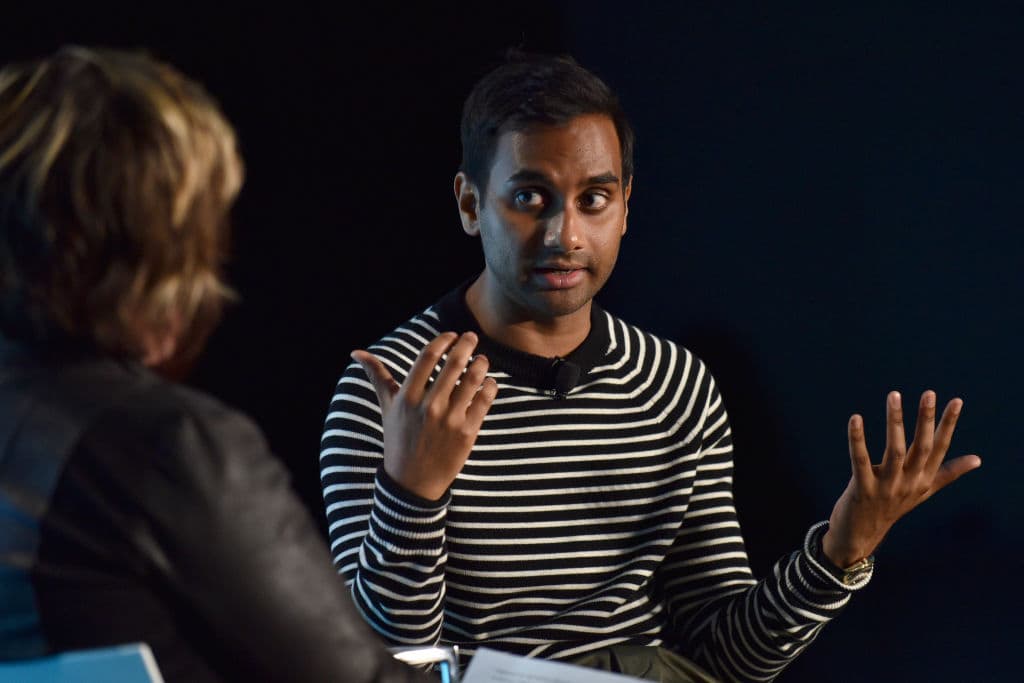 In the days after Grace's story made it's way to the internet, many noted that her account of the events didn't resonate with what's widely considered as sexual harassment. Many argued that the 23-year-old photographer derailed the #MeToo movement. Why? Because they didn't view Aziz's moves as coercion; instead, they defined it as a date gone wrong.
---
I looked up the Aziz Ansari ordeal and I gotta say: it dont make any sense why she was uncomfortable and still sucking dick like she had to. She didnt voice how uncomfortable she was until AFTER the fact. Twitter made it seem like this girl was held against her will.

— pocahot tits (@divingin3feet) January 22, 2018
---
---
Aziz Ansari received no applause and skips the SAG Awards amid sexual misconduct controversy. It's a shame this poor guy's reputation is being ruined because a woman went on a bad date and is now looking for a pay day. Everyone wants to be a victim and have a #MeToo story.

— Conservative Gay Guy (@ConservGayGuy) January 22, 2018
---
In her Op-Ed piece for the New York Times, Bari Weiss said the actor is guilty not of harassing her but of not being a mind reader. She wrote, "There is a useful term for what this woman experienced on her night with Mr. Ansari. It's called "bad sex." It sucks." In the same article, however, she wrote that she too experienced similar experiences on dates, remained silent and grew frustrated.
Her solution to Grace's encounter lied in being more vocal. "It's to say, "This is what turns me on." It's to say, "I don't want to do that." And, yes, sometimes it means saying goodbye," she wrote.
However, giving and withdrawing consent during a sexual encounter is greyer and much more complex than what the New York Times article argues. More often than not, a person tends to freeze when they feel harassed. Their body shuts down, shock takes over and words are exchanged only after one has internalized the full experience. In cases like Grace, who consented to go out on a date for whom she felt a certain attraction for, the shock must have been far worse. 
---
Be slow to judge how someone responds to assault. "You probably have heard of fight or flight, but mammals go into an automatic freeze state when they perceive the enemy to be so dangerous that neither fighting nor fleeing will be successful." #hertoo https://t.co/yWRtdXWmgX

— MelissaSchuman (@MelissaSchuman) January 22, 2018
---
---
This 7-year-old marcher is out with her parents. Her mom said that the Aziz Ansari story stirred up a lot for her and made her realize that, bad date or not, no woman should be put in that position. "We need change." #WomensMarch2018 #WomensMarchNYC #WomensMarch pic.twitter.com/sAmiG2KB3v

— Emma Gray (@emmaladyrose) January 20, 2018
---
---
"The Ansari story is, at its heart, about how this culture is so profoundly enabling of sexual violation that it comes to seem "normal." Statistically speaking, it probably even is. But it doesn't have to be." (that's me, sounding off at @voxdotcom) https://t.co/ohEqhAU4hC #metoo

— Jaclyn Friedman❄️ (@jaclynf) January 19, 2018
---
To be honest, Grace is just one of thousands of women who've had to ward off men who've coerced and mistaken a no as an opportunity to use their powers of persuasion. 
If there's a glaring truth that arises from Grace's encounter with Aziz, it is this: men feel entitled to sex if a woman responds to their flirtation or wears a sexy outfit on a date. In other words, men feel that women are "asking for it."
Aziz's apologists have inadvertently victim shamed the woman who felt violated and trapped by a man who advanced with the presumption that his sexual advances would pleasure her. And there lies the larger problem: men feel like they are the initiators of sex, that they only have to use their charm or power to end a date in their bed, that women will play coy during the entire dance.
Grace's encounter, which many believe doesn't have a place in the #Metoo movement, only exposes men's attitude towards sexual consent, privilege and power. The #Metoo has given women a space to voice their stories but the subtext is clear in their stories: we live in a culture which allows men to feel entitled.
If you have any views or stories that you would like to share with us, drop us an email at writetous@meawwworld.com