Did Prince William accidentally reveal that Kate is due as soon as March?!
Kensington Palace has been extremely secretive about Kate's pregnancy. The Palace's communications office has only revealed that the Duchess of Cambridge is pregnant with her third child and that she's experiencing a bad bout of Hyperemesis Gravidarum, otherwise known as acute morning sickness.
The 35-year-old mother of two even missed her son, Prince George's first day of school as a result of this medical condition for which there is no cure. She's not kept any of her official engagements since.
In her absence, Prince William has been representing the Crown and during a recent official engagement, he accidentally let slip how far along Kate is. The British royal has so far been tight-lipped about his wife's pregnancy, but gave us plenty to speculate about as to when the baby may be born.
While speaking to an audience member at the National Mental Health and Policing conference in Oxford, the future King of England said, "Thank you, it's very good news. There's not much sleep going on at the moment," and added that they were anxious at the start of her pregnancy, but they can finally start celebrating this week. Wait! Does this mean that she's finally past the first 12 weeks of her pregnancy that usually presents all kinds of complications?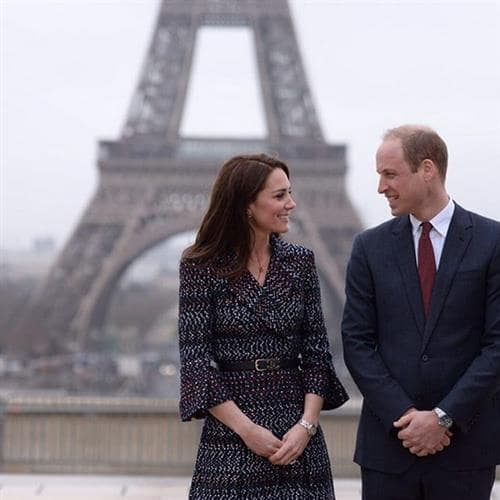 Generally speaking, couples refrain from speaking about their pregnancy until the first trimester. Women go through marked emotional changes in the first 12 weeks of their pregnancy. It's also the time when Hyperemesis Gravidarum is said to be most severe.
In most cases, the symptoms go away after the first trimester and we certainly hope the Duchess of Cambridge is no longer suffering from an acute bout of nausea anymore.
If Kate is indeed past the first 12 weeks of pregnancy, she could give birth to her third baby in March. According to royal observers, the couple must have conceived their third child during Wimbledon. Incidentally, that's also when Kate received a baby present during the couple's royal tour of Poland. At the time, she turned to her husband and said, "We'll just have to have more babies."
According to Daily Mail, the Duchess has reportedly opted to give birth to her third child at home. The news outlet claimed that she's opted for the comfort of her home instead of the Lindo Wing at St. Mary's Hospital in London.
If Middleton's request for a home birth gets a nod from the doctors, she will be following a royal tradition of giving birth in the Palace. After all, Queen Elizabeth II gave birth to her four kids at Buckingham Palace.