Pink's daughter says she wants to marry an African woman and the singer has the perfect response
In a recent interview, Pink opened up about her parenting style and we cannot help but appreciate it.
Pink has always had a bold take on life and been upfront about things in life and when it comes to her kids, she sure is going to give them their space and freedom to grow. So, what happens when her six-year-old daughter Willow tells her that she will marry an African woman? As expected, Pink had the perfect response that every parent should learn from. 
In an interview with UK newspaper The Sunday People, the mother of two opened up about how her family is a "label-less household" and then went on to recall an incident that had recently taken place between her and her daughter, Willow.
"Last week Willow told me she is going to marry an African woman. I was like: 'Great, can you teach me how to make African food?'", she told the newspaper. "And she's like: 'Sure mama, and we are going to live with you while our house is getting ready.' I was like, 'What the f**k, who are you? Who is paying for this by the way?'" she continued. 
The What About Us singer also expressed happiness about the fact that many schools and colleges were beginning to understand the idea of gender fluidity. The singer also happened to chance upon a kindergarten bathroom which had "Gender Neutral" on the door. 
"I was in a school and the bathroom outside the kindergarten said: 'Gender Neutral – anybody', and it was a drawing of many different shapes. I took a picture of it and I wrote: 'Progress'. I thought that was awesome. I love that kids are having this conversation," she added.
Pink also confessed that sometimes she finds it hard to believe that she took the role of a mother but feels proud when she looks at her two kids. "I'm much more mum than I am anything else. Absolutely 100 percent," Pink said. 
"They (Willow and Jameson) are my everything. It's the two best decisions I ever made. Every decision I make is a choice because it affects my family," she continued. Meanwhile, Pink also tries her best to manage the best of both worlds as she juggles her personal and professional life. 
"I do bake sales and lemonade stands. I take my kid to school and try to get there on time. I'm a f**king grown up now, it's so weird. I'm still a 12-year-old boy," Pink revealed. This is not the only time when the So what singer broke stereotypes and stood against all societal norms. 
Earlier this year, Pink was applauded for a speech that she had delivered during VMAs. The speech was focused on how Pink explained the true meaning of beauty to her daughter who was bullied by the kids at her school. Pink recalled her daughter telling her, "I'm the ugliest girl I know," and complaining about how she "looks like a boy."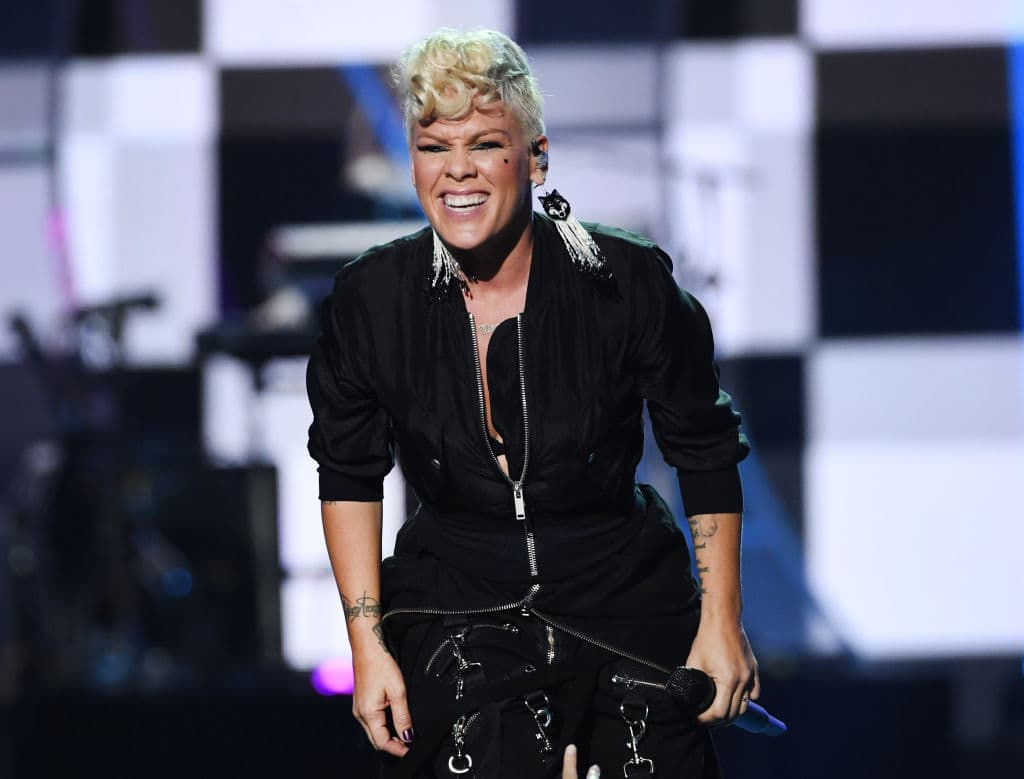 Rather than making things complicated, Pink decided to stick to the simplest of the questions and asked her daughter, "Well what do you think I look like?" to which her daughter replied, "Well you're beautiful." In order to help her daughter understand better, Pink used instances from her personal life. 
"Well, thanks. But when people make fun of me, that's what they use. They say I look like a boy or I'm too masculine or I have too many opinions, my body is too strong," she told her daughter. She went on to say: "Baby girl, we don't change. We take the gravel and the shell and we make a pearl. And we help other people to change so they can see more kinds of beauty."
Even in her latest video Beautiful Trauma, Pink tries to address the traditional gender roles that exist in the society by appearing as stereotypical 50s style housewife with her husband, played by Channing Tatum. In one particular scene, Pink catches Channing dressed as a woman and chooses to react with joy than bringing him down.
The pair then dances with her in a suit and tie and him in a dress. Pink sure knows how to leave an impact on people and we think everyone should take notes from her. 
If you have any views or stories that you would like to share with us, drop us an email at writetous@meawwworld.com