#MeToo at Grammys: Kesha's incredible performance leaves every one in tears
Grammy decided to stand for the 'Me Too' movement with Kesha's special performance and it definitely brought everyone together.
The #MeToo movement which rose to importance after thousands of people tweeted about their stories of sexual assault made us aware of the severity with which it needed to be dealt with immediately. Many Hollywood celebrities decided to be part of the movement themselves after dozens of women came forward and spoke about the assault done by Hollywood mogul Harvey Weinstein, among other famous names.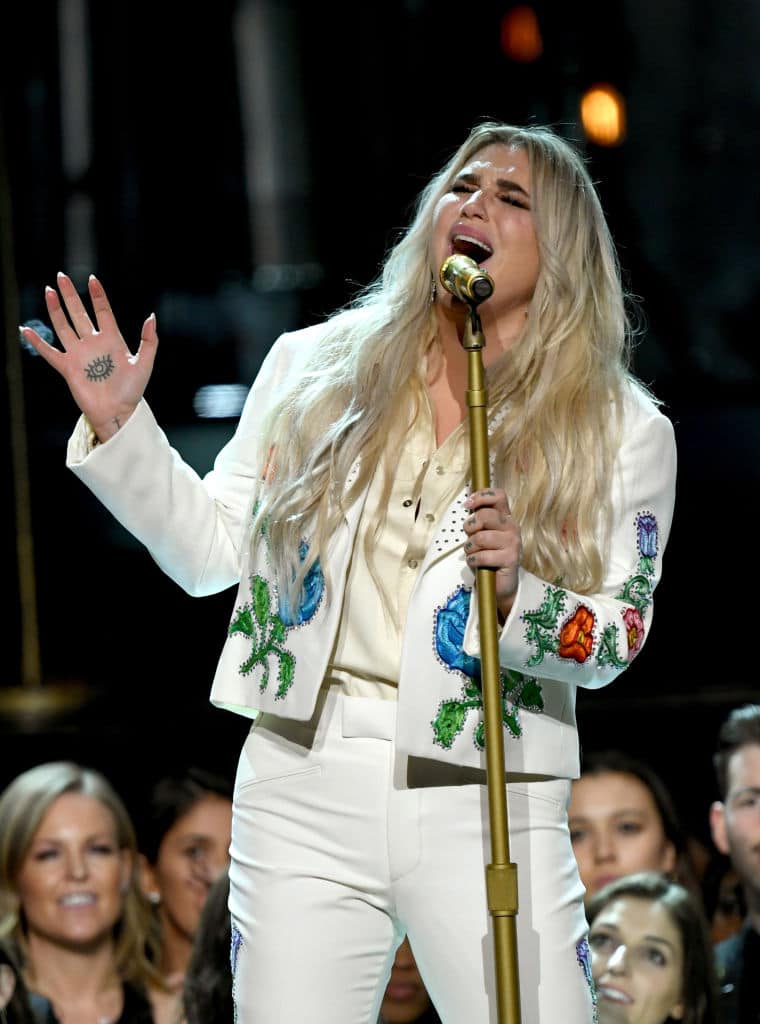 Recently, the 2018 Grammy Awards was held at Madison Square Garden in New York City and it saw all the great artists come together to appreciate the incredible work done by various people in the films. However, among all, there was one performance in particular that stood out and that was Kesha's performance of her song Praying. In the light of the various sexual assault cases that came forward, the singer decided to dedicate her first Grammy performance to all the survivors of assault. 
The song and the performance holds a significant meaning to Kesha herself as she too was a victim of sexual assault. In 2014, the singer filed a case against  producer Dr. Lukasz Sebastian Gottwald in order to void all their contracts as the suit claimed that Dr. Luke "sexually, physically, verbally, and emotionally abused [Kesha] to the point where [she] nearly lost her life." At first, things did not go her way as the judge denied Kesha a court injunction that would have allowed her to record new music. 
Various singers like Taylor Swift, Lady Gaga, and others came forward in support of Kesha. Despite this, in March 2017, a judge refused to amend Kesha's case as they believe that the singer entered the contract after the time period that she alleged that abusive behavior began. Since then, there have been various petitions that have been started in order to bring awareness to Kesha's situation and support for her injunction.  
---
What a statement! #Kesha had me crying #GrammyAwards2018 #Grammys pic.twitter.com/jRrfsaD2mD

— La Toya Jackson (@latoyajackson) January 29, 2018
---
Kesha's powerful performance moved people to tears and she was joined on stage by great singers such as Cyndi Lauper, Andra Day, Camilla Cabello, and others who also supported the singer as she was moved to tears at the end of the performance. "We come in peace, but we mean business," she said while wearing a Time's Up pin. At the same time, the song Praying, which was released in June marked her first new music in five years. 
Kesha's new album Rainbow was also nominated for best pop vocal album and the song Praying was nominated for best pop vocal performance. Even though she did not take home the award, she was able to take back praises for her moving performance. Kesha also shared the emotions she felt while performing with her fans on Twitter soon after. "'After everything you've done I can thank you for how strong I have become,'" she tweeted. 
"Thank you to the @RecordingAcad, the women on stage with me tonight, and everyone who has supported me through this whole journey," she added while sharing a photo from the performance. Just a couple of days before that, the singer shared what the song meant to her.  
---
"after everything you've done I can thank you for how strong I have become"
thank you to the @RecordingAcad, the women on stage with me tonight, and everyone who has supported me through this whole journey. pic.twitter.com/43gOsofL0S

— kesha (@KeshaRose) January 29, 2018
---
 "When I wrote praying, with Ben Abraham and Ryan Lewis, I just felt as if I had gotten a huge weight off of my shoulders," Kesha wrote.  "It felt like an emotional raw victory for myself, one step closer to healing. I could never have known what would've happened these past few years." Kesha believes that thing song helped her process everything that she has been in life and in some way, feel more connected to people. 
"I just want to say that I needed this song in a very real way, I'm so proud and nervous and overwhelmed to be performing it at the Grammys on Sunday, and if you need it I hope this song finds you," she added in another tweet. As of now, Kesha is trying to focus on her work and not let anything bring her down. She is currently scheduled to go on tour with rapper Macklemore in the beginning in June.
If you have any views or stories that you would like to share with us, drop us an email at writetous@meawwworld.com