Kylie Jenner and Kim Kardashian throw back to back baby showers
The reality star has never denied nor admitted to those baby rumors but the recent celebration that Kylie had at her house makes it look like she is expecting a baby girl.
There have been several reports suggesting that the youngest Jenner is pregnant with her first child and even though she hasn't denied or accepted these claims, she sure has given her fans several hints on social media about it. Kylie, who is dating Travis Scott, is reportedly due in February. 
Recently, some of the pictures that were taken at Kylie's house showed the 20-year-old hosting her very own fete. But what caught our attention was the theme of the entire event. Kylie was spotted wearing pink pajamas while her entire backyard had been decorated with pink flowers. 
This came just a day after Kim Kardashian threw her baby shower at her California home. Kim and Kanye are expecting their third child via surrogacy, in December. According to Daily Mail, Kim was also present at Kylie's gathering along with her other family members. 
Kylie's entire backyard was covered with beautiful arrangements that included a bar and a big light-pink tent. At the same time, there were several white tables that had been decorated with pink flowers. To top it all, her entire swimming pool had been covered with pink flowers. 
A source close to the reality star told People magazine that the theme of Kylie's party was "pajama party." Kim had a similar theme back in 2015 for her baby shower when she was expecting her second child, Saint. Another source also told the magazine that Kylie had been planning this for a long time.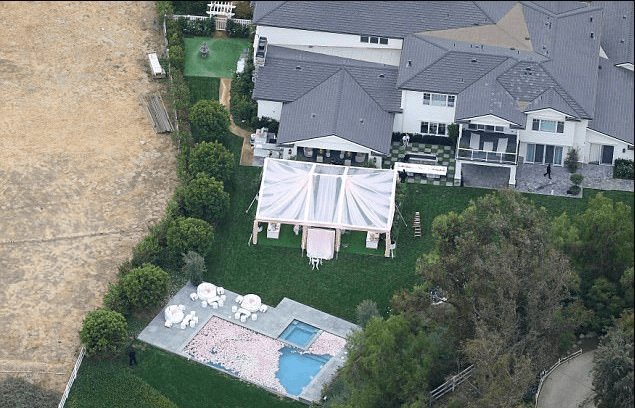 Kim's baby shower party had been a last minute thing. However, Kylie, who's known for updating her social media every now and then, decided to keep her party exclusive and kept the guest list limited to the people who are close to her. 
There have been various instances where people have tried to guess whether Kylie was having a baby girl. Many of her fans speculated that Kylie was trying to reveal the gender in a series of snaps that she had been sharing over a period of time. 
The first instance where people guessed that Kylie may be having a baby girl was when she shared a picture of her wearing pink butterfly rings on her fingers. In her snap, she revealed that she was about to have a photoshoot which she was really excited about. 
Fans assumed that Kylie was doing a pregnancy-related photo shoot. At the same time, the butterflies seem to have a significant meaning in Kylie's life. Her alleged baby daddy has a butterfly tattoo on his ankle on the lines of a song which is called 'butterfly effect'. 
In fact, the rapper had also gifted Kylie a butterfly bling for her 20th birthday. Later, Kylie had shared a throwback picture on her Snapchat in which the singer had long pink hair. Another hint at the idea that she might be having a baby girl? We think so. 
Let's not forget another snap in which Kylie had shown off her newly painted pink nails. Moreover, Kylie had also put various emojis in the color pink. She also shared a picture of a pink Christmas tree which was decorated alongside a pink chair.
Even though it might look like pink is Kylie's favorite color, we cannot help but wonder about the sudden burst of pink on her social media. Meanwhile, Kylie has also restricted herself from uploading any images of herself on social media. 
Previously, one could see lots of Kylie's selfies and posts which would keep her fans updated on what was going in her life. But lately, there haven't been many pictures from Kylie, apart from her promotional posts about her cosmetic line. 
At the same time, we cannot help but wonder why Kylie has disappeared from social media. There have been a number of recent gatherings of the Kardashians but Kylie has been missing from most of them. Let's not forget her close to none appearance in Keeping Up With The Kardashians. We guess this celebrity wants to keep her pregnancy low key unlike her sisters Kourtney and Kim. 
If you have any views or stories that you would like to share with us, drop us an email at writetous@meawwworld.com