64 years ago, John F Kennedy and Jacqueline Lee Bouvier tied the knot...let's take a trip down memory lane
Jacqueline Lee Bouvier and John F. Kennedy were the American couple that everyone admired and loved. Even before the two made their way down the aisle, people admired their love. Jacqueline and JFK first met at a dinner party in 1951. Jacqueline at that time was working with the Washington Times-Herald. 
After spending a lot of time together they both knew that they shared a bond that was hard to find. This is when the couple decided to start dating. After dating for two years they decided to tie the knot and finally, on September 12, 1953, Jacqueline and JFK got married and provided the framework for the perfect American Couple. 
However, their wedding wasn't as breezy as one would think, as just 10 days before the wedding, Jacqueline's worst nightmare came true. The original wedding dress that Jaqueline wanted to wear was ruined due to a pipe burst in designer Ann Lowe's NYC studio. At the same time, the bridesmaids' dresses were also damaged. In order to get the dress ready on time, the designer and the team had to work really hard to bring the perfect dress back to life. 
After hours of effort, the designer and her team were able to deliver stunning beauty. The gown was made up of 50 yards of fabric which had an heirloom rose point lace veil. But as it turns out, Jacqueline was not interested in wearing the dress, as she wanted something simpler. But eventually, with pressure from her family, she relented and wore the gorgeous dress. 
The wedding was a grand event and over 900 people came together to be part of the big day. Many fans also came together to see the celebrations. Nearly 2,000 of them stood outside the church trying to catch a glimpse of the newlyweds. It took around two hours for Jacqueline and Kennedy to greet all their guests.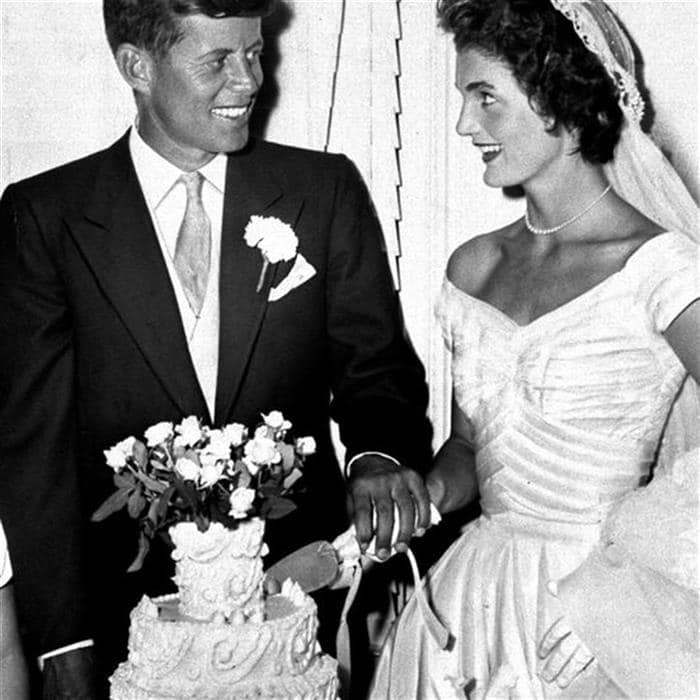 With so many guests on the list, it was quite obvious that it called for a big feast! The celebration had a wide range of food. From creamed chicken to pineapple salad, the wedding did not miss anything. The couple also had a five-tiered cake which was a gift from Kennedy's dad, Joseph P. Kennedy. 
The entire venue was decorated with pink gladioli and white chrysanthemums and Jacqueline's bouquet was made of gardenias and white and pink orchids.
The couple also had an extra special send-off. After the reception was over the guests tossed rose-petal confetti and rice as the married couple set off for their honeymoon in Acapulco, Mexico. 
Till today the world remembers the couple and the time, in spite of all the scandal that would follow, they were totally in love. 
If you have any views or stories that you would like to share with us then drop us a mail at writetous@meawwworld.com