How plus-size model Danielle Vanier is making curves the new normal
Plus-size model Danielle Vanier has never been afraid of showing off her curves and her latest collaboration with Marks & Spencer shows why she was the perfect choice for their latest curve collection.
"I'm 30 years old and I am a fat person who loves fashion, accessories, shoes, and jewelry", that is Danielle for you. In a world full of body critics, Danielle Vanier has always learned how to stand out and let the world see the beauty which lies in the body of a plus-size model.
If you happen to chance upon her Instagram or her blog, you will notice that the fashion influencer is all about pushing women forward to accept their body and for all those who thought that there are not enough "pretty" or "stylish" clothes for plus-size people, Danielle is going to prove you wrong. 
One of the biggest motivation for her to start the blog was to allow people to see fashion through the eyes of a plus-size model and there is no doubt that she is breaking the stereotypes which were previously attached to what a woman of weight can or cannot wear. 
Recently, Danielle became one of the fortunate ones to collaborate with UK's biggest clothing retailer, Marks & Spencer for their latest "curve collection" and by putting every ounce of her effort into it, she proved it why she was the chosen one. When asked how she felt being approached by Marks & Spenser, Danielle could not help but feel an honor attached to this offer. 
Being someone who has always seen and worn the clothes of that brand, Danielle knew that there were a lot of responsibilities and expectations that she had to live up to for all the curvy women out there. But the reason Danielle knew that the brand would be a right fit to showcase curve range was the agenda that the company lived by, that is, "great quality and clothing for all." 
By associating herself with the brand, Danielle plans on helping them by providing an extensive knowledge of the plus size industry. At the same time, her previous career in design and far-reaching follower network comes as a bonus for the company. 
The Marks & Spencer's curve collection is available in sizes 18-32 and holds a significant importance for Danielle. Being a plus size lady, fanatical about fashion, Danielle feels that their current range will help people understand that fashion should be accessible no matter your shape or size. 
Even though there are a lot of brands which stand for advocating a plus-size range, some of them still fail to address the issues that the women face. For instance, finding a perfect black dress which is a flawless blend of chic and edgy is a bit harder for a plus size person than you can imagine. In fact, Danielle happened to be aware of this very well and it is then that she decided to roll up her sleeves and be the wonder woman for all the women.
Danielle came on board with the designing team and decided to design two LBD's for their present collection and undoubtedly, it was a career highlight for her. Right from choosing the ideal fabric to designing the dress, the beauty blogger was there to give it her all.  
After seeing the end result of her hard work, Danielle sure did feel proud of herself and did not hesitate to share the amazing collection with her 94.7k followers. Even though there are still people out there who are not readily accepting the plus-size image, the lifestyle blogger believes that it is time for them to face the reality. 
"It's 2018. People need to wake up and smell the coffee! Fashion should be for all and the sooner people/brands/the media realizes this; the better!" she said. Despite being able to be the face of various brands and model for them, Danielle does not believe in categorizing herself as a "model". 
Categorizing herself as a predominant blogger, she does believe that modeling has helped her pave way for a bigger platform where she can share her message. By using the vast network and stage, she plans on inspiring and building confidence in women. 
In October 2016, Danielle was named the best Curve Influencer by In Style for her "edgy, sexy and always on point" style and the title brought her a sense of joy and appreciation for the work she had been doing. However, Danielle is not too keen on titles as long as the work she does is able to bring her respect and recognition in her field. 
As for all those women who still struggle to look at the mirror or be hard on their body, Danielle only has one advice for you all and that is, "The world is so critical of you, don't add to that criticism. Speak to yourself kindly and love yourself how you would love others."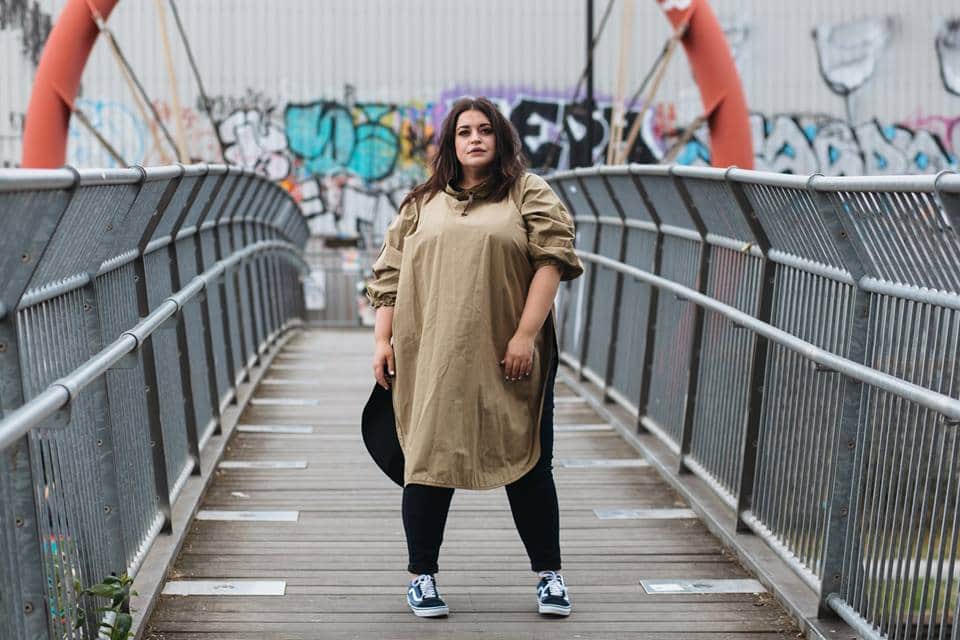 If you have any views or stories that you would like to share with us, drop us an email at writetous@meawwworld.com