Here's what Prince Harry's love Meghan Markle's rings say about her personality
It's not unusual to find this on a millennial's hand at Coachella but Meghan's decision to wear thin bands around her slender fingers got quite a few people curious.
Meghan Markle and Prince Harry's recent visit to Brixton took everyone by surprise for several reasons. It's not everyday that you see a soon-to-be royal member in a messy bun, especially on an official appointment. Of course, it goes without saying that Meghan carried off the casual look with enough courage. Her hairstyle won her a brownie point or two with Britain's ever growing Meghan fan army and so did one other detail.
In case you didn't notice, Harry's fiancee also wore a number of rings on her right hand. It's not unusual to find this on a millennial's hand at Coachella but Meghan's decision to wear thin bands around her slender fingers got quite a few people curious.
After all, why did the future royal wear accessories that are so very casual? Is there a hidden message behind the rings that she wore? Well, according to Norfolk-based author Johnny Fincham, a lot can be said about a person who wears rings on some fingers and not the others. The palmistry expert told Daily Mail that Meghan's rings on the index, ring finger and on her thumb give us insights into her personality and here's what we've learnt so far.
If you prefer to wear a ring on your thumb, it most likely means you're controlling
Meghan's thumb ring stuck out for a number of reasons. Firstly, did the Queen approve of it? Secondly, is Meghan trying to usher in a new style like the late Princess Diana? Fincham, the author of Palmistry: Apprentice To Pro In 24 Hours, believes that Meghan's decison to wear a thumb ring lies in the subconscious.
He told Daily Mail that a ring on the thumb indicates to a person who is self-motivated and aggressive. He even likened the person to a "controlling wife who loves bossing her husband and kids around."
He added, "The thumbs are about self-control and willpower." Fincham, who teaches at London School of Astrology, said: "When a person wears a ring on the thumb, it represents a drive for more power." You will often find entrepreneurs, activists, eco-warriors, feminists and socialists donning a ring on their thumb. We're waiting to see if Meghan will shake things up in the royal family which loves its traditions.
A ring on the index finger represents self-esteem
During her walkabout in Brixton, Meghan had a ring on her index finger as well. And Fincham has a theory about this. He believes that a band on the index finger represents self-esteem and reflection.
Nevertheless, it also indicates that the wearer has a need for power and recognition. If Meghan's life has taught us anything, it is this: The 36-year-old American actress didn't give up on her dream to be an actor even though she got roles that didn't do her credit. "Wearing a ring on the index finger can help boost your sense of self," Fincham said, adding "It can act as a reminder to pull your finger out, as it were, helping you to grow in stature and develop in power."
You stick to your morals if you wear a ring on your middle finger
Palmists usually refer to it as the "wall" finger because it has a central, stable position on one's hand. People who often wear a ring on this finger have strong opinions and fight for causes they believe in. Emma Watson is often seen with a ring on her middle finger and she's a staunch feminist.
Meghan too, has stood up against racial injustice and has been an advocate for women's rights for years now. In fact, she announced that she wanted to work on her causes when she quit her hit TV show, Suits.
You're committed if you wear in on the fourth finger
"This finger has a direct meridian line connection to the heart in traditional Chinese medicine," said Fincham, adding, "Ancient Egyptians believed the vena amoris, the vein of love, made a connection between this finger and the heart."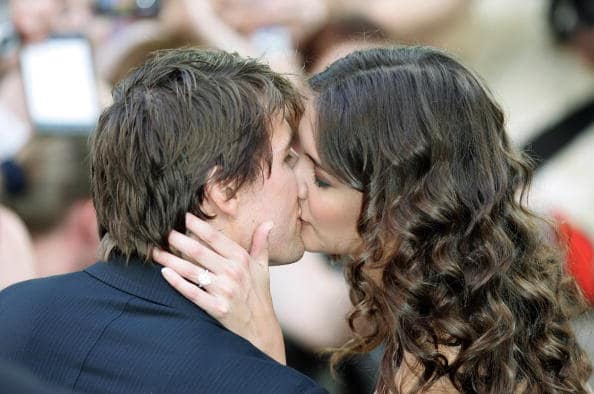 This ring also stands as a reminder of a person's commitment to their better half. Case in point, Tom Cruise gifted her a huge rock as the engagement ring. His grand declaration of love indicates his strong commitment to the actress and hers to the relationship.
You're most probably sexually open if you have a ring on your little finger
The little finger represents communication, be it verbal, physical and sexual. According to Fincham, a ring on the little finger represents sexual freedom and openness.
"It's enormously common for sexually curious people to wear a large ring on their little finger," he said, adding, "The same is true for those who are concerned with communication, for instance writers and public speakers."
If you have any views or stories that you would like to share with us, drop us an email at writetous@meawwworld.com