Tim McGraw and Faith Hill may have just lost millions of fans, here's why
Tim McGraw and Faith Hill's comments on gun control riled up many fans.
Tim McGraw and Faith Hill may be the king and queen of Country Music, but we have learned that even they can't get away with making political statements that their fans do not approve of.
Tim and Faith were speaking with Billboard about October's devastating shooting in Las Vegas when they offered their two cents about the issue of gun control in the country. Gun control is a much-debated topic in the country as gun violence cases continue to rise. 
---
BREAKING: At least 3 dead in shooting in Tehama Co. it started at a home and moved to the school. Shooter shot and killed by police. pic.twitter.com/xIKvyIxq4y

— Sara Stinson (@SaraStinsonNews) November 14, 2017
---
On November 14, a fresh shooting rampage occurred, that started at a home and ended at an elementary school in rural Northern California. It resulted in the death of five people including the gunman. Many others have been injured. 
While many are of the opinion that there should more restrictions for buying a gun in the US, others quote the Second Amendment of the Constitution that protects the right of citizens to openly carry firearms. One side states the statistics about deaths due to gun violence, while the other side claims that the only thing that can stop a bad with a gun is a good guy with a gun.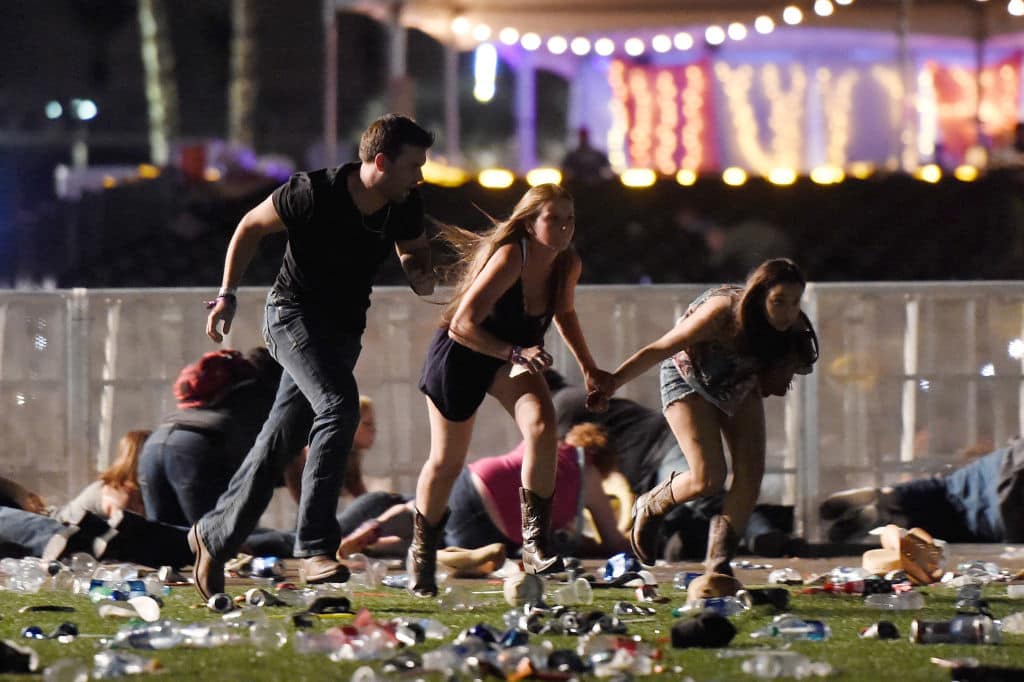 Amid all these discussions, Tim and Faith made their opinion about gun control public and needless to say, it wasn't best with the most supportive response. "In reference to the tragedy in Las Vegas, we knew a lot of people there," Faith told Billboard, adding, "The doctors that (treated) the wounded, they saw wounds like you'd see in war. That's not right. Military weapons should not be in the hands of civilians. It's everyone's responsibility, including the government and the National Rifle Association, to tell the truth. We all want a safe country."
The victims of the Las Vegas were attending Route 91 Harvest Festival. Many among the 58 people killed and over 500 injured were country fans watching a Jason Aldean concert at the time. The country music industry has taken many actions to show their support to the victims.
Seconding his wife's opinion, Tim also said that common sense regulations are required to make America safe again. "Look, I'm a bird hunter—I love to wing-shoot. However, there is some common sense that's necessary when it comes to gun control. They want to make it about the Second Amendment every time it's brought up. It's not about the Second Amendment," he said.
These quotes seem sensible enough, but many fans of the artists do not agree with the sentiments. Take a look at how some of them responded. 
---
There you have it country fans. Never give Tim McGraw another dime again

In fact the Left has ruined Nashville really. Tune out their awards shows. https://t.co/KeN47e8omx

— Tom Paine (@PaineMason) November 10, 2017
---
I will no longer listen or play any Tim McGraw or Faith Hills music due to their comments on gun control and their beliefs. They have rights under the 1A but I have the same rights and my 2A rights supersede their 1A rights

— Jeff Hearn (@hearn_jeff) November 10, 2017
---
Tim McGraw and Faith Hill are the latest to push for gun control.

All while surrounded by armed security and living in a gated community.

Everyone is entitled to their own opinion, but I'm entitled to mock it.

— Educating Liberals (@Education4Libs) November 12, 2017
---
---
I guess those body guards that protect you two are un-armed right? 🙄🤦🏼‍♀️ #2A #TimMcGraw #faithhill #hypocrites https://t.co/UVhIst5Y0e

— 🕵️‍♀️Shawty👉🏻TheWhiteRabbit🐇 (@rippepessister) November 12, 2017
---
Brain Dead come from all walks of life ☠ https://t.co/OH7PTVxzqd️

— TinMan (@banchiline) November 14, 2017
---
---
.@DLoesch @ChrisLoesch what the heck is this all about!
Don't tell me we have to say good bye to these two also😥 https://t.co/H11KfKYqsu

— Barbie GC (@BarbieHitsBack) November 14, 2017
---
Meanwhile, many others—including George Takei and Mark Ruffalo—are thanking the stars for speaking up about the issue and lauding them for using their platform to stand up for things they believe in. 
---
Thank you for speaking out. https://t.co/3YccKvza8l

— George Takei (@GeorgeTakei) November 10, 2017
---
---
Thank you Faith Hill and Tim McGraw for bravely speaking up https://t.co/X95fQXdiB4

— Paul Reggio (@PaulReggio1) November 10, 2017
---
---
Thank you for breaking the silence. Faith Hill And Tim McGraw Take Aim At The NRA And Demand Gun Control | HuffPost https://t.co/DnUaTXhtxf

— Mark Ruffalo (@MarkRuffalo) November 10, 2017
---
---
Showing America that you can be a country music star AND have gun sense. Thank you @FaithHill and @TheTimMcGraw! https://t.co/EX6TceEpuw

— Shannon Watts (@shannonrwatts) November 10, 2017
If you have any views or stories that you would like to share with us, drop us an email at writetous@meawwworld.com