"He was paternal...", Jennifer Lawrence reveals how Harvey Weinstein was like a father figure to her
In an interview with Oprah Winfrey for The Hollywood Reporter, Jennifer Lawrence opened up about her relationship with Harvey Weinstein and confessed that she never knew about his sick acts.
The glamorous world of Hollywood came crumbling down when the sexual assault allegations against film mogul Harvey Weinstein came to light. While there were many who accused Weinstein of assaulting them, some were unknown about this behavior. Among them, Jennifer Lawrence was one. In an interview with Oprah Winfrey for Hollywood Reporter, Jennifer opened up about the relationship she shared with the disgraced producer. 
She found it very hard to believe that he could have done something like an assault because the image the film producer had in front of the Hunger Games actress was completely different. In fact, Jennifer even looked up to him as a father figure. 
She had worked with Weinstein on Silver Linings Playbook and had come to know the producer even better during the filming. "Just speaking for myself, I had known him since I was 20, and he had only ever been nice to me — except for the moments that he wasn't, and then I called him an a-hole, and we moved on," she told in the interview. 
"He was paternal to me. So I needed a moment to process everything because I thought I knew this guy, and then he's being accused of rape. We all knew he was a dog, we knew that he was a … tough guy, a brute, a tough guy to negotiate with," she continued. 
The Oscar-winning actress confessed that she wasn't aware of the things that had been going on behind her back and was shocked to see so many accusations against Harvey. Nearly a dozen women had accused the producer of sexual assault and more than 80 women from the film industry also claimed the same. 
"I didn't know that he was a rapist. And it's so widespread, the abuse, from so many different people — it's directors, it's producers — that I think everybody needed to [process it]. Everybody needs to deal with this in their own way; everybody needs to heal," Jennifer said. 
In an interview with People, Jennifer had revealed that she was "deeply disturbed" to know about the accusations as she never came across such behavior when she had worked with him on a set. "I worked with Harvey five years ago and I did not experience any form of harassment personally, nor did I know about any of these allegations," she said at the time.
"This kind of abuse is inexcusable and absolutely upsetting," she continued. Jennifer believes that after the report about the assaults was published by the New York Times after many women who knew the producer were put in a spot where it became necessary for them to speak about the event that was unfolding. 
"There was this moment when all of this broke out and everybody was silent, and then all of a sudden, every actress' Twitter was blowing up with, 'You need to come forward and you need to say something and you need to condemn!' Which is true: We do have a responsibility to say something; we've all worked with him, but everybody needed a moment," she told the magazine.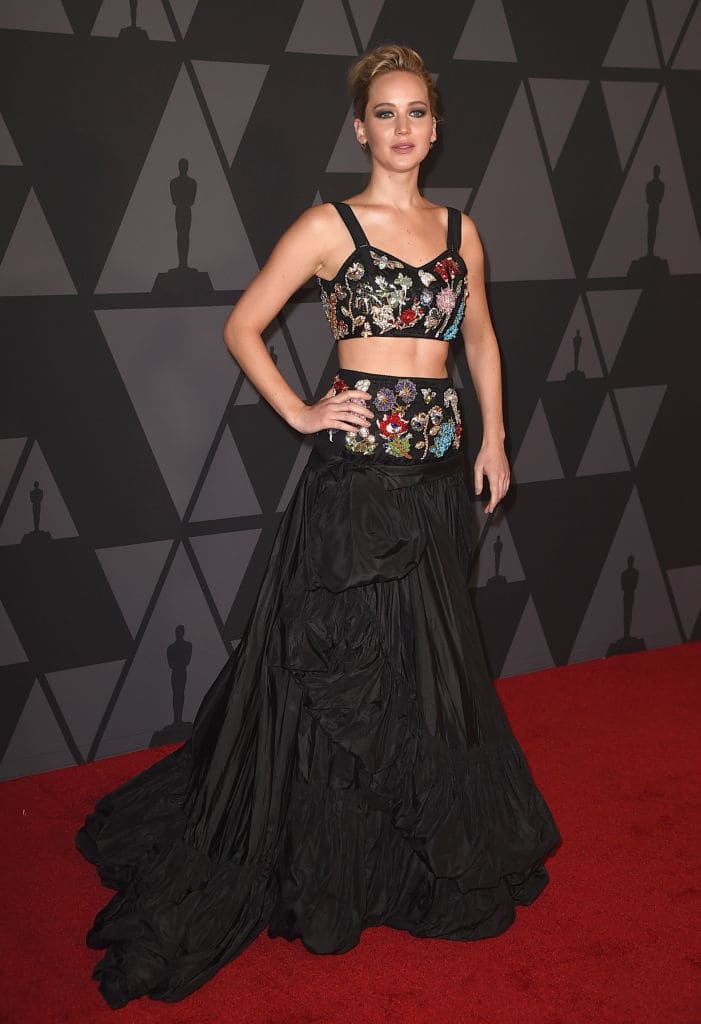 But Jennifer appreciated the courage that these women had shown as they went public about their horrific incidents. "My heart goes out to all of the women affected by these gross actions. And I want to thank them for their bravery to come forward," she said. 
However, one incident that shook Jennifer was about Weinstein asking model Ambra Battilana Gutierrez to watch him shower naked, which was caught on an audiotape recorded during a 2015 sting operation by the N.Y.P.D. 
"They are all horrible, and no one is more horrifying than the next. But being able to hear when the woman wore the microphone and Harvey were telling her to watch him shower — I felt sick in my bones for an entire day," she told the magazine.
"I was just sick. I was just like, 'I can't,' after hearing that … because he didn't lay a finger on her, and I felt chilled to my bones. Imagine having a man who is that powerful telling you to do something [and] you're saying no. [He's] threatening you, saying, 'Don't embarrass me. We're at this hotel," she revealed. 
After the incidents came to light, Harvey's attorneys, Berk and Brafman, said: "Mr. Weinstein has never at any time committed an act of sexual assault, and it is wrong and irresponsible to conflate claims of impolitic behavior or consensual sexual contact later regretted, with an untrue claim of criminal conduct. There is a wide canyon between mere allegation and truth, and we are confident that any sober calculation of the facts will prove no legal wrongdoing occurred."
Jennifer is no stranger herself to inappropriate behavior on the film set as she revealed she was once asked to lose 15 pounds for a role and was subjected to a "naked lineup" with other actresses to have her body critique.
If you have any views or stories that you would like to share with us, drop us an email at writetous@meawwworld.com