Harry and Meghan vs William and Kate: A tale of two royal engagements
Did you notice these differences?
After months and months of speculation, Prince Harry and Meghan Markle announced their engagement to the world on Monday, November 27, leading to a media frenzy. And when they stepped out, hours after the announcement, for their first appearance as an engaged pair, they lived up to their 'Cutest Royal Couple Ever' title — holding hands throughout and giggling excitedly. 
Whilst the world's eyes are currently on the newly engaged couple, the loved-up scenes at Kensington Palace on Monday were reminiscent of those involving Prince William and Kate Middleton in 2010. Let's take a look at Harry and Meghan's moment compared with that of William and Kate seven years ago.
The setting
On November 16, 2010, Kate and William made their first appearance as an engaged couple inside a grand room of St James' Palace. Harry and Meghan, on the other hand, opted for the gardens of Kensington Palace, the place all four royals now call home. The selection of Kensington Palace is a bit more personal than St. James's Palace: it's where Harry grew up.
Despite the bad weather, the couple decided to hold the photoshoot outside, which gave it all a much more informal feel. Plus, William and Kate's photo call was longer: they posed for photos for four minutes. Meghan and Harry only posed for a minute and a half.
The outfits
William and Harry both wore navy suits for the occasion, but all eyes were on their stunning brides-to-be. Kate looked elegant in a royal blue wrap dress by Issa. She paired the low-cut long-sleeved dress with simple black pumps. The cocktail dress sold out within 24-hours of her appearance in it.
In contrast, Meghan chose a simple white wrap coat by Canadian brand Line the Label, an ensemble that had more of a relaxed, daytime feel. She also wore a knee-length forest green dress from P.A.R.O.S.H, an Italian brand specializing in vintage apparel. Meghan completed her chic look with a towering pair of cream Aquazzura heels, and 'Les Plaisirs de Birks' 18k gold earrings featuring white opals by Birks.
The rings
The two engagement rings worn by Kate and Meghan are both absolutely beautiful but very different. Prince William gave Kate the engagement ring worn by his late mother Princess Diana. The ring was bought by Prince Charles to give to then-fiancée Diana. It features 14 solitaire diamonds, which surround a large sapphire stone set in white gold. Kate's sparkler is on the top of several lists of the world's 20 most famous engagement rings.
Meghan's ring new engagement ring from Harry is anything but ordinary. The ring also features stones from Diana's jewelry collection—it was not an heirloom and was instead designed by Harry himself. The center stone of the ring is from Botswana, where Prince Harry traveled to while growing up. Two of Diana's personal diamonds sit alongside the big diamond.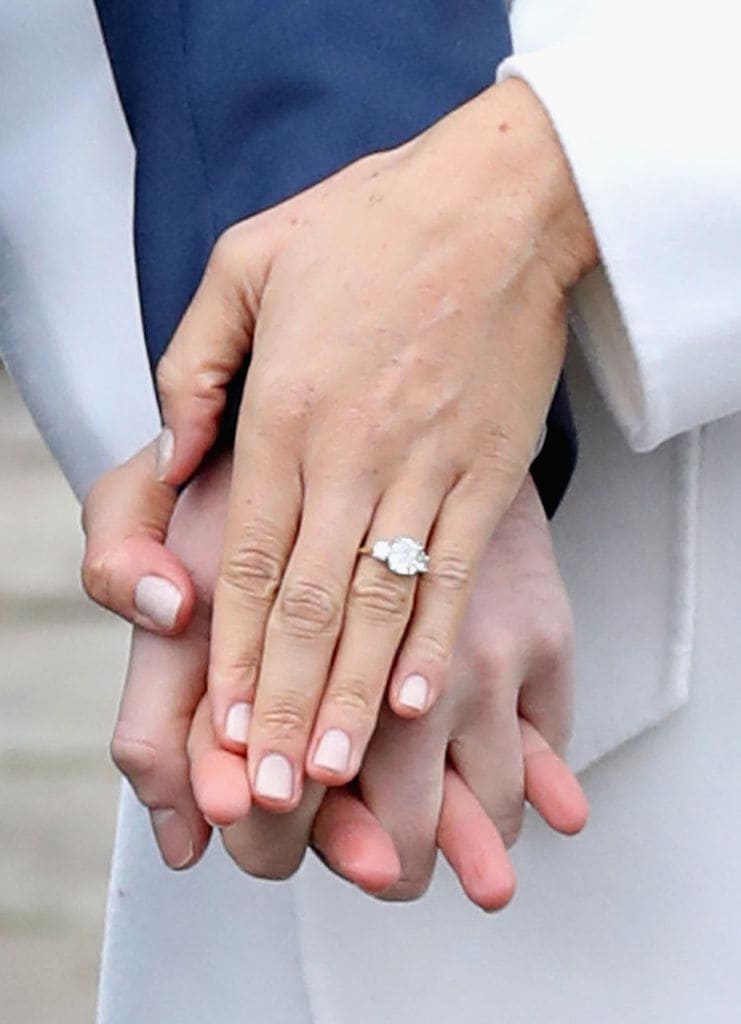 The atmosphere
For a number of reasons, Harry and Meghan's moment seemed a lot more relaxed. Unlike William, Harry is not first in line to the throne and has therefore always had more freedom. For this reason, along with Meghan's experience with the press, and the outdoor setting, the whole affair seemed much more relaxed than when William and Kate got engaged.
Another reason could be their age. Meghan and Harry are older (36 and 33 respectively) than William and Kate were when they became engaged (both were 28). This meant that they appeared to be more confident and comfortable in front of the cameras than the now Duke and Duchess of Cambridge, who seemed a little less at ease.
When Kate had her engagement photographs with William taken, it marked the first occasion that the future princess ever had to stand and pose in front of hundreds of cameras. For Meghan, a famous American actress who is long used to being in the public eye, this was a far less daunting task.
The proposal story
William proposed to Kate, who was his college sweetheart, on a trip to Kenya. "As every guy out there will know, it takes a certain amount of motivation to get yourself going," William said in 2010. "I was planning it and then it just felt really right out in Africa. It was beautiful." Kate said William's proposal was a total shock when it came. "There's a true romantic in there," she had said.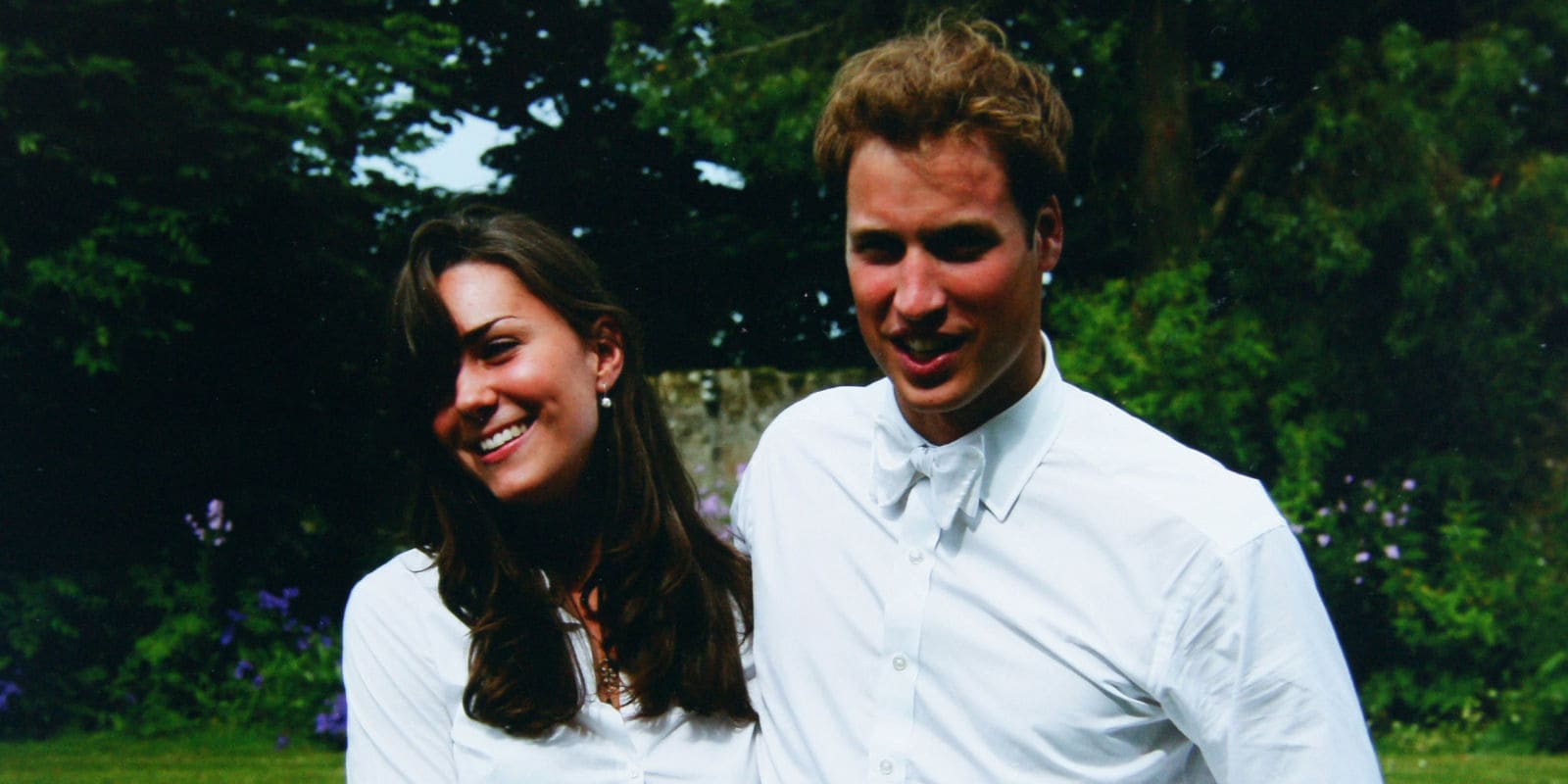 Harry popped the question to Meghan during a "cozy night" at their cottage. Meghan admitted it was "sweet, natural and very romantic" and just a "standard typical night in" for the pair. "It was so sweet and natural and very romantic. He got on one knee." The actress admitted she "barely" let her husband-to-be finish proposing before she said: "Can I say yes now?"
The first official interview as a couple
During their conversation with the BBC's Mishal Husain, Harry and Meghan looked just as in love as Prince William and Kate Middleton did seven years ago. Both engagement interviews took place in an informal living room setting. However, William and Kate's room was full of rich colors and patterns. The darker hues, striped couch and bold throw pillows surrounding Kate and William give off a traditional vibe. On the other hand, Harry and Meghan sat in a beige couch with monochrome pillows. The lighter colors in Harry and Meghan's interview are a little more modern, much like the couple themselves. 
Meghan and Harry seemed much more at ease during their time in front of the camera. Kate seemed a little tense throughout her engagement interview. This was one of the first times she had ever been on TV, while Meghan has been a popular actress. 
Throughout their interview, William and Kate sat apart and rarely touched. Their bodies are angled toward the cameras and they address most of their answers to the interviewer instead of each other.
Meghan and Harry's interview starts with them sitting shoulder-to-shoulder with their arms intertwined. They hold hands nearly the entire time, and their bodies are angled toward each other during the interview. They often answer questions while staring into each other's eyes.
If you have any views or stories that you would like to share with us, drop us an email at writetous@meawwworld.com