Gal Gadot accepts the #SeeHer Award with a beautiful and inspiring speech
The actress kept the spirit of the #MeToo movement alive in her speech.
It was Gal Gadot's shining moment at the Critics Choice Awards last night.
The Wonder Woman actress was the recipient of the #SeeHer Award, in order to honor the actress for challenging female stereotypes on screen and off.
The award is organized by the Association of National Advertisers and honors a woman who helps "push boundaries on changing stereotypes and recognize the importance of accurately portraying women across the entertainment landscape."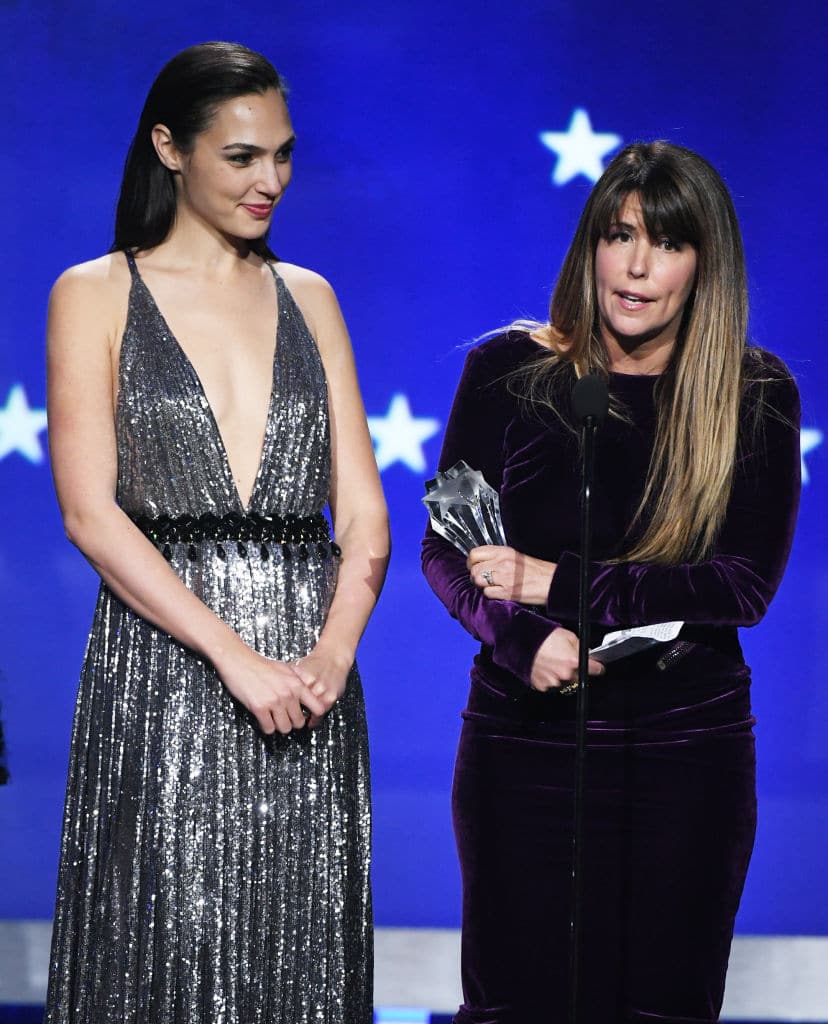 Gadot was presented with the award by Wonder Woman director Patty Jenkins. When presenting Gadot with the award, Jenkins described the actress as "her real Wonder Woman."
Gadot received the award amid a standing ovation, to which she humbly asked the audience to sit. In her speech, Gadot talked about what an honor playing the inspirational character Wonder Woman was to her and how the figure displays all the qualities she looks for in a female lead.
Gadot accepted the award by noting that throughout her career she has wanted to play strong, independent, real women, and found all those qualities in her role as Wonder Woman. "She's full of heart, strength, compassion, and forgiveness. She sees wrong that must be made right. She takes action when everyone around her is idle. She commands the attention of the world, and in doing so, she sets a positive example for humanity," she said.
Gadot went on to address the place of women in the entertainment industry, particularly her early discovery of the lack of female-led roles in films.
"When I started acting there were few female-led movies and even fewer female-led directors," Gadot said, but that things are changing — in 2017, three of the top-grossing films were female-led, The Last Jedi, Wonder Woman, and Beauty and the Beast. "There were eight other films in [the] top 100 which were directed by females," she added. "So although this is progress, but there's still a long way to go.
Pivoting the speech to the shift in the industry as a result of the #MeToo movement, she said, "We've been witnessing a movement in our industry and society and I want to share this award with all the women and men who stand for what's right, standing for those who can't stand or speak for themselves. And I promise, my commitment to all of you is that I will never be silenced. And we will continue to band together to make strides uniting for equality."
Last year, actress Viola Davis was the first person ever to have received the #SeeHer Award. The Fences and How to Get Away with Murder star took home the award for her work furthering the portrayal of three-dimensional women onscreen.
As soon as Gal was declared the winner, fans and followers all across social media started singing praises for the actress and her praiseworthy work for women's empowerment and rightful gender portrayal.
---
Patty Jenkins presenting Gal Gadot with the See Her Award! Incredible moment. Wow#CriticsChoice

— Ryan Nilsen (@Ryan_Nils) January 12, 2018
---
---
After watching justice league I appreciate Wonder Woman that much more! Her grace compliments her power! And the woman they chose Gal Gadot, is perfect! I couldn't see any one else but her!

— BARBIE VEE🌹 (@badgyalveve) December 19, 2017
---
---
It was amazing. She was amazing. Patty too. I cried. So proud of Gal ❤️

— glimpse (@global_glimpse) January 12, 2018
---
---
.@GalGadot is so incredibly inspiring #CriticsChoiceAwards #WonderWoman pic.twitter.com/Sq6GV93cEA

— Madison Brodsky (@MadisonBrodsky) January 12, 2018
---
---
Wonder Woman is such an inspiring character, and Gal represented her perfectly. I'm very proud of Patty and Gal ♥️

— jenny (@speaknowzz) January 12, 2018
---
---
Great role model for young girls. So glad to see her acknowledged 😊

— Karma N Blessings (@karmaNblessings) January 12, 2018
---
Way to go, Gal!
If you have any views or stories that you would like to share with us, drop us an email at writetous@meawwworld.com