Fresh allegations against Tom Hanks, Robin Williams and others... of being too nice
Amid sexual assault allegations, Twitter users have started sharing good celebrity stories.
It seems like a new Hollywood biggie is accused of sexual allegation every other day, and fans find themselves praying their favourite actor won't be the next to be exposed as a pervert. In this welcome climate of holding people accountable for their deplorable actions, it is also necessary to remind ourselves that there is good out in the universe.
People like to think of Hollywood as a bubble, where all the celebrities are seemingly a different species than the rest of the country. However, not all actors are robotic clones of "Holly-weird".
Twitter Bakoon decided that in the wake of all the negativity, more celebrities need to e exposed... of being nice. Bakoon tweeted, "If anyone has any nice allegations against a celebrity, that would be great too." 
---
if anyone has any nice allegations against a celebrity that would be great too. does a famous actor give good christmas presents. does lady comedian alwyays smoke people out

— BAKOON (@BAKKOOONN) November 9, 2017
---
With over 11,000 retweets and nearly 60,000 likes, the Tweet is going viral and there are very many fans who were not disappointed after meeting their heroes. Bakoon started off with their own experience with a gracious celebrity.
---
harmony korine paid for a pack of smokes i was short for in a deli once

— BAKOON (@BAKKOOONN) November 9, 2017
---
Take a look at some of the best celebrity encounters fans have had: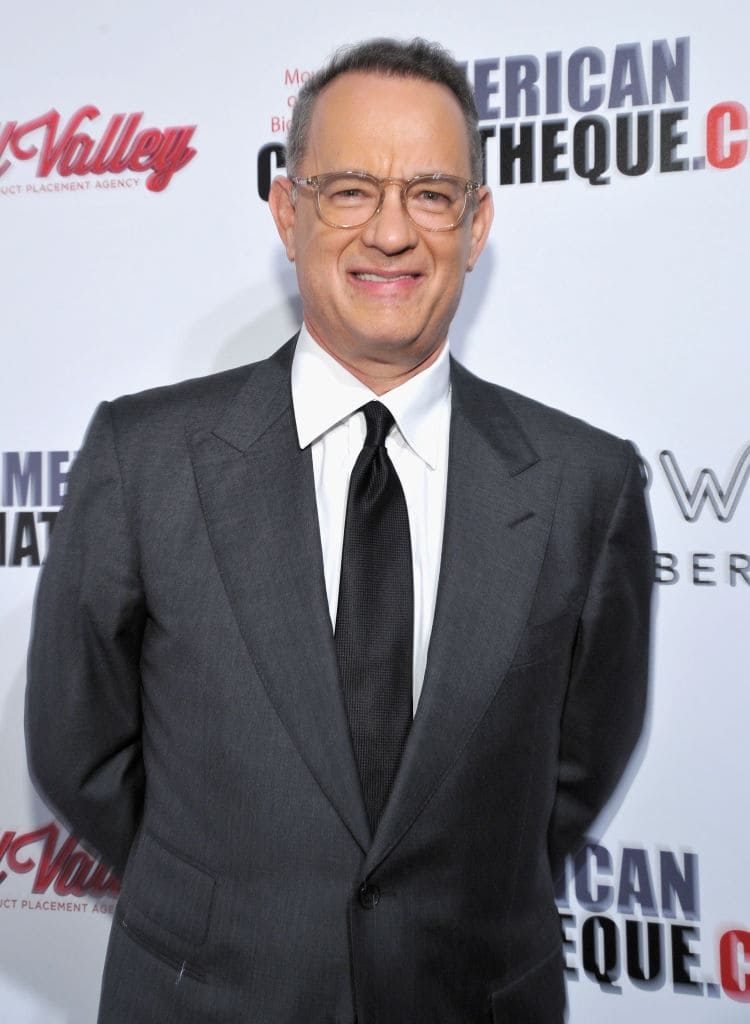 ---
I once served Tom Hanks at my old job. Once I was off I was leaving & he was too. I asked if it would be okay for us to take a picture together. He smiled & said "walk with me." So I did & we talked, he gave me some life advice, then we took a few pictures together.
Super nice.

— some jerk (@NerdGerm) November 10, 2017
---
---
I worked on a movie with Brad Pitt back in the late 1980s. He's incredibly funny, talented, and kind. He's also a really good card player, and he taught me how to play poker. He taught me so well that I was finally able beat him.

— Michael Criscuolo (@MCriscuolo1) November 11, 2017
---
Tom Hiddleston ran into me in the street once and spilt my coffee. He apologised so many times the words started to sound weird and he bought me another coffee

— merry christmaz (@captain_tiny) November 10, 2017
---
---
David Tennant not only graciously accepted an academic paper from a random fan in the Richard II stage door line but actually read it and sent me an appreciative note about it

— the cold genius (@angevin2) November 9, 2017
---
---
Peter Dinklage stopped riding his scooter bc he saw my dog was scared of it. He came up to her and said "ah these are the worst, aren't they?", pet her and then walked his scooter the next few blocks before he got back on.

— chelsea marshall (@theseamar) November 10, 2017
---
One time I tweeted @SarahKSilverman about being too broke to go to her show and was reading her book instead- she DMd me that she put me on the list for the show. My future wife and went to that show togeather. I hope she knows how much that meant to me, I cried with joy.

— impatient mac&cheese (@ESL_teach) November 11, 2017
---
---
i was an extra in a movie with Michael Keaton. He played frisbee with us, took pictures, and signed my friend's Batman DVD

— Thanksgiving, but bean to bar (@McLeemz) November 9, 2017
---
Egadsden seems to have had very many celebrity encounters, with at least a lot of them going pretty well: 
---
Lou Diamond Phillips stuck up for me against a really rude customer at a coffee cart I used to work at

— Egadsden🌹 (@itspronounced48) November 9, 2017
---
---
Billy Gibbons would play acoustic guitar and tell me stories and his GF would bring me coffee while I removed his viruses which were many

— Egadsden🌹 (@itspronounced48) November 10, 2017
---
Kenny G would always tip $100 whenever I came to his house to fix whatever

— Egadsden🌹 (@itspronounced48) November 10, 2017
---
---
I helped install Cuba Gooding Jrs home theater and he was SO excited and appreciative when we set him up to play different music in different rooms

— Egadsden🌹 (@itspronounced48) November 10, 2017
---
---
Also at coffee cart I helped Salma Hayek a few times, she always tipped heavy and was very nice

— Egadsden🌹 (@itspronounced48) November 10, 2017
---
---
Alex trebek would come into big 5 regularly and was always so patient and kind to everyone

— Egadsden🌹 (@itspronounced48) November 10, 2017
---
Check out some other good celebrity stories shared on the Twitterverse:
---
I was crying quietly to myself after my Mom died in a cafe, Robin Williams noticed me and paid my check. He whispered things usually get better.

— catherine (@pantone7605) November 11, 2017
---
I met Justin Timberlake when he was doing sound mix for the Jonathan Demme concert doc and when I asked him if the movie was a sequel to SILENCE OF THE LAMBS he laughed super hard and told me I'm "great"

— Hunter "Huge Fan of BACKDRAFT" Lurie (@hunterlurie) November 10, 2017
---
---
Bono once saved my friend from being beaten by her ex-husband, a much larger guy. True story.

— Theodore Donald "Donny" Kerabatsos (@Papakila) November 10, 2017
---
---
Nathan fillion is amazing and often gets food truck service and similar as thanks to the production crews on shows/etc he appears in

— The "Nazis Aren't Welcome On My Site" Sixler (@Thesixler) November 10, 2017
---
Mara Wilson, star of Matilda, has interacted with many stars and was not shy about sharing nice stories about them: 
---
Danny DeVito and Rhea Perlman let me stay with them when my mom was in the hospital for cancer surgeries

— Mara "Get Rid of the Nazis" Wilson (@MaraWilson) November 10, 2017
---
---
Gwen Stefani was also really sweet to me and my sister. Dylan McDermott would play basketball with my brothers. J. T. Walsh helped my teenage brother raid the craft services table. John Darnielle is kind and patient and brilliant.

— Mara "Get Rid of the Nazis" Wilson (@MaraWilson) November 10, 2017
---
Salma Hayek danced with my little sister at a party once, as did Shannon Doherty, and Spice Girl Mel C played Connect 4 with her. Lucy Liu was so incredibly kind and lovely when we worked together when I was nine that she became one of my first big crushes.

— Mara "Get Rid of the Nazis" Wilson (@MaraWilson) November 10, 2017
---
---
My friend was going through a divorce and we went to party. Mindy Kaling was there, talked to us about Game of Thrones, and (tried to) set my friend up with a date with one of her writers. This cheered her up. https://t.co/KxhSPUSoyH

— alex abad-santos (@alex_abads) November 10, 2017
---
---
Jack Black once listened very empathetically to girl troubles I was having when I was 18 and gave me solid, mature advice on leaving things be. I didn't realize it was him until someone told me.

— Lev Novak (@LevNovak) November 9, 2017
---
Paul Rudd helped a friend of a friend meet Stephen Merritt after a show. Merritt was unfriendly and Rudd was super nice

— Gregory Cat-Holder🐀 (@cat_beltane) November 10, 2017
---
---
I worked at a famous toy store for a while. Met a lot there - many stressed. But David Schwimmer gave extra to toys for tots after Sandy. I hadn't realized it was him and was focused on his stressed out toddler.

— Rebecca Overholt (@Julephenia) November 10, 2017
---
When the stunt horses in LOTR were being auctioned off, Viggo bought the white Horse "Arwen" rode for the stunt rider who filmed the chases with the Nazgul because she had fallen in love with the horse but couldn't afford to buy him.

— Kristin Bailey (@KBaileyBooks) November 10, 2017
---
---
I interned in the set of LA Dragnet when I was 20, Eva Longoria always remembered me and asked how my internship was going.

— Kimberly Rae Miller (@KimberlyRMiller) November 10, 2017
---
---
Keanu Reeves regularly takes paycuts so that his wages can be used to pay the crews on his movies bonuses.

— Diana Joy (@Nascentransgirl) November 10, 2017
---
Michelle Pfeiffer spent a long afternoon on STARDUST demanding baby pictures and stories about my then-new son and telling stories about her own kids. She gave me parenting tips and a list of places to go in LA when he got older. https://t.co/EXZipgi7G0

— DrewMcWeeny (@DrewMcWeeny) November 10, 2017
---
---
robin williams was the nicest, most compassionate celebrity I ever had the pleasure of knowing in person. personally saw him threaten to beat the hell out of some rando harassing a homeless person in the ocean district six or so years ago

— Dimsdale! (@caylenb) November 9, 2017
---
---
carrie fisher followed me on my old twitter before and out of nowhere i dm'd her bc i was having a breakdown and two days later she responded in the middle of the night with an advice i'll forever hold in my heart

— maria (@umathurmcns) November 10, 2017
---
Once, I was nearly humiliated at the grocery store when I didn't have enough money. Felt a tap on my shoulder, then someone handed a $100 note. A voice said, "Hey, don't be ashamed. We've all been there." I turn around and it's Terry Richardson.

— Tudley (@Thoirdealbhaigh) November 10, 2017
---
---
One last one: the Rock stopped a junket cold to play action figures for five or ten minutes with Allen, who was four at the time and totally star-struck. He let Allen take the Rock G.I. Joe figure with him. Allen still talks about this. Frequently. https://t.co/EXZipgi7G0

— DrewMcWeeny (@DrewMcWeeny) November 10, 2017
---
If you have any views or stories that you would like to share with us, drop us an email at writetous@meawwworld.com