Dwayne 'The Rock' Johnson is 'serious' about running for president in 2020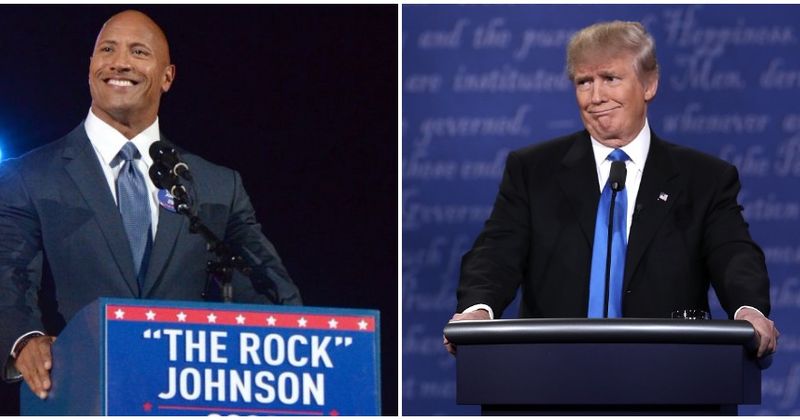 The wrestler-turned-actor has been teasing the possibility for a year now
Imagine a president called 'The Rock'. Now if that doesn't break walls, what will. But wordplay aside, looks like Dwayne 'The Rock' Johnson is seriously considering a career in politics.
While on The Ellen Show with Kevin Hart this week to promote his upcoming film, Jumanji, Dwayne said he's "seriously considering" running for president of the United States in 2020. He didn't say much more than that, but Hart fully endorsed his Jumanji co-star regardless.
"I think the world that we're living in today, you're seeing the real effect that genuine people like Dwayne have," Hart said. "The one thing about him is he's very serious when it comes to spreading that love, that laughter and just the upselling of life on a positive level. And if he were to put himself in that position, he would get my support wholeheartedly – unless it comes to a financial dollar, then we've got to talk."
"I know where his heart is," Hart continued. "I really know him. So I know if he puts himself in that position it's for the better of the people. I can only applaud him and support him for doing that."
This isn't the first time Dwayne has flirted with the idea of running for president, but it is the closest he's come to making a commitment.
Late last year, the wrestler-turned-actor said that he "wouldn't rule it out" when asked if he would seek office, saying: "It would be a great opportunity to help people, so it's possible. This past election shows that anything can happen."
Earlier this year, in May, he told GQ that him running for president is "a real possibility" and followed it up in an interview with Jimmy Fallon by saying "three-and-a-half years is a long ways away" but he is intrigued by the idea.
According to Rolling Stone, someone then made him eligible for the 2020 election by filing the "Run the Rock 2020" campaign committee on his behalf with the Federal Election Commission in the second week of July. A poll released by Public Policy Polling also revealed that Johnson would lead Donald Trump 42-37 in a prospective contest.
If you have any views or stories that you would like to share with us, drop us an email at writetous@meawwworld.com