Are the Grammys still relevant today?
As the nominations for the 60th Grammy awards are announced, one can't help but wonder if any of them make sense any more.
The road to the Grammy Awards is on its way. The nominations are out and the hype is already everywhere. Famous designers are already planning their artistes' dresses for the grand Red Carpet. Awards season is just around the corner and one can't stop hearing the phrase 'The big night' everywhere.
All that is great. But I invite you to pause for a moment and ask, 'What does it even mean to win a Grammy any more?' Does it really award deserving artistes for works based purely on musical merit? Are the nominations truly reflective of the public consciousness of the times? Does not winning a Grammy change the value, status or greatness of an artiste? Is it really the gold standard of music recognition, as it purports to be?
Let's take a deeper look. The Grammy Award turns 60 this year. And as usual, it will be broadcast live on January 28, and millions of people around the world will tune in. But we live in an age where YouTube videos amass millions of views in a matter of minutes.
It's the era of virality—of live streaming, music on the fly, of 'Netflix and chill', of unlimited free porn and infinite content. It is easier than ever today to turn on, tune in and drop out.
So, does the Grammy mean the same as it did 60 years ago? Certainly not. Almost nothing remains the same over 60 years, but to what degree is the change is the question here.
Today, you don't need a grand televised event to gain recognition. You can launch into fame from your very own garage, with just some basic recording equipment and an original voice. We live in a time when 'going Platinum' doesn't even technically require you to sell 1 million actual physical records. Streaming and downloads also count to make the numbers now.
Jay-Z's new album 4:44 for instance went Platinum in under a week after the release, in spite of being released exclusively on the streaming service Tidal. So much so that Jay-Z's photo for the ceremony was taken before the album even released! And of course 4:44 is a forerunner for the 2018 Grammys. This is Jay-Z we're talking about here. And sure it's a great album but consider this.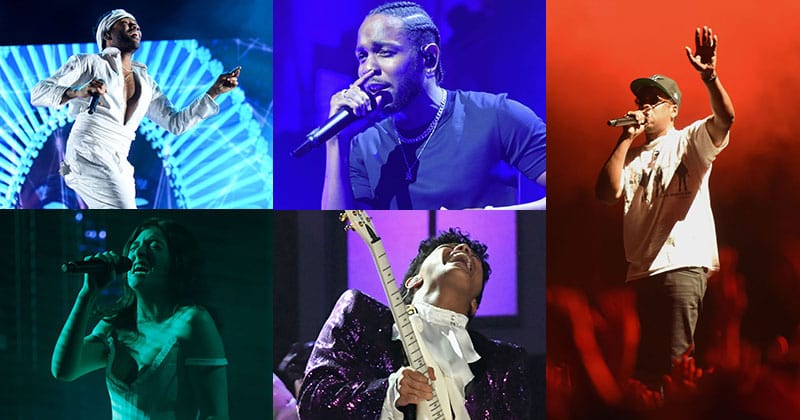 Jay-Z, along with Kendrick Lamar, Childish Gambino (Donald Glover) and Bruno Mars make up four out of the five nominations for Album of the Year, one of the main awards for the night. That leaves the fifth nominee Lorde as the only woman in the running. Notice a pattern here? The only white person nominated here is a woman. The Recording Academy's attempt at a reply to the issue of racial misrepresentation at awards festivals, which reached its peak during the 2017 Oscars, seems like it's overcompensating for its past sins.
For starters, picking the winner for Album of the Year is like the race for the Democrats' candidate for President in 2008. It's either a black man or a white woman! Either way, it sounds like a very safe play on the part of the Recording Academy—a thinly veiled apology to years of neglect and misrepresentation passed off as a win-win situation. Secondly, there are no white men in the running. But does completely excluding a demographic suddenly make the Grammys fair now? And how is it not fundamentalist if you leave an entire race out?
---
Happy to see much more diverse representation, but how does complete absence of ANY racial group reflect diversity? #Grammy #race https://t.co/dzfHf3Z3Pr

— Mal Fletcher (@malfletcher) November 29, 2017
---
Strikingly, Taylor Swift and Adele's names are not on the list for any of the big categories. And what happened to Ed Sheeran? He definitely has a lower number of nominations than expected. It's white exclusion!
If this 'token racism' takes the forefront, then the Grammys are not really awarding artistes based on merit. It could be argued that the winners are purely circumstantial—at the right place and the right time, an unintended benefitor of the current political scenario.
Judging by previous trends, the Grammy is famous for doling out awards to already established artistes. So it is a bit of a relief to see the academy finally throwing the spotlight on artistes such as SZA (who leads the nominations among the women with a total of 5) and Cardi B (whose hit single Bodak Yellow is nominated for Best Rap Performance).
But the big awards of the night usually sees an already established artist stealing the show. So assuming Jay Z wins for 4:44 this year, what message would that send out to the world?
The album clearly bears an apologetic tone, drawing from Jay-Z's recent tumultuous relationship with Beyonce. What would it mean if the male apologist's art wins an award in the era of #metoo, where women's solidarity against harassment is at the absolute peak?
---
Can we take a minute to reconignize that 90% of the #GRAMMY Nominees for Record of the Year are People of Color! Brown and Black People unite 💪🏾💪🏽 pic.twitter.com/aOoI3mWo5g

— Kitten Heel (@GabrielleAmani) November 28, 2017
---
Today, the music industry is on a sharp rise again after recovering from a fall in 1999 (remember Metallica feud with Napster) which brought about a decade of rampant piracy. But the tables have turned and all fingers point to one suspect - live audio streaming.
Streaming is the preferred method of consumption for music. Fewer and fewer people buy CD's and Vinyls — but Vinyls are recently making a comeback, with 3% more sales than 2016. Thank you hipsters! — and that personal connection between possessing an album, where you listen to it over and over again has been severed.
In Jan 2017, more than 30 million people were paying for a subscription streaming service in the US alone, which pushed streaming revenue up a staggering 48 percent. Now at the end of the year, the numbers are definitely higher—more than downloads, CD sales or Vinyl sales.
Streaming now accounts for 62 percent of the US music business. Between Spotify, Tidal, Apple Music and now Google Play, the market is saturated. And with streaming, the listener now has something never before offered. Endless, instant choice. Or as Arcade Fire called it in their 2017 album, 'Infinite Content'. What does this mean?
Every listener has their own choice in music and the recommendations that the streaming services provide pushes the listener further and further in that direction with endless options to explore. The level of exposure for the artiste is definitely big, but sporadic and distributed globally, allowing for cult fans to form fan-arms on the internet.
So some obscure Japanese rockabilly artiste might not be that obscure anymore to the average listener! This means that everybody has their own Grammy-worthy favorite artistes, and the number of streams, downloads and video views reflect this.
So for the Grammys, trying to please this hopped-up-instant-karma audience is going to be extremely tough. It could even be argued that the aura and status that the award once held is fast diminishing, at least among the masses.
All right, so let's leave the big categories alone and look at some other ones. Best 'rock' album has a nomination list that's so scatter-brain, it leaves you wondering what 'rock' even means any more today! Imagine the likes of Metallica, Mastodon and Queens of the Stone Age (whose Grammy is long overdue) up against The War on Drugs, a band whose sound is not even the same playing field as the other nominees.
It would make more sense if they were in the Alternative Album category up against someone like The National and Arcade Fire (who famously upset the 2011 Grammys to be the first Indie band to steal Best Album of The Suburbs).
Meanwhile, LCD Soundsystem, probably the most electrifying indie dance act of the 21st century, is nominated for Best Alternative Album and not Best Dance/Electronic Album but at the same time, their single Tonite is also nominated for Best Dance Recording! Looks like even the Recording Academy can't put a finger on LCD Soundsystem's genre-defying, transcendent, 'dance-punk' sound!
In other news, Bob Dylan's Triplicate is head to head with Seth MacFarlane's In Full Swing for Best Traditional Pop Vocal Album. There's a fact that you never expected to see. Pop culture icon and Nobel laureate going toe-to-toe with the creator of Family Guy!
Surprisingly though, over the years, the number of people tuning has only been going higher. Last year saw about 25 million people tuning in from across the world. In comparison, Game of Thrones' 7th season drew in around 15 million people per episode. From the Oscars to the Emmys to the American Music Awards — award shows have seen declines after several years of growing viewership. The Grammys are the only ones holding the torch up high.
In spite of growing controversy over racial misrepresentation, overshadowing new artistes and under-appreciated talent, the Grammys seem to draw more and more audiences every year. The Grammys seem to have a knack for building massive amount of hype, drawing you in and then breaking your heart over and over again with awards that start to make lesser and lesser sense. But at least now, we have the option to look away! You can always catch the performances later on YouTube! And of course, whether the artiste you're rooting for wins or not changes nothing. It does not suddenly make them a better artiste. Neither does it turn them into 'sellouts' over-night. Well at least in most cases!
If you have any views or stories that you would like to share with us, drop us an email at writetous@meawwworld.com