Barbie releases its first hijab-clad doll and it's a total winner
Ibtihaj Muhammad is the first American Olympian to compete wearing a hijab.
Every year, Mattel, the makers of Barbie come out with a new doll as part of their Shero series. And this year, that honor goes Muslim American Olympian, Ibtihaj Muhammad.
The saber fencer finds herself immortalized in a barbie that wears a hijab, holds a foil and is ready to show her grit. This is the first time the world has seen a doll that's clad in a hijab, a head covering worn by Muslim women around the world.
Barbie's new look is an inspiration to millions of Muslim women out there who will finally find themselves reflected in a doll that's popular around the world.
In fact, Ibtihaj herself has a long history with Barbie. She used to play with the doll as a young girl.
The 31-year-old Olympian posted a picture of herself holding the Barbie and captioned it, "I'm proud to know that little girls everywhere can now play with a Barbie who chooses to wear hijab! This is a childhood dream come true 😭💘 #shero"
Indeed, it is a proud moment for Ibtihaj to be part of Mattel's shero programme. The company began producing a line of dolls inspired by a select number of women who stamped their identity in their respective fields.
It started in 2015 as part of the You Can Be Anything campaign and the first six dolls were introduced during Variety's Power of Women Luncheon. Suffice it to say that the first six barbies introduced during the event were pretty radical.
The dolls no longer had blonde hair, blue eyes and a sweet smile etched on their plastic faces.
Instead, the dolls looked bold, sporty and edgy, just like their real-life inspirations, which included filmmaker Ava DuVernay, Gabby Douglas, an Olympic Gymnast and country musician Trisha Yearwood, among others. Ibtihaj's doll too looks proud while resting her foil in her fencing costume.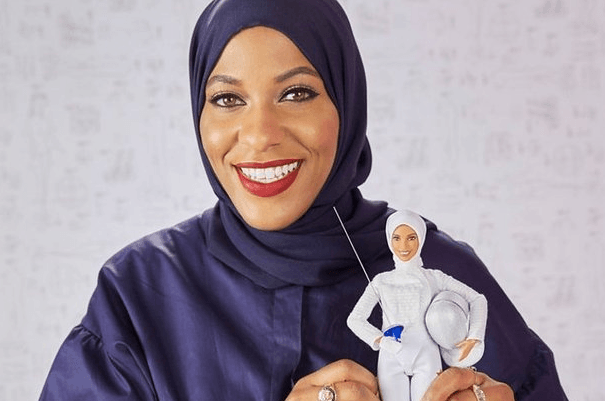 "Barbie is celebrating Ibtihaj not only for her accolades as an Olympian but for embracing what makes her stand out," Sejal Shah Miller, vice-president of marketing for Barbie, told Bustle.
The New Jersey-born native earlier said that she took up fencing because she didn't have to look different. "When I think of my predecessors and the people who spoke out against bigotry and hate, I feel like I owe it not just to myself but to my community to try to fight it," the Washington Post quoted her as saying. 
Ibtihaj currently holds No. 2 spot on USA Fencing's national team and No. 8 in the world. Last year, she was honored as one of Time's 100 Most Influential People. She even gave former First Lady Michelle Obama a fencing class before the 2016 Rio Olympics, where she won a bronze medal.
But it's not just training and fencing that interests this Olympian; she's also a fashion designer. Ibtihaj started an e-commerce website called e-comm site Louella which, according to the website offers "fresh and vibrant look to the modest fashion industry."
She's also a big fan of Ellen DeGeneres. She told the TV host, "I'm so obsessed with you. I'm so excited to be here. You're such a role model," adding that she's busy training for most of the time but "I always find time for you."
If you have any views or stories that you would like to share with us, drop us an email at writetous@meawwworld.com