AMAs 2017: Viewers accuse Selena Gomez of lip-syncing during performance
Selena Gomez also debuted platinum blonde locks at the event.
Selena Gomez may have been in the news these past few weeks more because of her personal life than professional, but the American Music Awards (AMAs) which took place on Sunday, changed that a little bit—not in a good way though.
The singer, who performed at the event, found herself at the receiving end of fan criticism from viewers who claimed she lip-synced. After performing her hit single Wolves, the singer appeared passive as she shrugged slightly at the applause and mouthed "Thank you."
Unhappy viewers took to social media to slam Selena's performance:
---
I love how this big deal is made that Selena Gomez hasn't performed in a year and then show comes out and lip sync's 🙄 #AMAs

— Carolyn Sotos (@carolynsotos) November 20, 2017
---
---
Wait wait wait... okay y'all not trying to bash on anyone's performance but was that a lip sync slip up or like some really loud back up vocals in Selena Gomez 's performance likeeeee.... genuinely asking #AMAs  #2017 pic.twitter.com/OGecTI3s0q

— Sky Marceli McCorkle (@SheBeSkyHigh) November 20, 2017
---
---
Crying with the wolves because I did NOT want that performance to end, @selenagomez & @marshmellomusic! 😭 #SELENAxAMAs pic.twitter.com/sNyqCTnmZR

— AMAs (@AMAs) November 20, 2017
---
---
Lip sync battle? Oh wait.. it's just a selena gomez performance #AMAs

— niall. (@NiallFenty) November 20, 2017
---
Maybe the fans are being a tad unfair to the singer who returned to the stage just months after her kidney transplant. It's fine if she's not seen jumping ecstatically during a performance.
"May i remind y'all selena is still recovering from a kidney transplant and she just gave the performance of a lifetime. words cannot express how emotional i'm feeling right now. literally shaking," wrote one loyal fan.
---
YALL CAN NEVER LEAVE SELENA GOMEZ ALONE! she did amazing and y'all can not accept the fact that she did her best! People will find and do anything to bring anyone down! This is what society has become a place where no one can breathe because you'll be criticized!!!!!@selenagomez

— Rogerzzz (@r_roelio) November 20, 2017
---
---
so proud baby, you deserve the world. i love you more than everything. i hope you gonna be okay, i love you @selenagomez #AMAs2017 #AMAs #SELENAxAMAs #WeProudOfYouSelena pic.twitter.com/WW4oAQvKWE

— sabrina WOLVES (@bhaysgrier) November 20, 2017
---
Selena thanked her fans for their support on her Instagram story.
"We were trying to make this look better. I don't know, it's fine," said Gomez — who kicked off her heels and dress for a comfy red jacket and hoodie — in the video, which she captioned "grateful grateful grateful." "Thank you to my best friend Petra [Collins] for helping me bring it to life."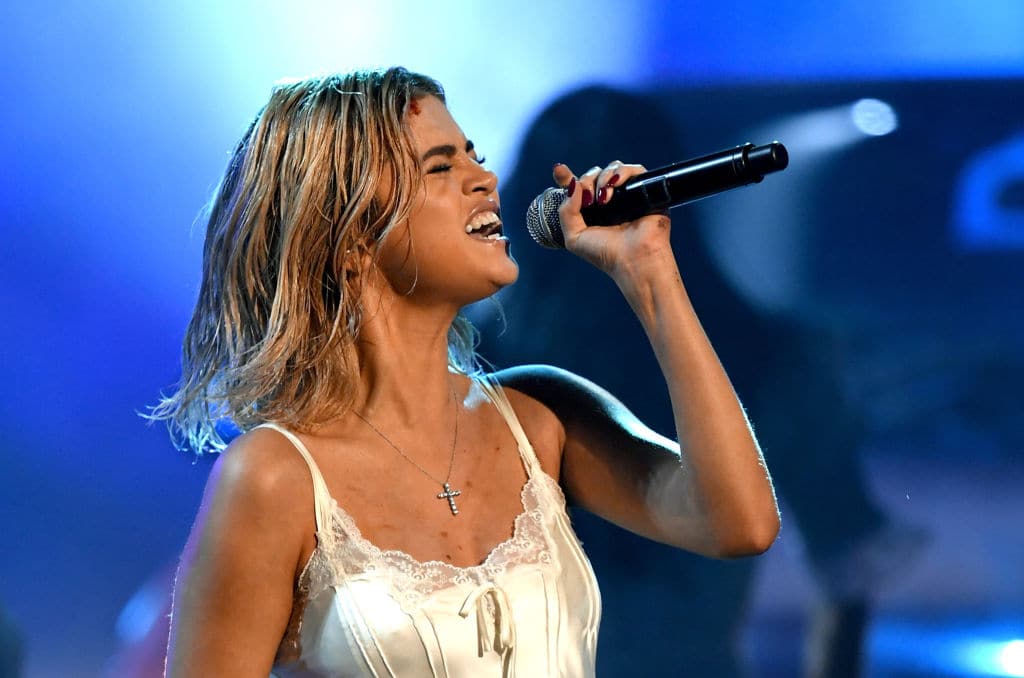 Collins also directed Gomez's Fetish music video and supported the entertainer after her performance on social media. "So endlessly grateful to have been able to direct this," she wrote on Instagram. "Thank you @selenagomez for being such a bad ass strong woman."
---
---
The singer also debuted platinum blonde locks on the red carpet earlier in the day and reportedly left the show before it was over.
The star posted three Polaroid-style snaps with the simple caption: "so i am blonde now".
---
---
Her new 'do' was liked by more than two million fans on the social media site — including on-and-off (currently on) boyfriend — Justin Bieber.
If you have any views or stories that you would like to share with us, drop us an email at writetous@meawwworld.com