15 Photographs of celebrities who had open-casket funerals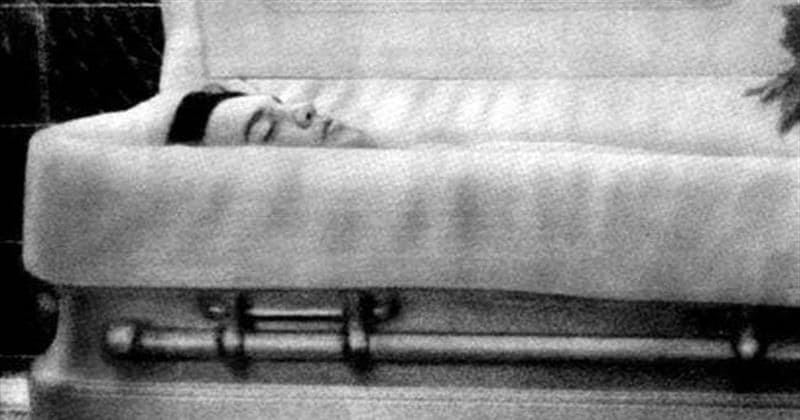 Most celebrities choose to be buried in private ceremonies, but few had open-casket ceremonies that allowed their fans one last glimpse.
Millions die each day, and we don't stop to mourn any of them; why would we, death is, after all, a part of the vicious circle of life. However, when a famous personality or celebrity passes away, television coverage shows us people from all around the world mourning their death - tears streaming down their faces, sheaths of flowers placed under marked memorials and fits of hysteria.
It's most possibly because we have attached these celebrities to memories that have come to define who we are. A strong nostalgia factor ensures that we genuinely feel the pain of their passing. While most were buried away in private ceremonies, some had open-caskets, allowing us one last glimpse of our heroes after their deaths. 
#15 Boris Yeltsin
Those subjected to Vladimir Putin's propaganda will mostly not be aware of Boris Yeltsin. Yeltsin's personality was a polar opposite to that of Putin and he will forever hold the honor of being Russia's first ever democratically elected president. Following his death in 2007, he was given an open-casket service which was attended by many former and current world leaders. The iconic shot above was captured by photographer Alexander Zemlianichenko mid-ceremony.
#14 Tiny Tim
Not many can hold a candle to Tiny Tim's ukulele playing skills and he's undoubtedly the most famous ukulele player who has ever lived. Tim, unfortunately, passed away after suffering a heart attack onstage at a benefit at the Women's Club of Minneapolis. His funeral was open to the public and was attended by everyone from Elton John to Howard Stern. Aptly, Tiny Tim was buried with a ukulele placed on his chest.
#13 Bill Robinson
More popularly known as 'Bojangles,' Robinson was arguably the most prominent African-American performers of the 20th century, appearing in numerous films with Shirley Temple. He died when he was 71-years-old from heart failure and his funeral arrangements were made by Ed Sullivan.
Estimates suggest 32,000 people paid their last respects to Robinson, with the above photo of Bojangles in his casket obtained fromLife Magazine's historical archives.
#12 Grace Kelly
Grace Kelly had a stellar acting career and the honor of being a real-life princess. She became the Princess of Monaco after marrying Prince Rainier III in April 1956. She died at the age of 52 a day after suffering a stroke while driving through the hills of Monaco and suffering a horrendous car crash.
The iconic photo above was taken by Jean Guichard at the Palace of Monaco, where she had married the prince in 1956.
#11 James Brown
Brown's career lasted 50 long years, with his work earning him the title of the 'Godfather of soul.' After his death, his relatives, a host of celebrities, and thousands of fans gathered for a public, open-casket service at the Apollo Theater in New York City on 28 December 2006. The above snap was captured by Robert Sabo for NY Daily News and shows Michael Jackson paying his tributes to brown.
Other prominent celebrities who attended the funeral include 50 Cent, Lil Wayne, Stevie Wonder, Dr. Dre, Ice Cube, and MC Hammer.
#10 Nelson Mandela
The leader of South Africa's anti-apartheid movement, his passing in 2013 triggered mourning across the country and the world, with foreign dignitaries and presidents alike paying their respects to the great man. The former president's body was visible through a glass lid and mourners were allowed to pass the casket and pay their final respects to the man who had paved the way for the country's freedom from British rule. Unsurprisingly, security was strict, with members of the military guarding his casket at all times.
#9 Jesse James
Jesse James's notoriety meant that he attracted just as much attention in death as he did in life: a lot. The world's most famous outlaw was murdered in 1882, with rumors suggesting that James' mother charged people a quarter if they wanted to take a pebble from his grave. Soon, rumors began making the rounds that Jesse had even faked his own death.
Those rumors finally came to an end when his body was packed in ice and displayed at Sidenfaden's Funeral Parlor in Saint Joseph, Missouri.
#8 Bonnie Parker
One half of immortal crime duo Bonny and Clyde, Parker's death received a significant amount of media coverage and attention for a criminal. She was buried on 26 May 1934, one day after her partner Clyde Barrow's burial and had to be significantly cleaned up after the violent shootout with the police that ended her life. One of the largest wreathes in the funeral was from the paper boys of Dallas, who had made a fine buck by covering the duo's criminal exploits.
#7 Mother Teresa
Mother Teresa has done a lot for Christianity and granted the status of Saint after her death. Known for taking care of the poor and sickly, her Missionaries of Charity, a Roman Catholic religious congregation consisted of over 4,500 sisters from 133 countries as of 2012.
Her selflessness and kindness inspired millions around the world and thousands flooded the streets of Calcutta as her body made its way through the streets of the city to the Netaji Indoor Stadium.
#6 Whitney Houston
Houston was one of the most-famous and most-awarded artists of all-time, having sold over 200 million records. Her death due to heart disease and cocaine abuse attracted worldwide attention. Her funeral was a private ceremony, but the National Enquirer managed to acquire a photo of the singer in the casket and ran it with the distasteful headline: "Whitney: The Last Photo!"
The image was believed to have been taken inside the Whigham Funeral Home in Newark, New Jersey, with estimates suggesting the tabloid paid a minimum of six figures for the photo. National Enquirer faced a barrage of criticism from all sides, but that did not put off the publisher who called it a 'work of art.'
#5 Abraham Lincoln
Considering the turbulence and upheaval of the American civil war, the assassination of Abraham Lincoln wasn't as shocking as it ought to have been. His death was still mourned by millions around the country and the president's body was taken on a tour of five states via train. His body made its way through Illinois, Indiana, New York, Ohio, and Pennsylvania before it was finally buried in Oak Ridge Cemetery, just two miles outside of Springfield Illinois.
#4 Bruce Lee
Considered by many to be the greatest and most influential martial artists of all-time, his death at just the age of 32 made waves around the world and generated a lot of controversies. He had suddenly collapsed during the dubbing session for Enter the Dragon and was declared dead by doctors a few hours later. He had died due to an allergic reaction to a painkiller he had taken.
A public mourning was held for his fans and close to 25,000 crowded the open-casket ceremony. He was later flown back to Seattle for burial.
#3 Marvin Gaye
Marvin Gaye's blossoming career was tragically cut short when he was shot at point-blank range by his own father on 1 April 1984 while he was staying at his parent's home in the Crenshaw district of Los Angeles. Following his death, his body was available for open viewing at the Forrest Lawn Memorial Park before it was cremated. The now infamous photo of Marvin lying in his casket was taken by Tamla-Motown.
#2 Martin Luther King Jr.
Martin Luther King Jr. was shot in the neck and killed by James Earl Ray in April 1968. Following his assassination, his body was laid in an open bronze casket at the R.S Lewis & Sons Funeral home in Memphis. Black suit tidily pressed, and the wound in his throat now all but invisible, hundreds came to pay their respects to the leader of the country's civil rights movement.
Many could not control their tears; some kissed King's lips; others reverently touched his face, and some threw their hands in the air and cried out in agony.
#1 Elvis Presley
Elvis Presley's death shook the music industry like none other. But what was arguably more shocking was that the above picture of Presley in his coffin appeared on the front page of the National Inquirer on September 6, 1977. The story behind the infamous photo is legendary in its own right. Iain Calder, the veteran Editorial director of the newspaper, reportedly paid Elvis' cousin Bobby Mann $18,000 to take the picture.
The photo was taken using a miniature Arco Flex spy camera which is now believed to be worth $10 million on its own. The risk turned out to be worth it. That particular edition sold a record-setting 6.5 million copies and has since become the most famous cover picture in history. Unfortunately, the original photo was shredded in a six-year decontamination effort in the tabloid's former headquarters.
If you have any views or stories that you would like to share with us, drop us an email at writetous@meawwworld.com