15 before and after makeup shots of celebrities
What do they look like before and after? You will be surprised (in a good way, don't worry!)
We mostly only get to see one side of celebrities. The side where they look absolutely flawless but what lies beneath the makeup; some naturally beautiful faces. Every one in a while it's nice to see a side that is not decked up but is what it is. These are 15 gorgeous before and after makeup celebrity pictures: 
#15 Lady Gaga
Lady Gaga has made a mark in the music industry with her one-of-a-kind look. With no makeup, she is just as gorgeous as she is with makeup. Her look is definitely unique and she is known to have come up with some of the most creative outfits. 
#14 Kesha
Kesha has the most adorable freckles on her face which she chooses more often than not to cover up with makeup. She released an album back in August called Rainbow and has been active on social media platforms. She is one woman who is beautiful with and without makeup. 
#13 Gal Gadot
She is naturally gorgeous and really does not need the makeup. Her role in Wonderwoman will always be remembered. Since then she has been getting multiple offers from various producers. She even hosted Saturday Night Live this season. 
#12 Cara Delevingne
She has the most iconic eyebrows since Brooke Shields back in the 1980s. She has worked the runway for design giants like Dolce & Gabbana, Jason Wu, Burberry, and Chanel. She is extremely down to earth for someone who is world famous. She is one of the most well known supermodels of our time.
#11 Drew Barrymore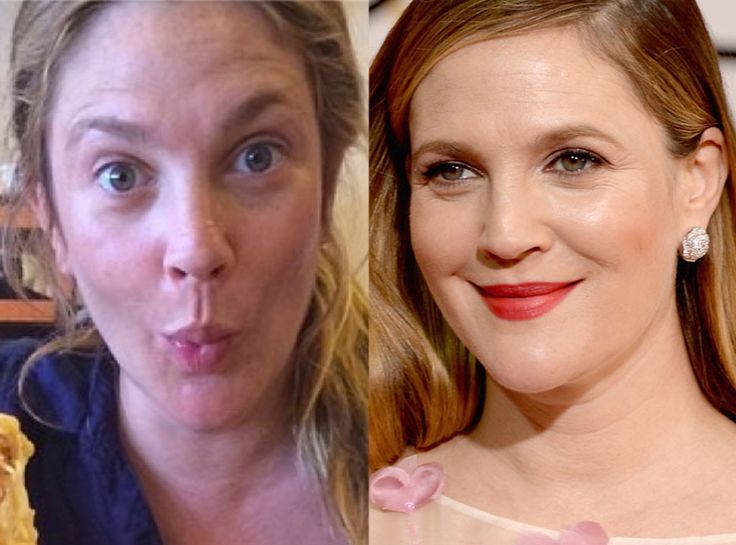 She is one of those faces which does not need any makeup to look good. She became the face of CoverGirl Cosmetics in the year 2007 and then once again in the year 2015. She has a fresh, natural vibe which is such an attractive quality to see and be around. 
#10 Lindsay Lohan
The Mean Girls star hit a couple of bumps in her career but her talent cannot be denied. She will be remembered for her roles in The Parent Trap, Freaky Friday and of course, Mean Girls. Somewhere along the way, her life began to hit a downward spiral with two DUIs. All of her shenanigans affected her career as well as her looks. 
#9 Olivia Wilde
She always looks ever so youthful and flawless. She has a special glow about her and gives credit to her fiance Jason Sudeikis. She has one of those faces which are just perfect and leave the rest of us in awe. If that was not enough, she is also the mother of two kids! 
#8 Sophie Turner
We have watched Sansa Stark grow up to be a mature, strong and beautiful actress since her appearance in the TV series, Game of Thrones. She is now going to be starring in movies such as Barely Lethal and X-Men Apocalypse. She is very down to earth and is currently engaged to the singer Joe Jonas. 
#7 Jennifer Aniston
Everyone knows her from her iconic role as Rachel Greene from the TV show, Friends. She is the fresh and beautiful face of Aveeno Skincare. Aniston has been known to do whatever it takes to do the role right and always pulls it off brilliantly. She is one talented woman! 
#6 Uma Thurman
Quentin Tarantino based a lot of his screenplays around Thurman thanks to her talent and undeniably good, smooth looks. Back when she was a teenager, she was made fun of because of her tall frame but now she is one of Hollywood's hottest women. She really could not care less if she was seen without makeup, she looks good anyway! 
#5 Emilia Clarke
Most of us know her as Daenerys Targaryen on Game of Thrones despite the fact that she has acted in other TV shows and movies. She always has a massive smile on her face and is truly a Khaleesi even in reality. Her Game of Thrones character is what catapulted her into a massive star. 
#4 Gwyneth Paltrow
She won an Academy Award for her role in Shakespeare In Love and one was of the most sought-after actresses in Hollywood back in the late 90's and 2000's. She has played the character of Pepper Potts in the movie Iron Man. Paltrow even has her own lifestyle company called Goop and is the face of Estee Lauder's pleasures perfumes.
#3 Katie Holmes 
Katie Holmes looks as though she has not aged one bit since her Dawson Creek days. She was the face of Bobbi Brown Cosmetics and Ann Taylor Spring 11 collection all because of her youthful and bright appearance. Katie always looks flawless and rarely takes a bad picture! 
#2 Salma Hayek
This actress has a lot of heads turning for her ever since she starred in the Mexican telenovela Teresa back when she was younger. The producer, actress is now 51-years-old and has opened up a whole new path for colored women in Hollywood. She was even nominated for an Academy Award back in 2002. 
#1 Adele
Adele radiates a unique kind of beautiful. Not only are we captivated by her music but also by her flawless and radiant face. Even with no make-up, Adele looks great and so vibrant. She has made a big mark in the music industry with her debut album going platinum seven times in the UK and three times in the States. 
If you have any views or stories that you would like to share with us, drop us an email at writetous@meawwworld.com