Are Meghan Markle and Prince Harry really in love? 10 things that their body language reveals
They are in love, or are they?
As Prince Harry and Meghan Markle embark on their journey of a lifetime together as a couple, the world is witnessing a fairy tale unfold and they just can't have enough of the beautiful couple. Everything they do is watched closely and they just seem like a perfect couple with the match made in heaven. But what is it that makes them seem so perfect or are they even as perfect as they appear? Well, their body language says things that they might not reveal themselves and here we look at 10 instances which reveal a lot about the kind of relationship they have.
#1 Respect
In this picture, one can clearly see that Harry is explaining something to the host and he seems quite into his explanation, elaborating his thoughts and putting forward his opinion. If one looks at the way Meghan is looking at him, it would immediately become clear that she respects him and his thoughts. If respect matters in a relationship (which it does), they have that going perfectly well for them.
#2 Assurance
In the picture above, Meghan can be seen putting her hand over his while they are both engrossed in some interesting discussion. The way Meghan has rested her hand on his shows that she is reassuring him of something or is just signaling that she is there for him. The look on Harry's beaming face would tell you that he feels not only confident but extremely happy at Meghan's slightest gesture.
#3 The love in their eyes
One look at the picture above and you would know that the couple is in deep, deep love. The way they look at each other is nothing short of something out of a movie wherein the couple cannot help but look at each other with loving eyes every opportunity they get, and they look royally in love, by the looks of it.
#4 Close and in sync
The picture above is one of their first public appearances since they announced their engagement and one can see how close they are. The way they have held each other as they walk reflects the understanding that exists between them and if you notice the clothes they are wearing (almost colour coordinated), you would know that they are also in complete sync with each other. Quite harmonious, one may add.
#5 At ease with the world
During their first interaction with the public, they seem quite at ease talking to them and even sharing jokes with them. What the above photo shows is the strength of their relationship that when together, they really aren't worried about the world outside. As long as they have each other, everything will be all right, is what they seem to reflect in the picture above.
#6 All smiles
If you can make each other laugh, you are definitely made for each other. The above image is just one of the many images of the couple where they can be seen laughing together and having a good time. It shows their comfort level with each other and also that they know what makes each other smile. We don't think rainy days would affect them that much as they would always be there to make each other smile.
#7 The tight grip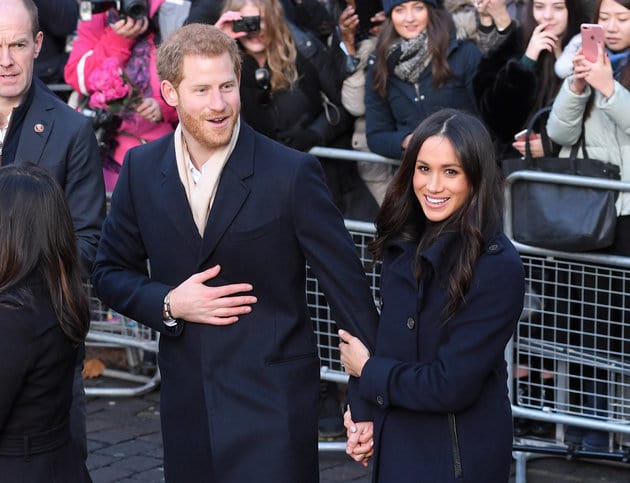 As they made their first appearance together, one can see Meghan holding Harry tight. While she is not new to fame or public appearances, this is her first stint as a royal, which Harry has been doing for quite a while. As she had seemed to reassure him in the picture presented on top of this article, here, Harry appears to be donning that hat. Kudos!
#8 Protective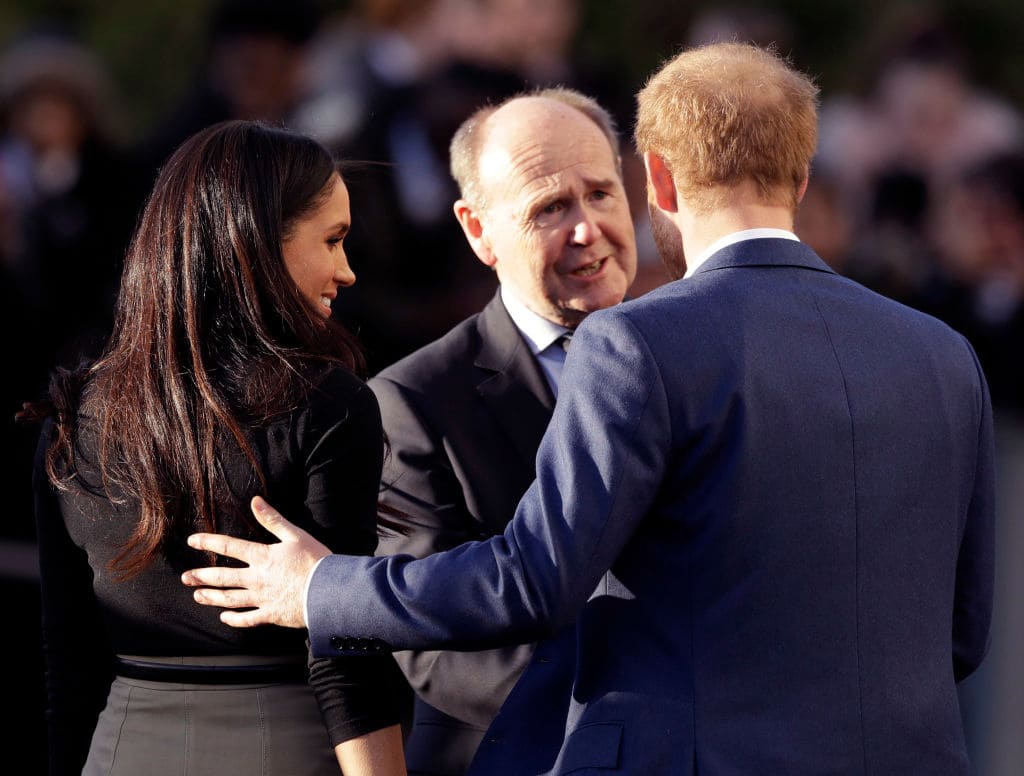 The image above shows Harry having her back (literally). The part of her back where her hand is as well as the way they stand together shows gentlemanly attitude on Harry's part and also the respect he has towards her. The slight distance between them shows that he is not overbearing and is acting more as a protector than a possessor. 
#9 Take the lead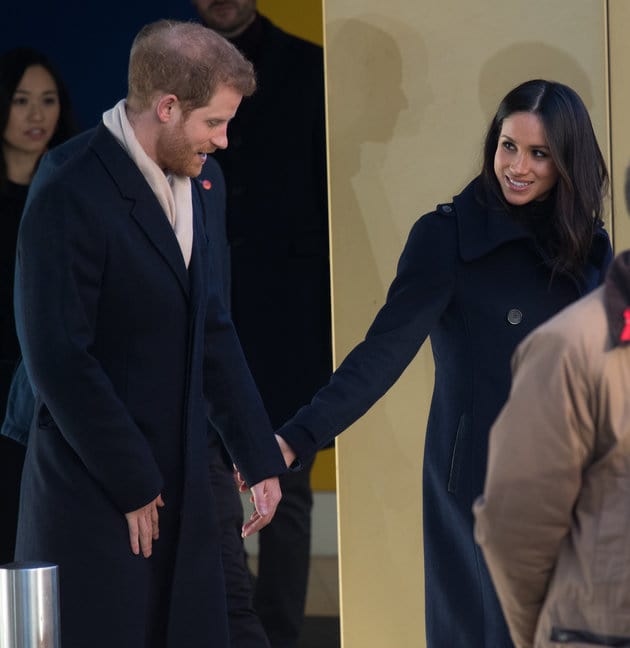 The picture above shows Meghan leading Harry by his hand which shows that it is not only the male (in this relationship) who takes the lead. It reflects the kind of equality in a relationship which is quite rare and a wonderful thing to have. They not only respect and understand each other but also allow each other to lead the way forward which is nothing short of beautiful.
#10 They fit like gloves
Almost every picture of them together has them holding hands tightly as if losing each other would be like losing the world, and this shows clearly how much they value each other in their lives. Their hands, it would appear, fit into each other's like gloves and romantically, it would seem that they really were meant to fit exactly that way.
The couple is indeed in love with each other, and have each aspect of their lives designed to be with each other. From respect to affection to sharing those lovely smiles, they have it all figured out. A royal love, it seems and a royal love it is. And we wish them the very best in life.
If you have any views or stories that you would like to share with us, drop us an email at writetous@meawwworld.com