This boy was abandoned by his mother because of the way he looked, but his story is one of triumph!
Abandoned by his mother due to his condition, he is on his way to recovery.
They say that the face is the mirror of the mind. But what if the face was impaired beyond recognition? Would it take away your identity? 
If this young boy's story is anything to go by, then perhaps the above question can make you think deeply to look for an answer.
The boy who lived
Kambou Sie, 17, from Bondoukou Ivory Coast, had been living with a condition called Burkitt lymphoma since the age of 11. It is a form of non-Hodgkin's lymphoma that left his face disfigured completely, with dead tissues hanging loosely from his face structure. 
When Kambou, who is lovingly called as Prosper, was diagnosed with the condition, his mother couldn't take the pain of seeing her child's face turn unrecognizable and abandoned him and her husband. 
"When I became ill, everyone said that I would not be healed or loved, so she [his mother] stopped caring about me and looked after her other children instead," Kambou explained.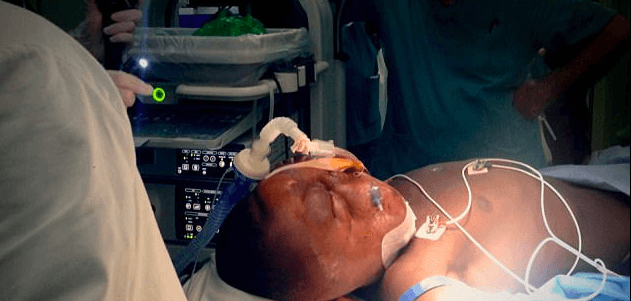 In a documentary released by Barcroft TV, the teenager recalled how is lie changed after the onset of the disease. "People said I was some kind of monster, saying that maybe it was something I had eaten which made me like this, but my cheeks just kept getting bigger and bigger. When the disease got worse, everybody left me. My father was the only one who looked after me," Kambou revealed in his documentary.
His father was left with the responsibility to look after him but had he had no money to take care of him or get him treated for his condition. As the lump was left untreated, the malignant tumor grew more in size to completely cover his face, the overgrowth blocked his mouth and forced his eyes to permanently shut, leaving him blind.
A boy who had been living with the cancerous tumor all his childhood was now even facing difficulties in breathing due to his condition.
Life looked hopeless for Kambou and his father tried to get all the help he needed in order to get his son a new lease of life. He contacted Sister Claudine from the Liliane Foundation—a charity that specializes in treating disabled children from developing countries. 
The nun, in turn, helped the boy get in touch with a charity in Italy called A Voice For Padre Pio, which aided in social and medical support. Kambou's prayers were heard and soon an appeal video was made to gather all the help that was needed. 
Soon enough, help came in and he was flown to Naples Pascale Hospital in Italy, to find the treatment he had been waiting for the last six years.
Thanks to the efforts of the charity, his treatment was funded and as you read this, he is all set to have cosmetic surgery to remove the extra tissues protruding out of his face. 
Speaking ahead of his long due medical treatment, Prosper said: "When people see me, they say they have never seen this disease on anyone else. I couldn't carry on living. I hope to be cured, even if I have to suffer first. The main thing I want to come from this is to get my cheeks sorted."
His road to recovery
Initially, he was told to get admitted to a hospital that could treat his tentative diagnosis of neurofibromatosis. However, to their horror, they found out that he was suffering from an incredibly rare form of cancer—Burkitt lymphoma.
Burkitt is known to be the fastest growing tumor in the history of cancer, but Kambou had somehow managed to live until the end of his teenage years, as the tumor was growing very slowly inside his body.
Hematologist Dr. Ferdinando Frigeri remarked: "The prognosis we are expecting to see its that, we are dealing with a cancerous tumor. The most different aspect we've noticed is that the rate of speed of growth is much slower than one normally associated with Burkitt lymphoma."
Post the diagnosis in Italy, Kambou underwent a combination of chemotherapy, radiotherapy and stem cell replacement to reduce the tumor growing in his face.
After a painful few months that witnessed Kambou undergoing aggressive treatment to treat his tumor, initial reports showed that his face has successfully managed to reduce to a great extent and he could open his eyes successfully. 
Kambou couldn't be any happier with the progress. "At the start [of my treatment] my face was so big, I couldn't do anything. But not anymore. I have nearly finished my chemotherapy and everything has deflated. My face is much better. I thank God.
For those who are left wondering what happened with his mother, Prosper's mother wrote him a letter post his treatment seeking his forgiveness. 
If you have any views or stories that you would like to share with us, drop us an email at writetous@meawwworld.com