Who is your guardian angel based on your zodiac sign?
Your Zodiac sign has an angel watching over you. Find out which one it is.
Your Guardian Angel is the one who watches over you, guides you, and protects you at your time of distress. The angel is your protector and the messenger of God who speaks to you when you need them most. But not everyone has the same angel watching over them and based on your Zodiac sign, your angel possesses different qualities as well. Find out who your Guardian angel is and what power they possess.
#1 Aries - Ariel
Ariel is the Angel associated with healing of the Earth. The angel, therefore, is your connection to nature and the essence of God's creation. It is through Ariel you can feel connected to your roots and he would be the one to heal your wounded soul.
#2 Taurus - Chamuel
Chamuel is the angel associated with peace. Chamuel is the one who will guide you towards inner peace and will bring comfort in the time of distress and anxiety. The calm yet stubborn nature of Taureans is associated with the gentle guardian angel of their sign.
#3 Gemini - Zadkiel
Zadkiel is the angel of forgiveness. The angel brings kindness and compassion to your soul and makes you the gentle being that you are. Even when you are hurt and may seek revenge, it is Zadkiel who will guide you towards faith, forgiveness, and truth.
#4 Cancer - Gabriel
Gabriel bears the strength of God and for Cancer, Gabriel brings the will to be strong in the times of need. The challenges of life and the troubles of living are made bearable with his being and when you feel weak and unable to go on, it is Gabriel who will lift you up.
#5 Leo - Raziel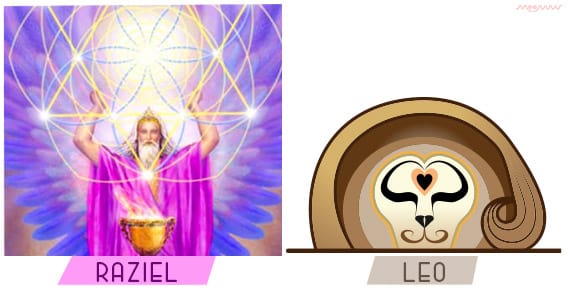 Raziel is the mystery keeper and the angel associated with secrets. It is Raziel who brings the hidden wisdom to Leos and it is him who makes Leo personalities enigmatic. The charm of Leos and their greater wisdom is thanks to their guardian angel Raziel.
#6 Virgo - Metatron
Metatron is the angel of healing. Virgos have an inherent inclination towards those who are lost and who need help and it is Metatron, their guardian angel, who guides them towards compassion, altruism, and love for others.
#7 Libra - Jophiel
Jophiel, the angel of beauty, is the one who brings out your inner beauty and makes you the person you are. The angel is the one to bring clarity to your thoughts in times of anxiety and when you doubt yourself, it is Jophiel who would bring peace.
#8 Scorpio - Jeremiel
Jeremiel is the merciful angel and the one to bring forgiveness in your life. Scorpios can be deadly when provoked but it is their guardian angel Jeremiel who brings mercy and compassion to their soul so they forgive and feel at peace.
#9 Sagittarius - Raguel
Raguel is the archangel who brings friendship to your life. Raguel is responsible for the trust and loyalty you have in your soul and what makes you the friend one could wish for. Raguel is the one who makes you the mediator and the peace-seeker in a fight. 
#10 Capricorn - Azrael
Azrael is also known as the angel of death and he helps souls cross over to the other side. Your guardian angel, therefore, is the harbinger of comfort and helps you wade through tough times by being there and guiding your soul.
#11 Aquarius - Uriel
Uriel, the angel of wisdom and intellect, is the one responsible for your creative soul. Uriel is the one you seek when you need a spark and a new thought in your life and it is Uriel, your angel, who brings our the creator in your personality.
#12 Pisces - Sandalphon
Sandalphon, the angel who carries the messages to God, is the guardian angel to Pisceans. Pisceans, therefore, are blessed and their prayers are answered for they are close to God through their guide and friend Sandalphon.
Angel Images: Crystal Guidance
If you have any views or stories that you would like to share with us, drop us an email at writetous@meawwworld.com