It'll be a while before Prince George and Princess Charlotte join their parents at the dinner table during royal visits
Princess Charlotte and Prince George cannot sit with their parents at the dinner table during royal visits until theylearns the art of polite conversation. Princess Charlotte (Getty Images)
It is no secret that the royal family and traditions are very strict and meant to be followed to the tee. Whether it is standing up when the Queen stands or refraining from any sort of PDA, a lot goes into the royal family protocol and etiquette. These rules also apply to the youngest of the royals as well.
According to Harper's Bazaar Australia, Kate Middleton and Prince William's children Prince George, Princess Charlotte, and Prince Louis are forbidden from sitting with their parents until they are able to learn the "art of polite conversation". In addition to this, the Duke and Duchess of Cambridge's children are also required to learn more than one language.
As reported by People earlier this year, Princess Charlotte has already started to learn Spanish despite the fact that the toddler has just started school. Many believe that this is because of her nanny, Maria Teresa Turrion, who is a Spanish native and often talks to the little one in Spanish. The Duchess of Cambridge revealed that 3-year-old George is also to speak Spanish. Prince George can count up to ten in Spanish already, his mom said.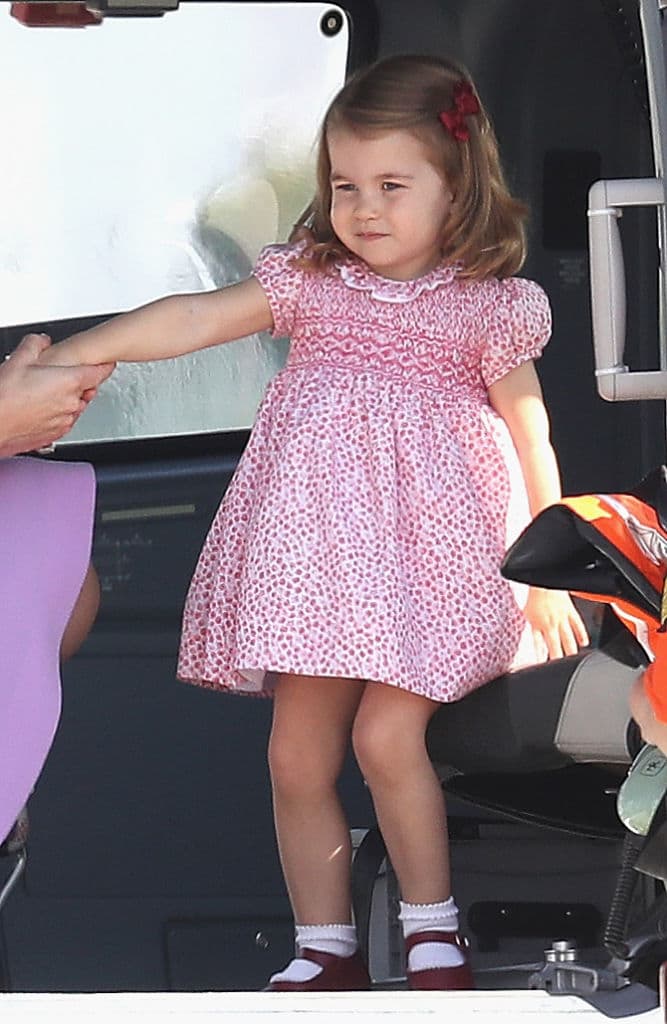 A source shared, "She's very sweet and very confident — she's always chatting away." The insider added that Princess Charlotte is "so polite, but also fun and energetic. She has beautiful manners."
When it comes to clothes and dressing, there is a strict attire in place and everyone in the family will stick to it. The children also have to follow and adhere to the dressing rules. BBC confirmed that it is mandatory for Prince George to wear shorts as he is a young male in the family. Trousers are only worn by older men in the Royal family. For Meghan Markle and Prince Harry's wedding, Prince George broke this rule and wore trousers as he served as the page boy.
Princess Charlotte is always well dressed and is rarely seen without a colorful and lively frock. A majority of her outfits have a peter pan collar worn with a pair of Mary Jane shoes and a matching bow. Charlotte too took part in Meghan Markle and Prince Harry's wedding as she served as the bridesmaid. The bridesmaid dresses were designed by Givenchy. Along with the beautiful dresses, the bridesmaids wore white Aquazurra shoes that were monogrammed with the bridesmaid's initials and wedding date.
The royal children are always required to be on their best behavior just like the rest of the family members and have many do's and don't's to follow. Princess Charlotte will not get to wear a tiara until she is married and according to a royal expert, Grant Harrold, this is because tiaras are "a sign of status and would show you were taken and not looking for a husband."
The royal family members have to follow a whole host of rules and regulations without any questions. For example, the Queen is not a fan of starch and so items like pasta, potatoes, and rice are never on the menu. The Queen also does not like the smell of garlic and so it is never used in cooking. Another strict no-no in the family is the consumption of shellfish so they don't run the risk of getting food poisoning. There are many protocols and rules that are followed and never broken so clearly being a royal comes with its own guidebook.