President Trump says 'Melania can't fly for a month,' still recovering from her 'big operation'
The first lady, earlier last month, had reportedly checked into the Walter Reed Medical Center for treatment on May 14 for a 'benign kidney condition.' Donald Trump (Source:Getty Images)
As he was leaving for the G7 Summit on Friday, President Donald Trump told reporters that first lady Melania Trump was doing well, but couldn't accompany him for the trip as she had been advised to not fly for a month as she was still recovering from her recent operation.
Before boarding Marine One en route to Quebec for the summit, the president told reporters that the first lady wanted to accompany him for the summit but "can't fly for one month."
Melania has been making headlines for her recent disappearance from the public for nearly a month. Her absence from public events had fuelled multiple speculations, including those regarding frissions in their marriage or a medical issue.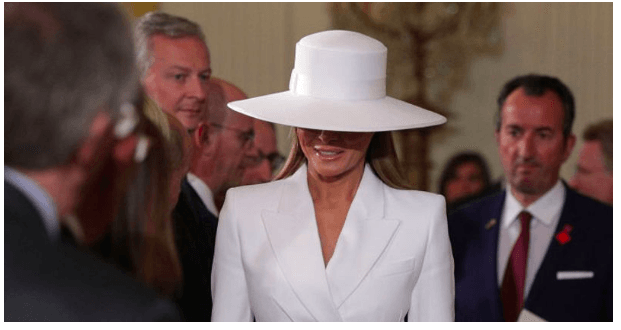 The first lady had reportedly checked into the Walter Reed Medical Center for treatment on May 14. The White House had said that she was admitted for a benign kidney condition. She, however, did not leave the medical facility until May 19, according to reports.
Her spokesperson, Stephanie Grisham, later announced that the first lady will not be accompanying President Trump to the G7 meeting in Quebec, nor to the North Korea summit in Singapore. Melania Trump had joined President Trump for his G7 trip to Italy last year. The first lady had also joined spouses of other G7 leaders at public events in 2017.
When reporters asked the president why the first lady was not traveling with him, Trump replied with "the doctor say."
The Republican said: "She had a big operation, that was close to a four-hour operation," he also added that "she's doing great."
Melana Trump made her first public appearance after a 27-day absence from events on Wednesday as she accompanied President Trump for a briefing on hurricane preparedness at Federal Emergency Management Agency (FEMA) headquarters in Washington, D.C.
Talking about the first lady during the event, Trump said: "She went through a little rough patch but she's doing great," he then turned to her and said: "The people of our country love you. Thank you, honey."
Before her appearance at the FEMA headquarters, Melania had also made an appearance on Monday evening at a White House ceremony, which was held to honor Gold Star families, however, the reporters were not permitted to attend or cover the event, according to reports.
The first lady, however, shared a tweet about the event, which showed her in the pictures.
"Tonight @POTUS & I were honored to pay tribute to our fallen heroes. Thank you to the Gold Star families that joined us in celebration & remembrance," the first lady tweeted.
---
Grisham, while talking to ABC last Wednesday, had said that the first lady was "doing really well." The spokesperson added that the first lady has been "involved in several internal meetings with staff ... We've been going over initiatives and other long-term planning for events such as the congressional picnic and Fourth of July."