Mother shocked after doll she bought for daughter on Christmas called her a b****!
This My Little Baby Born Walks Doll has caused a lot of controversy and disappointment and this is why! Imagine being a parent and having to disappoint your child on Christmas day or their birthday. Parents will do anything to protect and keep their child's innocence intact for as long as possible but the outside world does not make that easy. 
A doll bought from a well-known toy store turned out to be one family's Christmas nightmare and ruined Christmas day for an unfortunate two-year-old. Mistakes such as this are extremely damaging and it is hard to explain why to your child. 
A shocked mother was forced to confiscate her child's new Christmas present which began to spout cuss words at her two and a half-year-old daughter. The mother was shocked to hear the My Little Baby Born Walks Doll say what sounded liked you b****, you b***** instead of 'mama' and 'papa' like it was supposed to.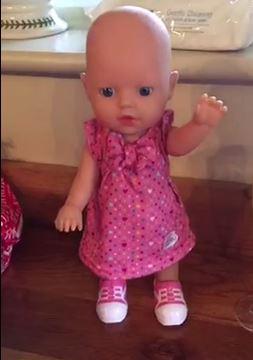 The woman, Siobhan Fox, was very upset at the product and told The Sun, "My daughter is two-and-a-half-years-old, she wanted it because her friend has one, it was on the top of her list. My husband got it out for her and put the batteries in — I was not in the room. My daughter had it off my husband and it just caught his ear. It's meant to say 'mama, dada' — it's totally not. He called me in and said 'look what do you think to this', I got it straight away."
Darcey Fox, the two-year-old child, was extremely disappointed when the doll was taken away from her. The present was something she had always wanted and it really reflects badly on the company who created the doll. Siobhan and her husband Daniel were forced to remove the doll as their daughter would repeat everything the doll said. 
Siobhan was very disappointed with the product and added, "That was what she really wanted and I felt so awful taking it from her but I could not let her go out in public with the doll saying that. I do not know if it's a one-off or if they're all saying that."
The doll was created by Zapf Creation and spoke when her rattle is shaken near her. The toy had been purchased from a 'Toys R Us' store in Tamworth. 
If this one traumatizing incident was not enough, another family experienced a similar incident which left their two-year-old just as disappointed as little Darcey. 
A mother from Birmingham was equally stunned and shocked to discover that her daughter's birthday present turned out to be a terrible mistake. The doll sounded as though it was swearing and saying some nasty insults. Instead of saying 'mama' as most normal dolls would, this doll said quite the opposite. 
The product, My Little Baby Born Walks Doll from Argos, is a little girl's favorite and is a doll which is known to walk around and say the words 'mama' and 'papa' when it is voice activated. Rachel Horton was disappointed when her daughter Aria's birthday present turned out to be a disaster. 
She told Birmingham Mail, "It was my daughter's birthday on Tuesday but we were at Butlins so she didn't open her presents until the weekend. When we took the doll out of the box and started playing with it, I couldn't believe what we heard. She's supposed to say "Mama" and "Papa" but instead she seems to be saying "you bitch". Now my two-year-old is copying her and trying to say "bitch" herself. I'm shocked, especially as it's very clear what the doll is saying."
The doll is sold by a huge number of retailers. Horton was forced to get in touch with Argo's customer services and she was told that it was possible for her to return the doll and exchange it for any other product she liked. 
Rachel believes that the store is not doing enough to rectify the problem nor is it taking the situation as seriously as they should be. She is hoping that the store will take the required measures to make sure, and prevent, any other incident like this where the child and parents are left traumatized. 
In the words of Rachel Horton who spoke to the Birmingham Mail, "I spoke to customer services via an online chat and, to be honest, they weren't very helpful. They just said it's best to come in and change it, which I don't think is acceptable."
"I don't want to just switch it to something else. My daughter is only two, I don't want her hearing words like that. As a result, she's been trying to say "bitch" herself. I'm very shocked that Argos would sell something like that."
As it turns out she looked up Argos's reviews only to find that she was not the only parent who faced this problem and there were other people who thought that the doll was swearing.
The review was titled "Doesn't even walk on laminate" said," Doll tries to walk but barely moves even on laminate flooring. She sounds like she is swearing or talking in a foreign language. Returned as daughter was very disappointed on her birthday."
This is a video on the doll swearing and saying what seems to be " You b****"
If you have any views or stories that you would like to share with us, drop us an email at writetous@meawwworld.com