Model who lost her right leg to tampon-induced toxic shock may now lose the left one too
Lauren Wasser, 29, lost her right leg in 2012 when she contracted TSS from using a tampon while on her period Lauren Wasser, 29, lost her leg to toxic shock syndrome (TSS) and now she has been told that she is going to have to amputate her second leg as well. She attributes her condition to an infection caused by the use of tampons against which is she now spreading awareness. She contracted the TSS in 2012 after using a "super-plus tampon" and while she was on her period. 
You might argue saying that the tampon companies flash a warning sign on their boxes saying that the tampon should not be left in for more than eight hours—and doing so might result in an infection—which then is not the fault of tampon but the misuse of it. However, Wasser claims that she was not guilty of misusing the tampon and had in fact been changing it very frequently while she was experiencing symptoms of the infection.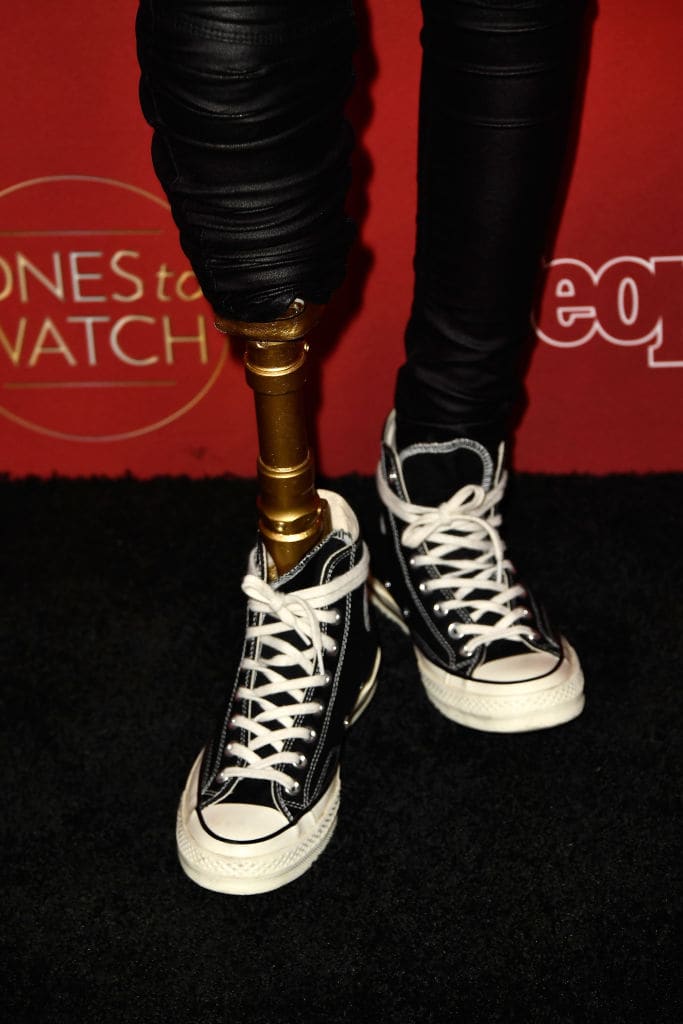 Her first few symptoms were flu-like—with a slight fever and a cold—but left her suffering from a massive heart attack and on life support as gangrene began to consume both her legs. Eventually, she had to amputate her right leg below the knee alongside the amputation of the toes of her left foot.
Unfortunately, however, her illnesses don't stop here—the remaining injuries in her left foot is worsening every day and paining her enough for the doctors to suggest it's amputation in the near future. 
"My left foot has an open ulcer, no heel, and no toes..I'm in daily excruciating pain."
The Los Angeles-based model is required to have a surgery to shave down the bone that kept growing through her feet because a combination of excess production of calcium and the brain signaling her missing toes to grow back. She cannot even wet her foot due to an open ulcer.
Even though it had become unbearable to walk at times, Wasser kept her hopes high and continued to model for brands like Nordstrom and Kenneth Cole's Courageous Class campaign using her gold prosthetic leg. 
"In a few months, I'm inevitably going to have my other leg amputated. There's nothing I can do about it. But what I can do is help make sure that this doesn't happen to others," she said.
She is now an advocate for a bill called the Robin Danielson Act - named after a woman who died from TSS in 1988 which requires feminine hygiene product companies to disclose exactly what is in their products and what their long-term health effects can be. However, the bill has been rejected 10 times in the past.
She is also urging the National Institutes of Health to privately test feminine hygiene products to determine their safety. Most importantly she is spreading awareness against the blind-trust in hygiene products. She has also brought up her concerns in a TED Talk while sharing the story of her condition and career. 


The model was merely 24 when she fell ill and was found close to death in her apartment—unconscious, face down and covered in feces and vomit. Her mother had fortunately called the police for a wellness check—because she hadn't heard from her in a while. On being admitted to the hospital she was found raging a 107-degree fever from which she suffered a heart attack and failing organs. The only way to save her then was to put her into a medically induced coma. 
If you are curious to know what exactly Toxic Shock Syndrome is—it is a highly dangerous bacterial infection—that can be easily misdiagnosed because it shows symptoms similar to other illnesses and because only one in 100,000 women suffers from it. 
Harmless Staphylococcus aureus or Streptococcus bacteria, which live on the skin, invade the bloodstream and produce dangerous toxins - resulting in early symptoms of a sudden high fever with a temperature above 102F.
In only a matter of hours, you start developing headaches, muscle aches, sore throat, cough, cold, nausea, vomiting, diarrhea, feeling faint and dizzy.
"Women are most at risk of getting toxic shock syndrome during menstruation and particularly if they are using tampons, have recently given birth, or are using an internal barrier contraceptive such as a diaphragm" as reported by health specialists.
All in all, it is a rare but life-threatening bacterial infection. This disease also made its rounds in the headlines in the late 1970s and 1980s reporting the death of many young women who at the time were using a brand of super-absorbent tampon that was removed from the market right after.
The model's TED Talk inspired women all around the world. Here's what she has to say about her career as a model and the blind use of feminine hygiene products.
If you have any views or stories that you would like to share with us, drop us an email at writetous@meawwworld.com