Minutes after Hawaiians thought they were going to get nuked, they logged on to this website
The all time high came at 9.01am, exactly 15 minutes after the second message was sent out- no doubt having given people time to return to their homes and computers after seeking shelter.
Hawaiians received a text message alert at 8.07 am on Saturday, January 13, stating that a ballistic missile was headed towards the island but were quickly notified it was a false alarm. So what did the people of Hawaii do to celebrate their new lease on life?
Rushed to PornHub to let off some steam. Hawaii's false alarm missile threat caused an almost unbearable amount of tension for residents — so much so that it sent some of them searching for relief in a rather risque place: a porn site. 
Porn website Pornhub has revealed it saw a huge spike in traffic in the minutes after it was revealed the incoming ballistic missile warning had been a false alarm - with views in Hawaii coming in at nearly 50 per cent more than usual.    
"Residents all across Hawaii received a text message stating that a ballistic missile was on it's way to their island and advised they should take shelter immediately. With international tensions currently at a high, it's no surprise that the warning was taken very, very seriously," states the website.
"We can't begin to imagine what would go through someone's mind after reading that message, but based purely on the traffic numbers, it's not to be watching porn.
"Based on real-time, per-minute pageviews, and compared to levels on the previous two Saturdays, our statisticians found a precipitous drop in traffic at 8:07 am immediately after the warning was sent out. By 8:23 am, traffic was a massive -77% below that of a typical Saturday."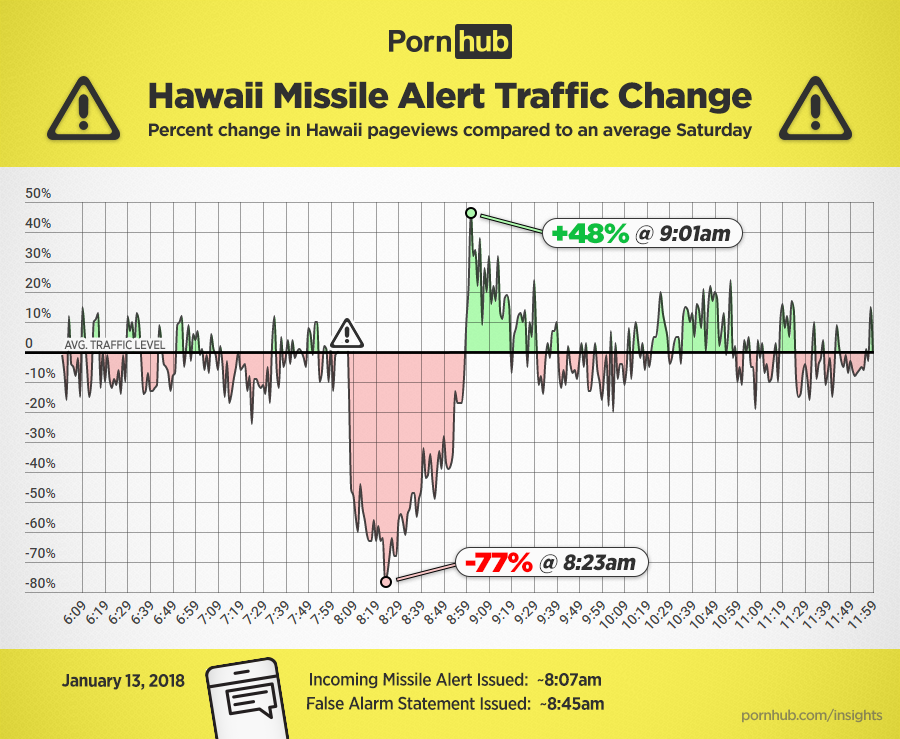 Unsurprisingly, this leap in numbers followed a dramatic decline, as people sought shelter from what they thought a severe threat to their lives, with traffic reaching 77 per cent lower then usual during the 20 minutes after the warning went out.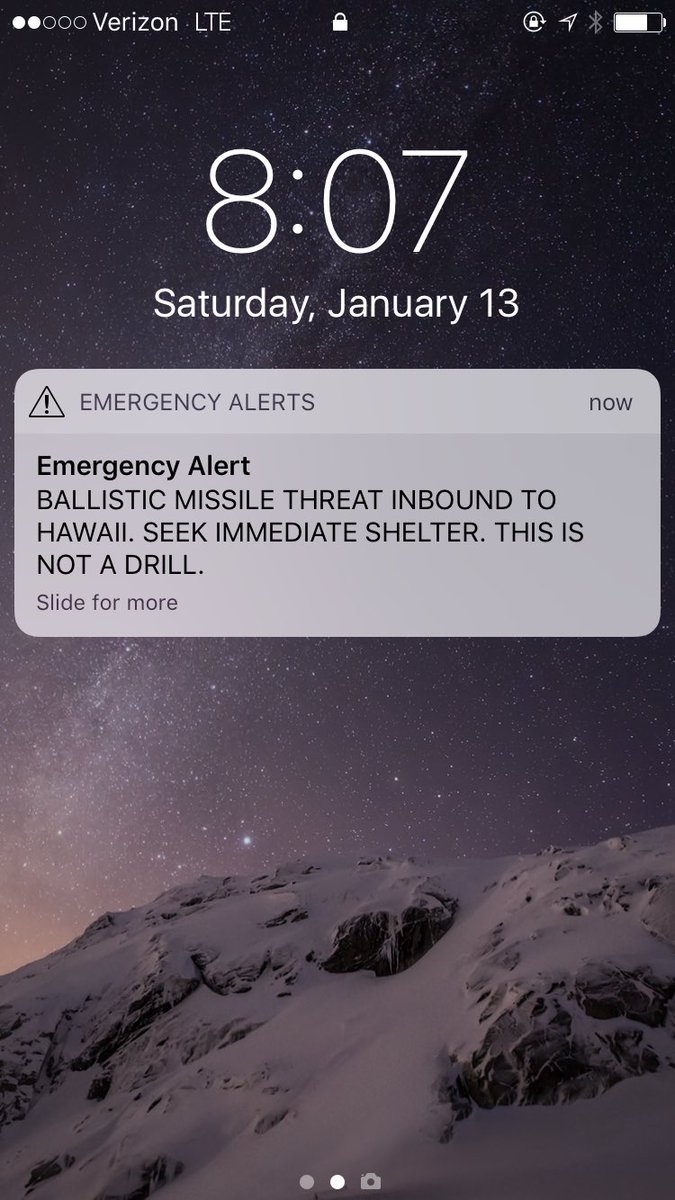 At 8.23 am exactly the website experienced its lowest numbers, with views beginning to climb up into normal range once again after 8.45 am, when residents were told that the warning had in fact been a false alarm.  
"As residents were notified around 8:45 that the initial warning was sent in error, traffic began to return to normal and Hawaiians collectively breathed a sigh of relief. Those seeking further relief, headed back to Pornhub where pageviews surged +48% above typical levels at 9:01 am," they said.
But far from just returning to normal, Pornhub's statisticians were fascinated to learn that the site's numbers then soared in quite the opposite direction, shooting up above average and ranging at a peak 48 per cent increase in its average Saturday morning numbers. 
The all-time high came at 9.01 am exactly, just 15 minutes after the second message was sent out — no doubt having given people time to return to their homes (and, apparently, their computers) after seeking shelter.  
Pornhub's Hawaii trend analysis comes just after a few months after it was revealed people are — on the whole — watching far less porn that they did ten years ago.
Along with 28.5 billion visitors, which turns out to be an average of 81 million people per day, the review says that in total, 595,482 hours of video were uploaded, which is equivalent to 68 years of porn if watched continuously!
The USA continues to be Pornhub's country with the highest traffic by a long shot. While the U.K. holds onto the number 2 spot, India has claimed 3rd and Japan, the world's leaders in innovation, have climbed up to 4th.
In the United States, the average visit time on Pornhub increased by 18 seconds over the last year, to 10 minutes and 33 seconds. Mississippi is taking their very own Mandigo and is lasting the longest (once again) with sessions there lasting an average 11 minutes and 33 seconds. However, South Carolina has taken third place from Louisiana's with 11 minutes and 8 seconds.
Rick and Morty porn parodies also blasted off this year, and the passing fascination with Fidget Spinners caused a big spike in porn searches.
Coming in at number one on the list this year is everyone's favorite girl next door – Riley Reid (NSFW). Not only was she the most searched for pornstar, but Riley's videos racked up over half a billion views in 2017. Mia Khalifa (NSFW) came in as the second most searched pornstar for 2017!
Kim K is not leaving the most searched list anytime soon and has held down her ranking for the past four years.
On most days, and in most parts of the world, traffic reaches it's highest level from 10 pm to midnight. Pornhub sees the highest volume of traffic on Sundays and lowest on Fridays.
If you have any views or stories that you would like to share with us, drop us an email at writetous@meawwworld.com