Meghan Markle has competition... this gorgeous 27-year-old is the world's favorite royal
The Bhutanese king and her partner have been described as the Will and Kate of the Himalayas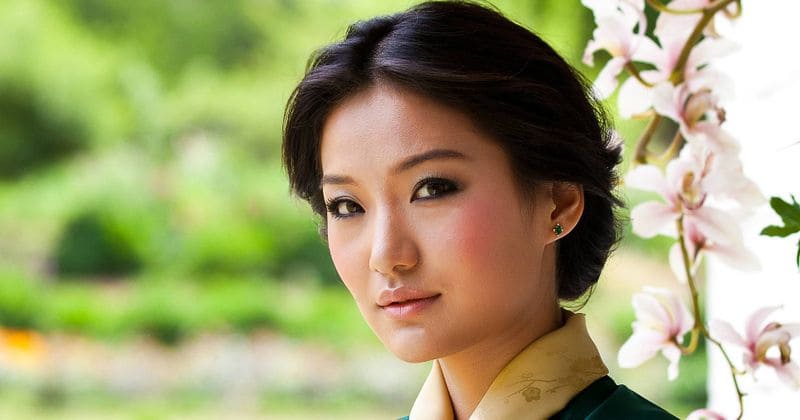 There's a new royal in town and no, we aren't talking about Meghan Markle. 
In 2011, while the rest of the world (read mainstream media) was busy paying attention to the comings and goings of the British royal family, the Kingdom of Bhutan named a new queen: Her Majesty The Gyaltsuen Jetsun Pema Wangchuck.
She's just 27 years old, making her the world's youngest living queen. In comparison, Queen Elizabeth II is 91 years old and has been on the British throne since 1952, making her the longest-serving monarch in the world.
Queen Jetsun was just 21 when she first took the throne in 2011, the year she married King Jigme Khesar Namgyel Wangchuck of Bhutan, who has been given the awesome moniker of "Dragon King". He had dated Queen Jetsun's cousin while studying at Oxford (awkward) but everything seems calm between them about it.
The royal couple have both previously studied in England, and were once dubbed the "Will and Kate of The Himalayas". They not only married in the same year as the Duke and Duchess of Cambridge, the 'it' couple is also easy on the eyes.
They had their first child, Jigme Namygyel Wangchuck, in February 2016 and, to be honest, he's already giving Prince George a run for his money in the Royal Baby cuteness stakes. 
Of his wife, the king had once told reporters: "I have been waiting for quite some time to get married. But it doesn't matter when you get married as long as it is to the right person. I am certain I am married to the right person."
According to the Washington Post, Queen Jetsun is the daughter of a pilot. However, her family apparently has long-term links with the royals. Her paternal great-grandfather was lord of the eastern province of Tashigang. Meanwhile her maternal grandfather was the half-brother of the wife of Bhutan's second king. The landlocked Southern Asian nation, located on the eastern edge of the Himalayas, covers an area of about 38,394 square km, and has a population of 811,597.
An art lover
Beyond her personal life, Jetsun is said to be an art lover, which she gained an appreciation of while studying in India. According to Travel and Leisure, Queen Jetsun is "passionate about fine arts and painting."
She first learned to love art while studying at a private boarding school in India. There, she studied English, history, economics, geography, and painting, according to her official biography. She then went on to study Psychology and Art History at Regent's University in London.
A fashion icon for millions
Queen Jetsun is extremely stylish. She is seen sporting vibrant, traditional clothes when attending events in her country. Her natural beauty, flawless skin and elegance complements her colourful traditional outfits.
Accordong to InStyle, Jetsun often wears bright and traditional Bhutanese clothing but with "a touch of modern style."
She has often been praised by royal fans for her striking beauty, turning heads with effortlessly glamorous hair and make-up. She often switches into Western-style outfits. Known as the Queen of The People, people admire her elegance and beauty.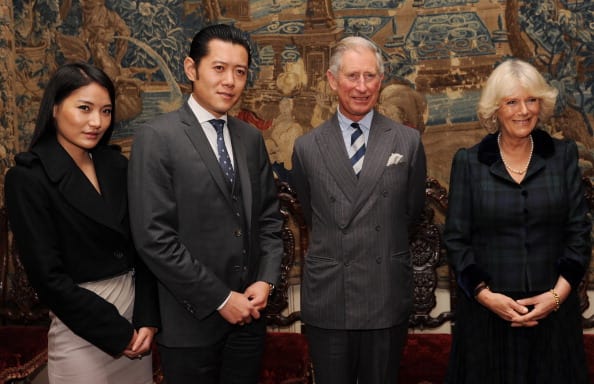 One her visit to the UK she looked smart and polished in a monochrome pencil skirt and black and grey blazer—accessorised with patent pumps and a Chanel handbag. She's also been spotted in Kate's favourite nude court shoes, which she teamed with a black coat on an official visit to Japan.
She is social media savvy and has an active presence on Instagram where she shares pictures and snippets from her life. She has more than 62,000 followers on her Instagram account.
A symbol of change and modernity
Queen Jetsun is a symbol of change and modernity in her country. The king was so captivated by her beauty and poise that he renounced his right to take multiple wives. As part of the country's bid to modernise, the new king has called time on Bhutan's traditional form of polygamy, in which a man marries a set of sisters rather than just one woman, a 2011 report in the Guardian said. When the engagement was announced, the king announced this bride would be his only wife. The wedding was attended by all four "Queen Mothers", the sisters to whom the king's father is married. 
Born in Thimphu, Jetsun spent her early years being educated close to home before attending boarding school in India where she proved to be a sporty student. She enjoyed playing basketball and captained a school team, and her other hobbies included fine art and painting, as well as taking part in school bands and dance programmes. Jestun also won prizes for public speaking, and is fluent in Hindi and English—as well as Dzongkha, the national language of Bhutan—but was always modest despite her accomplishments, according to the Daily Mail.
How the king proposed
According to media reports, Jetsun's very first meeting with the future king of Bhutan happened during a family picnic in the capital Thimphu when she was just seven years old and the prince was 17.
He told a group of students before their wedding that he'd been so moved by her beauty and inner goodness, that he'd got down on his knees and said: "When you grow up, if I am single and not married and if you are single and not married, I would like you to be my wife, provided we still feel the same." 
Jetsun, 21, was still a student herself when her engagement to King Jigme Khesar was announced in May 2011.
He had been ruling since the abdication of his father, King Jigme Singye Wangchuk, abdicated in 2006. The monarch, who had previously held absolute power, had decided to step down in order to pave the way for democracy and a constitutional monarchy.
The fairy-tale romance
Jetsun's family connections and resources allowed her to study in the UK, where she began her degree in international relations with psychology and art history at Regent's University. But her studies were cut short when, at the age of 21, her engagement to the King of Bhutan was announced, according to the Daily Mail. The report also claimed that they were dating for more than three years before the King proposed.
Their relationship raised eyebrows as it was a love match rather than a traditionally arranged marriage. Breaking with protocol, the couple also lived together for a time before they tied the knot, the report claimed.
Of his wife, the King said: "While she is young, she is warm and kind in heart and character. These qualities together with the wisdom that will come with age and experience will make her a great servant to the nation.
"She is a kind-hearted girl who is very supportive and whom I can trust. I don't know what my people will say about her, but I find her complete with all the qualities a woman needs to have."
The grand wedding
The couple's wedding took place in the same year as William and Kate's. They married in a five-hour Buddhist ceremony in a 17th century fortress, with the young bride wearing a traditional wraparound skirt and ornate shoes, surrounded by red-robed monks. Her wedding crown was also made from material rather than gold and diamonds, according to the Daily Mail. 
Her groom came down from his throne to meet her, wearing the red Raven Crown which symbolises his role as 'the people's protector'. He honoured his wife with a silk brocade crown, depicting two Ja Tsherings or Phoenix birds to symbolise the blissful relationship between the two, as he proclaimed her the new Queen of Bhutan.
Public displays of affection between couples are not common in Bhutan. But as he presented his new bride to 30,000 spectators at Changlimithang Stadium the King asked the crowds if they would like to see them kiss.
He delighted onlookers by giving his new wife a peck on the cheek. The monarch, then 31, asked if he should go one step further and the excited crowd replied with a resounding 'yes'. He leaned over to kiss his nervous-looking bride on the lips. The display of affection wasn't the King's only break from tradition.  
Charitable work
Queen Jetsun is a philanthropist and known for her charitable work. She is a Patron of the Royal Society for Protection of Nature, aside working with organisations like Ability Bhutan Society, Bhutan Kidney Association, and the Bhutan Red Cross Society. The King once reportedly praised his wife saying, "She is a wonderful human being, intelligent. She and I share one big thing in common: a love and passion for art." 
In November 2017, Queen Jetsun launched the "Bhutan for Life" initiative, a joint initiative of the Royal Government of Bhutan and the World Wildlife Fund (WWF), which is a strategic and long-term solution to ensure that Bhutan remains economically and environmentally sustainable forever.
Bhutan is known as an ecological hotspot, and the Bhutanese are advocates of Mother Nature seeing as their commitment to conservation is bigger than the country itself. She also supports cottage-based entrepreneurs and the rural economy.
If you have any views or stories that you would like to share with us, drop us an email at writetous@meawwworld.com