Joe Biden claps back at Trump after he mocks his apology with doctored video
The president released a short clip on Thursday which was taken from a longer video released by Biden in response to the controversy over his public behavior. Joe Biden (Source : Getty Images)
Former vice president Joe Biden responded to President Donald Trump as he mocked the Democrat on Twitter after multiple women alleged inappropriate conduct from Biden and accused him of invading their personal space. The mocking tweet came from Trump despite the fact that he was caught on tape bragging about grabbing women's genitals without their consent and multiple women have accused him of sexual assault.
The president released a short clip on Thursday which was taken from a longer video released by Biden as an apology for the controversy over his public behavior. In the original video, Biden said that he would take measures to alter his behavior and that he had taken the women's accusations in consideration. The edited clip tweeted by Trump, however, showed a picture of Biden talking up behind the real Biden as spoke about the controversy facing the camera, the spoof picture then rose behind Biden's back and hands appeared on his shoulders.
Trump tweeted the troll clip with the caption: "WELCOME BACK, JOE!"
Shortly after Trump's tweet, the former vice president responded to the mocking tweet with a subtle dig of his own, writing: "I see that you are on the job and presidential, as always."
A total of seven women have accused Biden of inappropriate conduct in the last week. After initial allegations by Nevada lieutenant governor nominee, Lucy Flores and former congressional aide Amy Lappos, five more women have added to the accusations — Caitlyn Caruso, DJ Hill, Vail Kohnert-Yount, Sofie Karasek and Ally Coll.
While the allegations could mar Biden's prospective presidential candidacy, Democratic House Speaker Nancy Pelosi has stated that the allegations are not the grounds for his disqualification. "He has to understand in the world that we're in now that people's space is important to them, and what's important is how they receive it and not necessarily how you intended it," Pelosi said.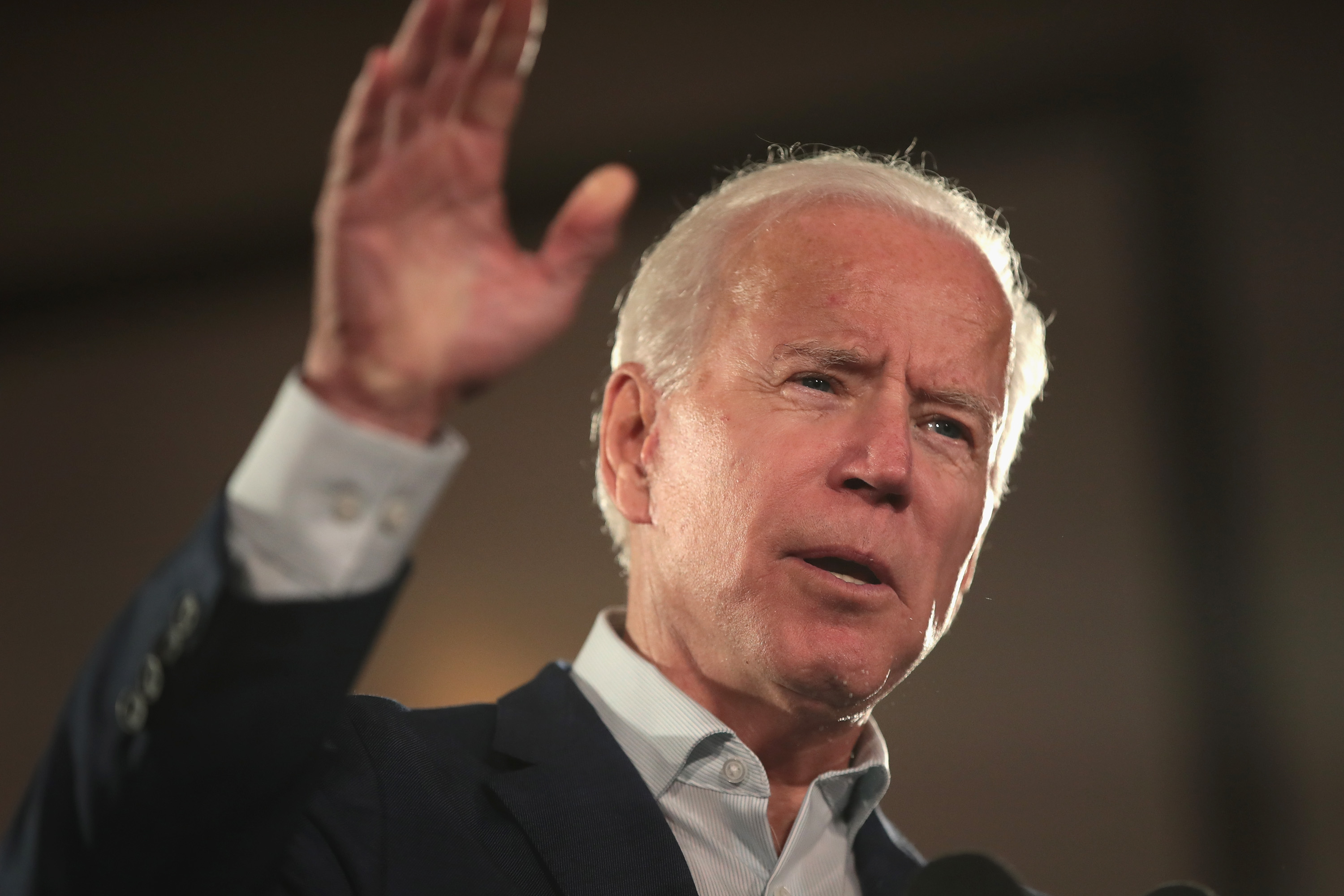 Despite several critics and the Republican Party trying to paint these allegations as sexual harassment, nearly all the accusers have expressly said that they are not accusing the former vice president of sexual assault but of not recognizing and respecting their personal space.
Flores accused Biden of invading her personal space after she spotted a viral picture of the former vice president resting his hands on the wife of former Defense Secretary Ash Carter's shoulders and whispering something in her ear. Flores said that she found the picture familiar and on Sunday alleged that Biden during her 2014 campaign approached her from behind, smelled her hair and kissed the back of her head without her consent, which made her very uncomfortable.
The woman in the viral image, Stephanie Carter, however, later issued a clarification saying the picture was "misleadingly extracted," and that he was trying to calm her because she was very nervous at the event.