DEFENDANTS IN DIAPERS: Immigrant toddlers ordered to face deportation proceedings, alone
Separation of families at the United States-Mexico border has come under severe scrutiny by activists, lawmakers and human rights organization across the world. (Source:Getty Images)
Attorneys in Texas, California and Washington D.C. have stated that immigrant children in the United States, as young as 3-years-old toddlers, are reportedly being ordered to appear in court for their deportation proceedings alone.
Although the practice of making unaccompanied minors undergo deportation proceedings is not new, however, under President Donald Trump's administration, a number of young children are being affected than in the past, according to reports.
Separation of families at the United States-Mexico border has come under severe scrutiny by activists, lawmakers and human rights organization across the world. The separation is a part of President Donald Trump's "zero-tolerance" policy associated with the crackdown on immigration in the country.
The family separation policy was announced by Attorney General Jeff Sessions in May. Under the policy, Trump administration has been separating children away from their parents, who illegally enter the country, and then handing them over to the Department of Health and Human Services for reallocation.
Reports state that as these immigrant children grapple with the trauma of being separated from their parents; over 2,000 of them are likely required to deal with such court proceedings in the coming months.
The executive director of Immigrant Defenders Law Center in Los Angeles, Lindsay Toczylowski, said: "We were representing a 3-year-old in court recently who had been separated from the parents. And the child — in the middle of the hearing — started climbing up on the table. It really highlighted the absurdity of what we're doing with these kids," HuffPost reported.
Toczylowski continued that usually parents are tried along with young children in courts where they explain the tumultuous circumstances which led them to seek asylum in the United States. However, the children, who are being detained under the "zero tolerance" policy, are facing such proceedings without their parents by their side.
"The parent might be the only one who knows why they fled from the home country, and the child is in a disadvantageous position to defend themselves," Toczylowski added.
A federal court on Tuesday attempted to put a stop on such family separations by ordering the White House to reunite the families separated at the US-Mexico border within 14-days if the child is under five years of age and 30-days if the child is older.
However, many attorneys in the country are uncertain about how the federal judge's orders will work in practice.
A Texas-based attorney at the Powers Law Group, Cynthia Milian, while speaking to HuffPost, said: "We don't know how the judge's order is going to play out with the reunification of children. What if parents have already been deported?"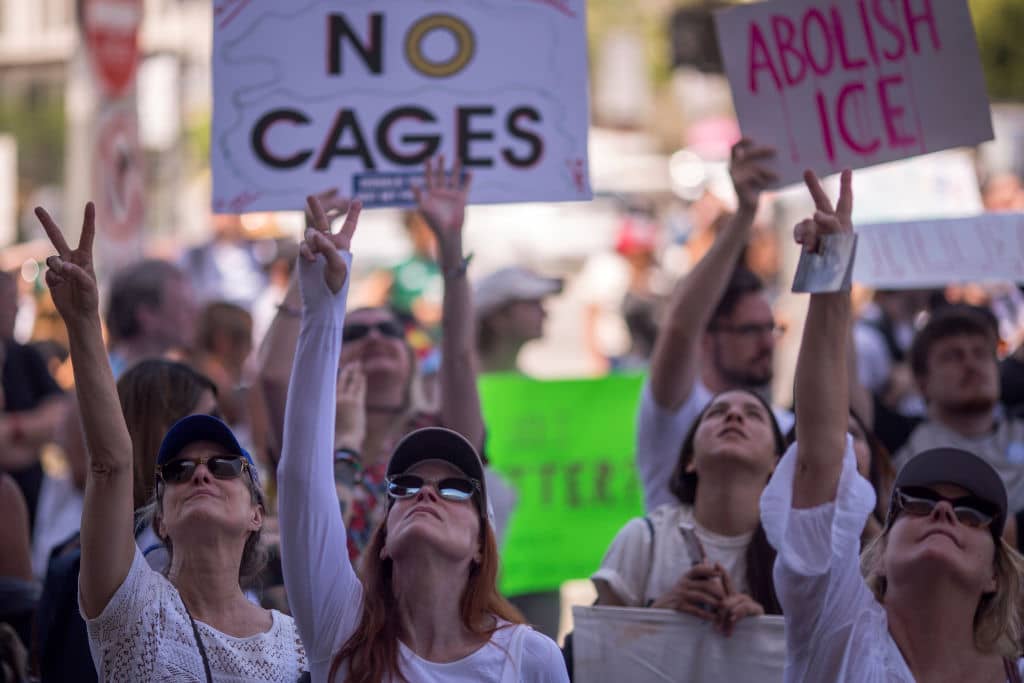 Milian added that in the midst of all the legal proceedings what remains an urgent concern is the implications of the situation on children.
Dr. Benard Dreyer, director of the division of developmental-behavioral pediatrics at New York University School of Medicine, said that considering the trauma these children faced in their home countries which spurred their families to flee and the added pain of being separated from a parent deems the expectation from courts for them to mount a legal defense is "unconscionable."
"It's certainly grossly inappropriate. I'm ashamed that we're doing this," Dreyer said, referring to children being ordered to come to deportation proceedings alone. Dreyer is a member of the American Academy of Pediatrics advocacy committee.
Reports state that the children are being served with notices to appear in court; they are not even entitled to an attorney. Instead, they have been provided with a list of legal services organizations that could assist them during the proceedings.
A UCLA child psychology professor, Steve Lee, said that expecting these children to advocate for themselves in court is an "incredibly misaligned expectation."
Lee added that some of these children, who had been given notices to appear in court, may not be mature enough to verbalize a response.