Kate Steinle murder: Mexican illegal immigrant found not guilty by jury
Jose Ines Garcia Zarate was brought to court on charges of murder, involuntary manslaughter, and assault with a deadly weapon after the killing of Kate Steinle. More than two years after the incident, a jury has now found him guilty of just one minor charge: felony possession of a firearm. The death of Kate Steinle was repeatedly brought forward by Donald Trump while he was campaigning the Republican primaries and a was a stick to beat sanctuary cities with concerning the drawbacks of illegal immigration. That debate will rage forth once again as undocumented immigrant 45-year-old Jose Ines Garcia Zarate aka Juan Fransico Lopez-Sanchez was acquitted of all charges in the case. 
Zarate was acquitted of the murder charge, the involuntary manslaughter charge, as well as assault with a deadly weapon by a 12-person jury consisting of six men and six women.
Because of the sensitive nature of the case as well as the media scrutiny surrounding it, a decision was made after more than 24 hours of deliberation over six days: not guilty. However, Zarate was convicted of the charge of felon in possession of a firearm, which could land him a sentence of three years in jail.
A lot of the fingers will be pointed towards San Fransisco and its status as a sanctuary city. Zarate, a Mexican citizen, is a repeat felon who has been deported on five previous occasions, according to immigration officials. That tally should have been six before the unfortunate death of Kate Steinle, with Zarate in the custody of US Immigration and Customs Enforcement after his release from federal prison for felony re-entry after deportation.
However, because he was wanted in San Fransisco on a drug-related warrant, they had to turn him over to deputies in the city, but asked that they are informed before he was released. The agency requested an immigration detainer, but was ignored as officials in San Fransisco believe that violated Fourth Amendment rights against unreasonable searches and seizures. He was let go once it was determined that there was no legal cause to detain him. 
Zarate was released in mid-April 2015, with the tragic shooting of Kate taking place a little over two months later. On July 1 that year, Kate was at the San Fransisco pier with her father when she was fatally shot in the back. Zarate had fired a .40 caliber handgun on Pier 14 - reportedly shooting at a seal - and the bullet would ricochet off the pavement, travel 80 feet and strike the unsuspecting victim.
The gun he had used had been stolen in downtown San Fransisco from a Bureau of Land Management ranger's personal vehicle. After the shooting, he tried to cover his tracks by throwing the gun into San Fransisco bay and fleeing the scene of the crime.
He was apprehended by police an hour after the shooting as surveillance video showed him running away, with investigators finding gunshot residue on his right hand after his arrest.
Deputy District Attorney Diana Garcia, the prosecutor for the case, argued in her closing argument that Zarate had been playing his own 'secret version of Russian roulette' and that he deliberately fired into the crowd.
In counter, defense attorney Matt Gonzalez appealed that even though it was difficult to believe, the weapon he found was wrapped in cloth and accidentally discharged when Zarate stepped on it, arguing that he was a hapless, homeless man who killed Steinle in a freak accident.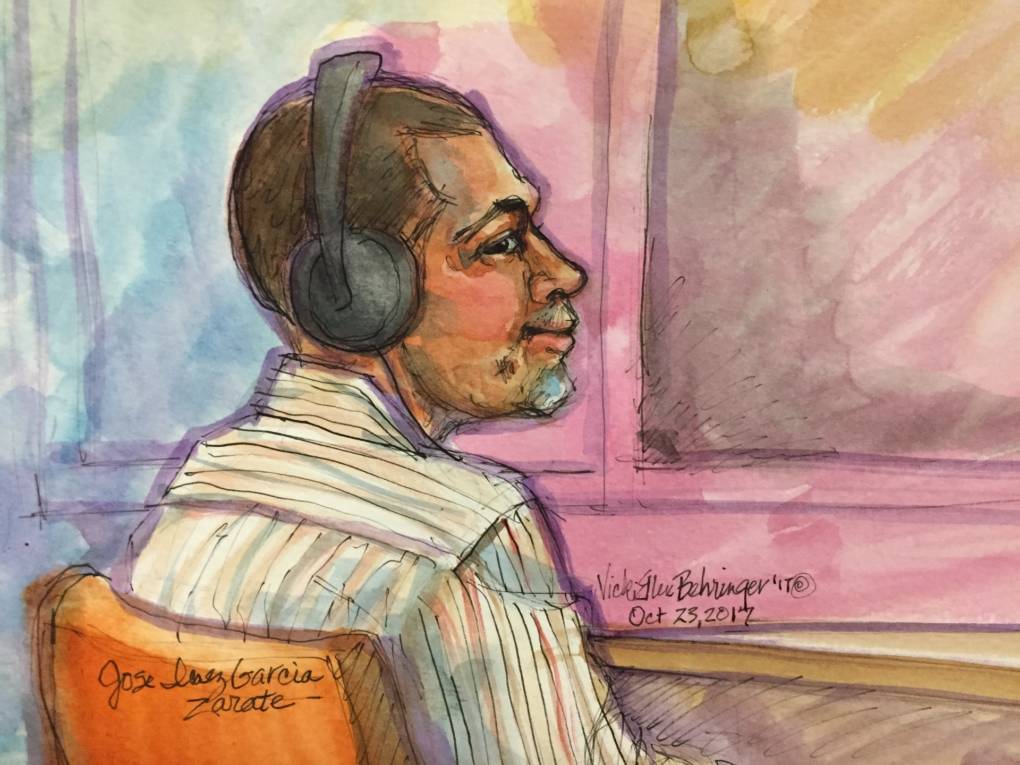 Following the 'not guilty' verdict, Kate's father Jim Steinle told the San Fransisco Chronicle: "We're just shocked — saddened and shocked ... that's about it. There's no other way you can coin it. Justice was rendered, but it was not served. We just want to get this over with and move on with our lives and think about Kate on our terms. Nothing's been on our terms. It's been on everyone else's terms."
Assistant District Attorney Alex Bastian echoed the sentiment, suggesting that they were disappointed in the verdict but that they respected the jury's decision.
He said: "I can't stress this enough, this really is about the Steinle family. They've shown incredible resolve in this whole process. Our hearts go out to them."
Authorities are now considering deporting Zarate once again. Tom Homan, the deputy director of the U.S Immigration and Customs Enforcement said: "San Francisco's policy of refusing to honor ICE detainers is a blatant threat to public safety and undermines the rule of law.
"This tragedy could have been prevented if San Francisco had simply turned the alien over to ICE, as we requested, instead of releasing him back onto the streets. Following the conclusion of this case, ICE will work to take custody of Mr. Garcia Zarate and ultimately remove him from the country," he continued.
---
A disgraceful verdict in the Kate Steinle case! No wonder the people of our Country are so angry with Illegal Immigration.

— Donald J. Trump (@realDonaldTrump) 1 December 2017
---
President Trump, who had cited Kate's case numerous times in argument for a border wall, immediately condemned the verdict as 'disgraceful.' After taking the Oval Office, Trump had signed an executive order to cut funding from cities that limit cooperation with immigration authorities,' a policy that was permanently blocked by a San Fransisco judge.
Attorney General Jeff Sessions was similarly condemning of the verdict. In a statement, he said: "The Department of Justice will continue to ensure that all jurisdictions place the safety and security of their communities above the convenience of criminal aliens."
"I urge the leaders of the nation's communities to reflect on the outcome of this case and consider carefully the harm they are doing to their citizens by refusing to cooperate with federal law enforcement officers. When jurisdictions choose to return criminal aliens to the streets rather than turning them over to federal immigration authorities, they put the public's safety at risk."
---
Jury convinced that illegal alien killed Kate Steinle accidentally. She would still be alive if we had a wall.

— Ann Coulter (@AnnCoulter) 1 December 2017
---
---
I am disappointed and angry at the not guilty verdict for Jose Ines Garcia Zarate, an illegal alien who had several felony convictions & was deported from the US five times. Justice must be served for Kate Steinle. https://t.co/IxiL9WCU50

— Ted Cruz (@tedcruz) 1 December 2017
---
---
I greatly respect our jury system, but I could not disagree more with this verdict. I pray for Kate's family. https://t.co/5Vvgo3Pu7r

— Rep. Eric Swalwell (@RepSwalwell) 1 December 2017
---
Conservative pundit Ann Coulter and Texas Senator Ted Cruz also expressed their opinions on the verdict. Eric Swalwell, the Democratic congressman who represents Steinle's district, also said he was disappointed by the verdict, tweeting: "I greatly respect our jury system. But I could not disagree more with this verdict. I pray for Kate's family."
However, public defender Fransisco Ugarte argued that the political debate over immigration did not belong in the case, saying: "From day one, this case was used as a means to foment hate, to foment division and to foment a program of mass deportation. Nothing about Mr. Garcia Zarate's ethnicity, nothing about his immigration status, nothing about the fact that he is born in Mexico had any relevance as to what happened on July 1, 2015."
Her death may not have entirely been in vain. Ted Cruz was one of seven Republican Senators who in January, introduced H.R. 3004, dubbed 'Kate's Law.' Named in honor of Steinle, the House of Representatives passed the legislation this summer which will increase the maximum prison penalties for immigrants caught repeatedly entering the country illegally.
If you have any views or stories that you would like to share with us, drop us an email at writetous@meawwworld.com