The true story of Jeff Bauman, the character at the center of a new film about the Boston Marathon bombing
The story that inspired the memoir and film "Stronger." Stronger is the story before and after the unforgettable image of a severely blood-stained, disfigured man being pushed in a wheelchair by a stranger in a cowboy hat was carved into the minds of all those who might have participated or been around the Boston Marathon on April 15, 2013.
The man in the wheelchair is Jeff Bauman, our Costco employee from NH 💔 #PrayersForBoston pic.twitter.com/dt0BQ1pZXC

— Nicole Williams (@nikkiraeharris) April 19, 2013
The movie serves as a reminder and an inspiration to move on after the terrorist act that shook families the nation, killed three people, and brutally injured at least 264 more.
The critically acclaimed film - an adaption of a previously written memoir, centers around the story of a 27-year-old Costco deli worker. Jeff Bauman (played by Jake Gyllenhaal) had come to cheer on his girlfriend as she participated in the Boston marathon to support Brigham and Women's Hospital. His then-girlfriend, Erin Hurley, was accompanied by two of her roommates, Remy Lawler and Michele Mahoney.
After Bauman saw-off Hurley with the words, "You better win," he made his way towards the finish line on Boylston Street near Copley Square, to greet her at the end of the race.
During the marathon, while looking around for Hurley, a young man wearing a dark heavy coat, a baseball cap, sunglasses and a backpack caught Jeff's eye. Who would wear so many layers of clothing on such a warm, sunny morning that too by the stands of a marathon? The man's incongruity, made Jeff stare at him a little longer, a minute after which he realized that the man had disappeared into the crowd, but had left his backpack behind.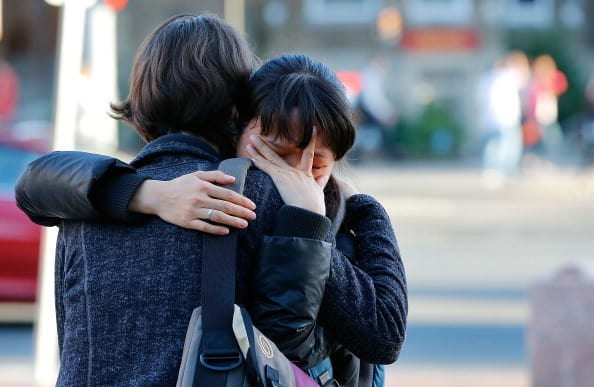 What came next was a flash, a bang, explosions, the feeling of fireworks gone wrong, mind-numbing pain, chaos, confusion, and lying flat on the sidewalk. The film primarily depicts the aftermath of this incident in Bauman's life. 
Consider Jake Gyllenhaal for Best Actor in STRONGER.

"A triumph by Jake Gyllenhaal, one of the finest and most intuitive actors of his generation," raves @RollingStone. pic.twitter.com/mrbV9IID7f

— Stronger (@StrongerTheFilm) December 5, 2017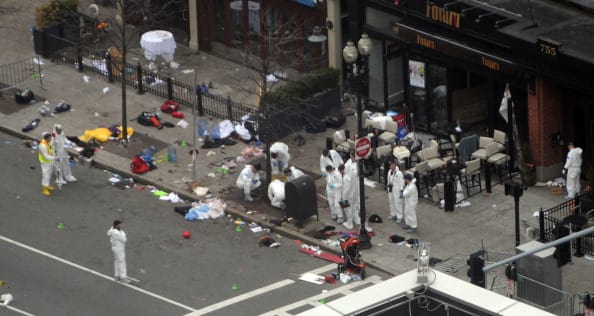 Bauman pushed himself up into a pool of blood watching Hurley's roommate inch towards him minus a leg. He doesn't know what horrified him more; looking at her or looking at his own bottom half, eventually he succumbed to the pain, and terror, until he was tended to by an emergency room physician named Allan Panter. 
Panter spotted him amidst the pile of strewn flesh and bodies, pulling him up and tying his right leg to prevent loss of blood, before and heading to help another injured woman on the ground. A man in a cowboy hat - Carlos Arredondo - put Bauman into a wheelchair and wheeled him towards a medical tent and then into an ambulance. 
In retrospect, Bauman told The Guardian: "The story the Wheelchair Photo tells is this: two losers set off bombs, but hundreds of people risked their lives to rush to our aid.
"I wish I wasn't that man, but not because I wish I wasn't in the photograph. I just wish I still had my legs.
"But I'm glad people have an image to remind them of the most important lesson from 15 April 2013: that good people will triumph over the cowards and idiots every time."
Bauman's legs had to be amputated above the knee almost immediately after being admitted to the hospital. He also had to be resuscitated by the doctors a couple of times because of the amount of blood he had lost. The next day he underwent another operation to drain the internal fluids formed by the blunt trauma of the brutal attack.
After that harrowing wheelchair picture, it does my heart good to see this. RT @buzzfeednews: This is Jeff Bauman. pic.twitter.com/i5vIurGfJ2

— Autumn Faulkner (@Autumnalia) April 19, 2013
Amidst fighting for his life, Bauman was able to report to the police that he had seen one of the suspects, who was later identified as Tamerian Tsarnaev. His information helped the FBI narrow down the list of suspects in the area. 
A year after the attacks, Bauman recounts his struggle for survival and battle to recover in his memoir, written with his co-author Bret Witter.
He spent four weeks in the hospital, where he received prosthetic legs. The following year, Bauman and his girlfriend Hurley, whose support was a big reason behind his speedy recovery, were engaged to be married in November. They had a baby girl together, named Nora, and within a year after the attack, Bauman was back working with Costco and writing his memoir.
However, Jeff and Erin have now separated and say that it is "best to move forward as friends". Their representative continues delivering their message saying, "Though their relationship has changed, their admiration, love and mutual respect for each other will never waver. They are dedicated to loving and parenting their daughter, Nora, and ask for privacy."
This eye-opening, must-watch film released in the US on September 22 and in the UK on December 5.
His story captured our attention. His strength captured our hearts. Jake Gyllenhaal is Jeff Bauman. On Digital HD 12/5 and Blu-ray 12/17. pic.twitter.com/mVxRlZNDX3

— Stronger (@StrongerTheFilm) October 31, 2017
What could have ended in tragedy, proved to be a whole new revolutionary beginning for a Costco-deli worker.
If you have any views or stories that you would like to share with us, drop us an email at writetous@meawwworld.com