Medical accessory for Apple Watch could be the answer to being one step ahead of heart problems
The number one cause of deaths are heart related and this new health technology might help bring the numbers down. About 610,000 people die of heart disease in the United States every year–that's 1 in every 4 deaths and a technology has finally been introduced and approved to hopefully prevent them. 
Our new KardiaBand has become the first #FDA cleared medical device for Apple Watch. https://t.co/VKOhwr2PRw pic.twitter.com/6vIvdyldRw

— AliveCor (@AliveCor) November 30, 2017
The U.S.F.D.A (United States Food and Drug Administration) has given KardiaBand its approval to introduce the EKG or the ECG (electrocardiogram) accessory designed for use with the Apple Watch.  The device would be the first such FDA-cleared personal electrocardiogram (EKG) accessory designed for use with an Apple Watch as reported by TechNewsWorld.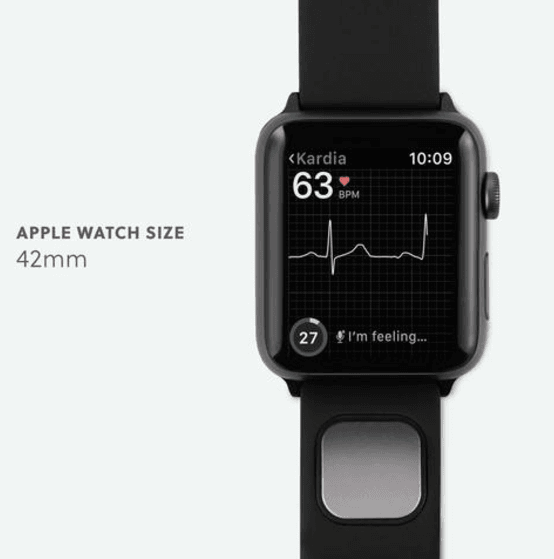 The KardiaBand could be a boon for mankind as it might help prevent heart failures by predicting them in advance having the ability to read and differentiate between normal sinus heart rhythms and atrial fibrillation (A-fib) - the most common type of serious heart arrhythmia which often leads to strokes or other heart-related problems. The bands are able to record EKG in merely 30 seconds and display them on the face of the Apple watch when the user touches an integrated sensor. 
The release of SmartRhythm - a new feature in the Kardia app - is beneficial in aiding the formerly discussed EKG reader as it relies on artificial intelligence to monitor the user's heart rate and determine the correlation between heart activity and physical activity. "It can detect when a user's heart rate and activity are out of sync and promptly send an alert," reports TechNewsWorld.
Ran the @AliveCor SmartRhythm on my Series 2 Apple Watch all day. Impressive battery life for being a constant work out. pic.twitter.com/hsOD4Kf7gV

— Michael (@LK64076007A) December 7, 2017
"KardiaBand paired with SmartRhythm technology will be life-changing for people who are serious about heart health," said Vic Gundotra, CEO of AliveCor. 
"These capabilities will allow people to easily and discreetly check their heart rhythms when they may be abnormal, capturing essential information to help doctors identify the issue and inform a clear path of care to help manage A-fib, a leading cause of stroke, and other serious conditions," he added.
KardiaBand, which is now available merely for US$199, works in collaboration with AliveCor's Premium $99 a year subscription service. Together they would provide their customers and subscribers - SmartRhythm notifications on Apple Watch, unlimited EKG recordings, and automatic detection of A-fib or normal sinus rhythms. In addition to this you also need the Apple Watch handy. 
Users also have the ability to email their EKG readings to anyone - be it family, friend or a doctor - since they are provided with an unlimited cloud access to all EKG readings. The user can also avail of the offer of being mailed a monthly paper report with all their readings in the past month from the device.
Loving the new #KardiaBand from @AliveCor and @DrDave01 @GundotraVic This is what INNOVATION in healthcare looks like. Directly impacts BOTH doctors and patients. We @PaceMateLIVE understand the importance of pushing our #digital limits to improve care! pic.twitter.com/GfMcOrsKFs

— Dr. Kevin Campbell (@DrKevinCampbell) December 12, 2017
@AliveCor's #KardiaBand might sound ordinary to some, but it's a big accomplishment as it's the first accessory for #AppleWatch to get #FDA clearance. This means we'll be having more medical accessories in future which is always a plus for 'general public" https://t.co/W4X4w9gw4B

— Arun Wadhwa (@OfficialAWS) December 1, 2017
#FDA clears first EKG band for the Apple Watch, #KardiaBand, via @engadget @SteveTDent https://t.co/fEC6G6rlmX #KardiaHeart

— Marlena Militana (@MarlenaTV) November 30, 2017
People all over the world have already purchased the gadget and are amazed by how beautifully and precisly it works. Watch this video to learn what TechCrunch has to say about the newly designed Apple Watch. 
AliveCor's cardiac tool for Apple's smartwatch to detect Afib gets FDA clearance https://t.co/fz2TB7myUM

— TechToMed (@TechToMed) December 13, 2017

AliveCor 'Kardia Band' Medical Grade EKG Analyzer for Apple Watch Receives FDA Approval https://t.co/Tlo1rSY24p pic.twitter.com/GvCjOU6m98

— I_O_T (@__iot__) December 1, 2017
If you have any views or stories that you would like to share with us, drop us an email at writetous@meawwworld.com