GOP Senator says working class are undeserving of tax cuts because they waste money on 'booze and women'
Following debate and discussion into the early hours of the morning, the Senate passed their much-vaunted tax reform bill by 52-48. The bill has already generated quite a bit of controversy and Iowa Senator Chuck Grassley seems to be fanning the flames further. The early hours of Saturday, December 2, marked one of the Trump administration's first major legislative victories as the Senate passed a landmark sweeping tax cuts bill by a narrow margin of 51 votes to 49. Set to bring into law the biggest tax overhaul since the 80s, Republicans have finally managed to get their oft-promised tax breaks over the line following marathon sessions that lasted till 3 am in the morning. 
Democrats fear that the bill will only see tax cuts for the wealthy and big business, and they have a valid point.  Corporate tax rates will be permanently lowered from 35% to 20% and foreign profits of US-based firms will primarily be exempt from tax, with Americans across other income levels seeing only modest tax breaks until 2026.
Senate Democratic leader Chuck Schumer did not mince his words regarding its passing, warning: "My Republican friends will ultimately pay consequences for this bill in 2018 and beyond. The Republican party will never again be the party of tax cuts for middle-class people."
---
Economists: #TaxReform could boost our country's GDP by 3% to 4% long term. We haven't had this kind of economic growth in over a decade. https://t.co/SXS71XIjwW

— Paul Ryan (@SpeakerRyan) 27 November 2017
---
Most Republican Senators did not see it that way, with speaker Paul Ryan, Senate majority leader Mitch McConnell, and most notably, president Donald Trump, hailing the reform as a victory for the working class people.
After it passed, Trump had tweeted: "We are one step closer to delivering MASSIVE tax cuts for working families across America. Special thanks to @SenateMajLdr Mitch McConnell and Chairman @SenOrrinHatch for shepherding our bill through the Senate. Look forward to signing a final bill before Christmas!"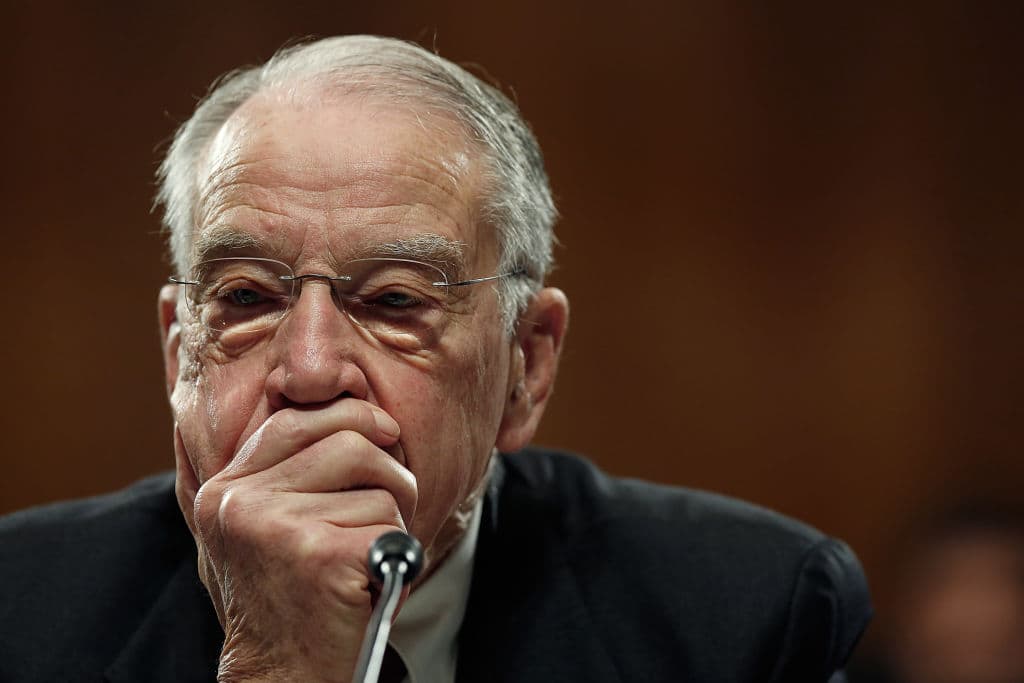 While partisan politics will influence the public opinion of a bill that has both downsides and upsides, most will not appreciate the comments of Iowa Senator Chuck Grassley. A member of the tax-writing Finance Committee in the Senate, Grassley has long pushed for the elimination of the estate tax, or as its known in Republican circles, 'the death tax.'
He also seems to be of the view that those who 'invest' are worthy of tax cuts than the working man. In an interview with Des Moines Register, he explained his reasoning by suggesting that such people don't waste away their money on frivolities: "I think not having the estate tax recognizes the people that are investing," Grassley said, "as opposed to those that are just spending every darn penny they have, whether it's on booze or women or movies."
If the tax reform packages that have now passed the US House and Senate become law, the federal estate tax is set to be eliminated altogether. The estate tax is a 40% tax on wealth assessed when a person dies and is currently applied to assets above $5.5 million for individuals and $11 million for couples. Unsurprisingly, such astronomical figures hardly ever effect most farmers, with federal tax data not backing the claims by Republican Senators that the estate tax was forcing them to liquidate and go bankrupt.
While Trump told supporters that the bill would help 'grow the country, grow jobs, and grow at everything,' a non-partisan Senate Joint Committee on Taxation has warned that the bill would add significantly to the federal deficit over a decade. The deficit is already at a 5-year high of $666 billion and fears are that these cuts could add another $1 trillion to it over the years.
As mentioned previously, amendments were being added to the legislation at even the last moments to satisfy reluctant Senators and that has led to some odd additions to the bill that seemed to have gone unnoticed. For one, it cut a mandate within Obamacare that required most taxpayers to buy insurance or face a fine; scrapping them mean that insurance premiums will now rise and lead to 13 million people losing cover by 2027.
Another significant event was the failure to pass the Cantwell amendment, which as a result, now explicitly allows oil drilling in the Arctic National Wildlife Refuge. Last month, the Senate had voted to attach this drilling approval to the tax bill, and Senator Caldwell, who is on the Energy and Natural Resources Committee, introduced this amendment to remove this stipulation. It, unfortunately, failed to pass at 48-52.
The Senate will now have to merge its 500-odd page legislation with the one passed by the House of Representatives last month before it can finally be signed into law by president Trump. Differences must be smoothed out and compromises must be made but conservatives can breathe a sigh of relief with their first major victory in a year full of controversies.
If you have any views or stories that you would like to share with us, drop us an email at writetous@meawwworld.com