Ferne McCann's ex-boyfriend jailed for 20 years for throwing acid on people
TOWIE star Ferne McCann's ex-lover Arthur Collins carried out an acid attack in a London nightclub and now he has been punished for it with a 20 year sentence and an extended 5 year license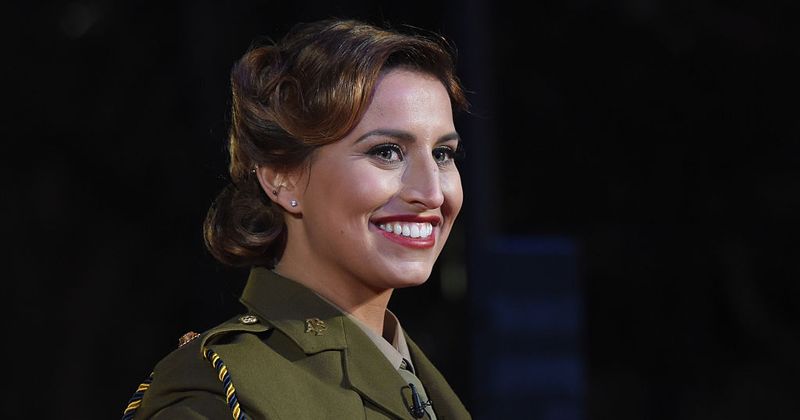 Ferne McCann is a star from TOWIE but her ex-boyfriend, Arthur Collins, did something that has achieved him some jail time and infamy. On 19th December, he smiled as he was being jailed for doing something despicable. He WINKED at his family while he got a 20-year sentence for splashing acid across the dancefloor of a nightclub in East London. 
25-year-old Arthur Collins threw a corrosive liquid across a busy club in east London. There was a tit-for-tat gang war going on and it was later branded by Collins as a 'silly little mistake'.
On 17th April, Collins threw acid over a crowd at the Mangle E8 in Dalston, east London.
Collins wore a t-shirt with 'CANDY KILLER' written on at the court hearing. He was celebrating his girlfriend's (Ferne McCann) pregnancy at the Love Juice event. He had told her family just a few hours before the incident.
Collins got into a fight on the VIP dancefloor with three men and sprayed acid at them three times. This splashed onto bystanders and burnt them.
He was arrested on April 22nd.
22 clubbers were injured in the incident. Most of them confronted him in court and one woman even said she 'felt her skin come off'.
Judge Noel Lucas QC called Collins a 'calculated liar' and handed him a 20-year sentence with an extended five-year license. 
He also says that Collins does not show the 'slightest remorse' after such a 'deliberate and calculated attack. Collins is also the father of McCann's baby daughter.'
After the hearing, one of the victims said, "[we've] been left with permanent scars for the rest of our lives".
Another victim called her parents on that night (it was her birthday night) to tell them that her skin was 'coming off'. Originally from Broxbourne, Hertfordshire, Collins was convicted of five counts of causing GBH with intent and nine counts of assault occasioning ABH with regards to 14 partygoers. 
The judge ruled that Collins was 'dangerous' and that meant he will serve at least two-thirds of his jail term. When his family yelled "love you Arth" after his sentence was delivered, he winked at them while he was being led away.
Judge Lucas said, "Your case has attracted a great deal of public interest. This is because what you did at the Mangle club on Easter Sunday evening was a despicable act."
"The conclusion I have come to is that you deliberately carried strong acid into that club to use when the need arises. The CCTV showed the wholly cowardly nature of the attack."
"Mr Collins' contrived defense is in my judgment significant. It shows him to be an accomplished and calculating liar."
The judge rejected an apology letter by Collins telling The Daily Mail, "It was a hollow sorry - not for what he'd done, but for the effect of his actions."
"He has expressed not the least remorse for carrying and using a highly corrosive acid. The injuries must have been painful and utterly terrifying. My clear impression is that the security arrangements within the club venue were extremely poor."
Even though Judge Lucas thought that the attack was 'utterly despicable and life-changing', he rejected a life sentence and said: "no one was blinded permanently and life itself was not in danger." He also added that an extended sentence was necessary.
He later said, "The carrying and use of corrosive fluid is now a significant and growing problem in London, and in particular in the east of London."
"I am quite satisfied the sentences I pass on Mr. Collins will amply convey to the wider community the seriousness the courts will treat such offending."
According to the judge, Collins had carried out the act because of 'some minor perceived sight.'
21-year-old Andre Phoenix, known to be Arthur's accomplice from Tottenham in north London was in the club and he was cleared of four counts of GBH with intent, four alternative counts of unlawfully inflicting GBH and two counts of AHB.
Judge Lucas had said, "You crept around behind Mr. Phoenix and deliberately threw what you knew to be strong acid directly towards Mr. Brown's face."
"In throwing acid three times you displayed not the least concern for those on who the acid would land." According to Judge Lucas, Collins knew 'precisely' the effects of strong acid.
"Having thrown acid in the darkness of that club, you slunk away into the rear where you hid and pretended to be unconnected to the mayhem you caused."
"While making much of the harsh circumstances of your arrest, you have demonstrated not the least remorse."
"It was a deliberate and calculating act and you were intent on causing really serious harm to your victims."
 Sophie Hall, one of the victims of the attack, said, "After the result today, I do feel like justice has been served. The last eight, nine months of our lives have been hell. Arthur didn't show any signs of remorse in court. His actions are something he is going to have to live with. And also the scars I have been left with are something I am going to have look at every time I look in the mirror; every time I get changed; every time I take my clothes off. We have been left with permanent scars for the rest of our lives. We were hoping for a life sentence. But I am very pleased with the sentence that he has received today."
Following the acid attack and Collins' arrest, Ferne McCann had released a statement confirming she was pregnant but had split from Collins. She had mentioned that though she was distressed by the tragic events, her priority at that time was the baby. 
If you have any views or stories that you would like to share with us, drop us an email at writetous@meawwworld.com