California wildfires: 'I have never seen anything like this,' firefighter battling blaze says
Over 8,500 firefighters are engaged in battling the blaze. This is reportedly one of the largest mobilization of crews in California's history to fight the wildfire. The speed at which the California wildfires are spreading has become a matter of concern for everyone, especially the firefighters, one of whom recently said that he had never witnessed anything like it in his 24 years of career as a firefighter. The wildfire has spread to 270,000 acres and has caused nearly 104,607 people to abandon their homes and flee to safety, according to authorities.
A firefighter in Ventura County, Antonio Negrete, told the Los Angeles Times on Monday that he had never seen a wildfire grow as quickly and with such intensity as the Thomas fire. He added that he had also never seen so many resources and personnel dedicated to battling the enormous blaze.
"A lot of guys around here would tell you the same thing," Negrete said at the Ventura County Fairgrounds on Monday. "We've been firefighters for decades and have never seen anything like this."
Reports state that the firefighting officials are making use of a temporary reprieve in the winds to build new fire lines, which they hope will stop the fire from spreading further. The conditions, in the region, however, look bleak as the officials say that they do not expect to contain the fire until January next year.
---
Evacuation ordered as #CaliforniaWildfire becomes state's 3rd-largest wildfire on record on Saturday https://t.co/Y2NceplDZs pic.twitter.com/o2chfL2psU

— CGTN (@CGTNOfficial) December 17, 2017
---
Over 8,500 firefighters are engaged in battling the blaze. This is reportedly one of the largest mobilization of crews in California's history to fight the wildfire.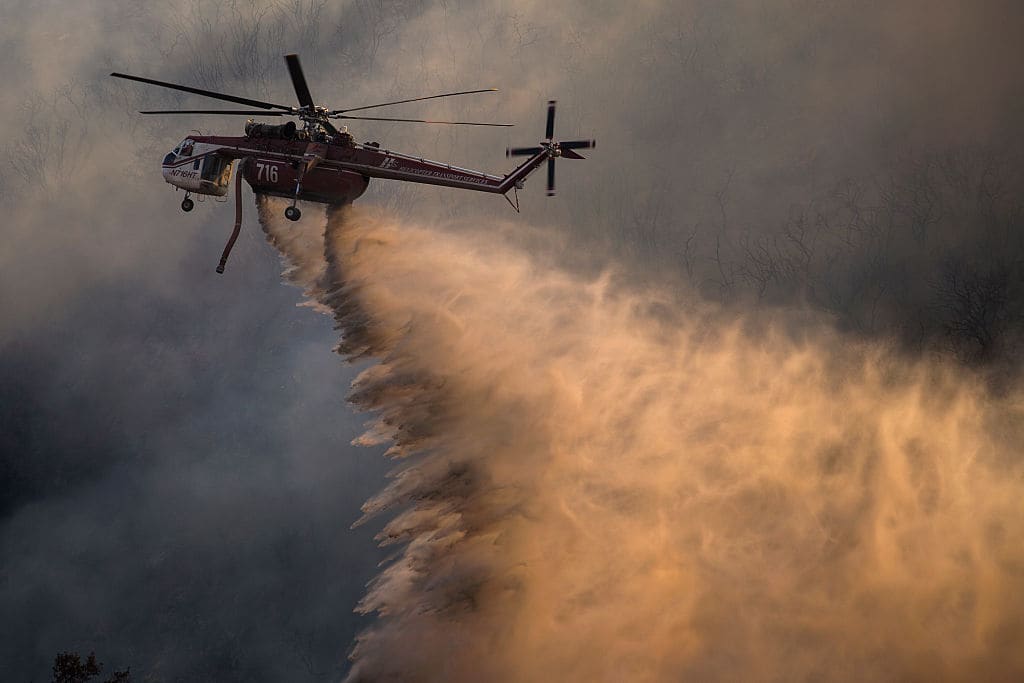 The wildfire has been recorded as the third-largest in California's history and has the battle has cost nearly $130 million already. 
Meanwhile, the Congress proposed an $81 billion disaster aid package on Tuesday, which also includes funds to fight the California wildfires, along with relief aid to hurricane-hit Western states. 
---
🙏🏻PLEASE RT: Cory Iverson died fighting the #ThomasFire. DONATE for his family here:  https://t.co/T0Gym4fT7Z#SantaBarbara #Ventura #Montecito #Filmore #SantaPaula #CAfire #CAfires #CaliforniaWildfires #California #wildfire pic.twitter.com/e0uMrreURm

— Santa Barbara Loves Firefighters (@onsantabarbara) December 15, 2017
---
Reports state that more money was added by the Republican congressional leaders after California lawmakers objected that the Trump administration had not provided enough assistance for areas which have been damaged by wildfires. 
House Speaker Paul D Ryan eventually said that relief aid will be provided to people affected by the California wildfires. The fire broke out abruptly in early December.
---
The GOP Tax Scam actually hurts millions of Californians who have lot everything in these historic wild fires, yet @realDonaldTrump demurs.
Remember this in 2018. Vote to Repeal & Replace the complicit @HouseGOP @SpeakerRyan
Full Stop. https://t.co/rJbiZw0g8L

— Alt_SeanSpicer'sMic🎙🤦🏻‍♀️🎙 (@Alt_Spicerlies) December 16, 2017
---
"I just want to say to the people in Southern California, we want you to know that we're thinking of you as you deal with these devastating fires that continue to tear through your region. We are here to help," Ryan said.
The exact amount of aid to be provided to California remained unclear on Monday as House leaders did not release a detailed of the geographical breakdown of the aid spending. 
Science experts in the country have warned that the United States will face an increasing cost for disasters in the years ahead as climate change and global warming will make the weather severity more frequent, and will increase the number of wildfires and droughts.
If you have any views or stories that you would like to share with us, drop us an email at writetous@meawwworld.com