British woman arrested for carrying painkillers in Egypt will be jailed with rapists and terrorists
Despite the best efforts of the British foreign office, Laura Plummer was sentenced to three years in jail by an Egyptian court. To make it worse, the jail-time will have to be served in the notorious Qena prison which houses jihadis, rapists, and pedophiles. The story of Laura Plummer has caught national headlines in the past few days because of the sheer notoriety of the Qena prison she has been confined to. After her arrest in October for traveling to Egypt with the powerful, banned painkiller Tramadol, Laura was sentenced to three years in Qena, a prison on the bank of the Nile that is meant to house convicted murderers, rapists, pedophiles, and jihadis.
But it has now emerged that despite the court initially refusing to change her prison on request of the British foreign office, she was later moved to a separate jail in Safaga, albeit temporarily. However, this was done without the knowledge of her mother, who had tried to visit her daughter in Qena.
The mother, 64-year-old Roberta Synclair, made a 140-mile journey by taxi to the hell-hole, only to be told her daughter was not staying there. She had secretly been moved to Safaga, only an hour away from the hotel Roberta was staying in Hurghada.
Seventy-year-old Neville Plummer, Laura's father, called the entire incident 'farcical' but admitted that his daughter had 'seemed a bit better' and hoped that she would be moved to a safer jail in Cairo permanently.
This is the second such incident where Laura's mother has been left hanging. A similar situation had arisen a few days ago when Roberta had gone to visit her daughter in a prison in Cairo where she thought she was being held, only to be told that Laura had been moved to Qena.
Laura's sister, Rachel, admits that this has been a hard time for the family and that they're still waiting anxiously for the foreign office to get back to them with the proper location. Roberta has reunited with her daughter for now, but that is an arrangement that is set to last only until they find Laura space in the Qena prison.
Laura's current cell in Hurghada, while 15 ft by 15 ft, is said to house 25 other women inmates, some of whom have reportedly beaten and robbed her. Laura's family also said that the jail was full of 'murderers, heroin addicts, and prostitutes,' and that their daughter was an easy target because she was not from the country and did not know the language.
Her father worries for her life if she is transferred to Qena, telling Daily Mail that his daughter would 'stick out like a sore thumb in jail' and says that he has heard stories where prison guards rape inmates. While he is not married to Roberta now, he said will be helping the family manage their finances back from the UK.
Roberta is expected to visit Laura in prison soon to hand over fresh food and clothes before flying back to Hull, with the family already having spent £40,000 on various expenses. They are expected to pay for all of her food and will only be allowed to visit their daughter once every two weeks.
Plummer says that the horrific experience has 'ruined Laura's life' and that his daughter was now 'a pale shadow of herself.' He claims that she is so naive, she doesn't know the difference between Tramadol and aspirin, and could no way be guilty of smuggling the drugs. Calling her 'timid,' 'vulnerable,' and 'innocent,' he hopes a deal can be reached which would see her transferred to a British prison.
According to one of her sisters, Jayne, the mother will not be returning to Egypt because she had not slept in three days and that the whole experience has been 'horrible' and 'traumatizing' for her as well. Jayne said Rachel would be going to Egypt in the coming days and that Laura's five siblings will probably be taking turns to visit her in jail.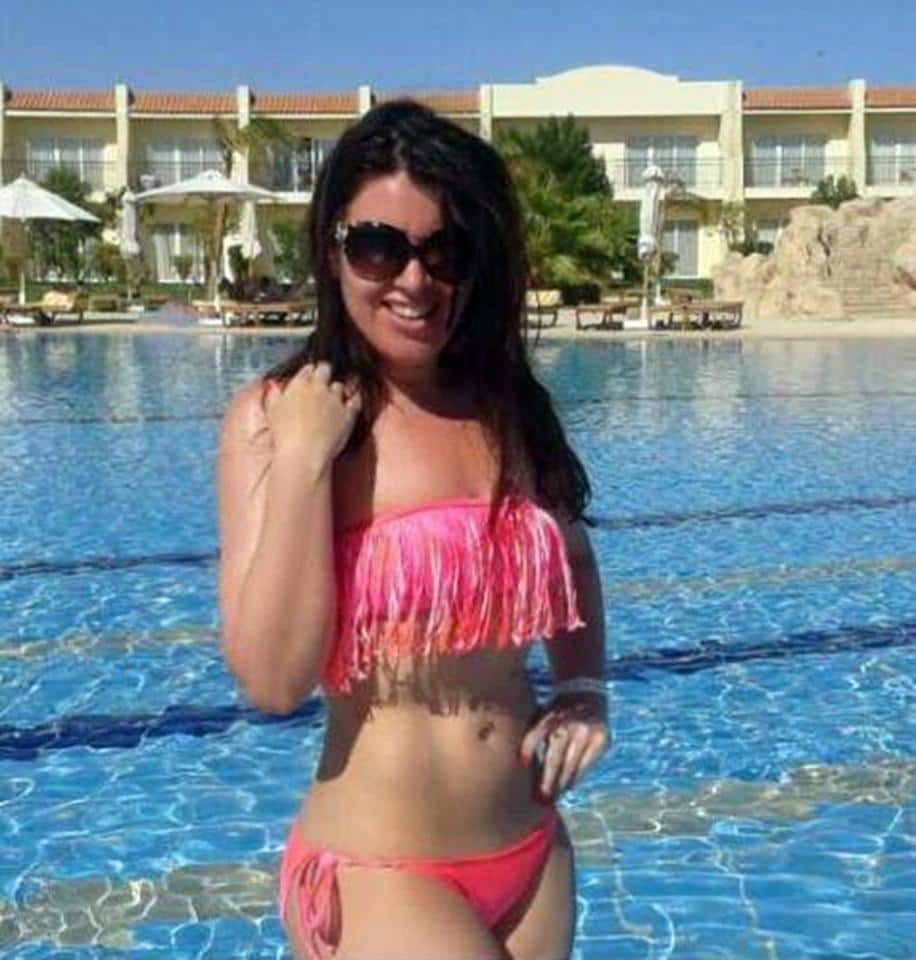 Jayne says that her sister was 'confused' and 'behaving strangely' in prison and that 'her whole life was flashing before her eyes.' She prays her 'shy and quiet' sister, who supposedly can't even watch Jurrasic Park because she is scared of dinosaurs, comes back home safe and fears that the harsh life in prison will be too much to bear.
As the sentence was read out by the court, Laura reportedly sobbed and slumped on to the floor. She had managed to escape the death penalty for transporting 280 tablets of the banned opiate but was told she would still be locked up despite the best efforts of the foreign office. She was fined 100,000 Egyptian pounds and there was further salt in the wounds when she was informed her prison would be the one in Qena.
Laura had apparently been carrying the tablet for the benefit of her Egyptian partner Omar Caboo, who suffers from severe back pain. Haboo, who did not know she was doing so, was described by witnesses as being 'very sad' once the verdict was read out while Laura was sobbing so heavily she had to be calmed down by her mother.
Speaking after court, her distraught mother said: "This is not fair. She's done it in all innocence. She brought [the drugs] to help someone, to help a family. She's the kindest person... I was worried about her before, [when she was] in the police station. I'm even more worried now she's in actual prison with real criminals. I feel sick — I'm so frightened for her."
Following the sentencing, Jayne was quoted saying: "They have slyly taken her to where the British Foreign Office told us she would never be placed — but the Egyptian authorities have already moved her there. Our biggest fear with this scenario has been confirmed — she will be sharing a tiny cell with jihadi terrorists and rapists. I honestly dread to think. Laura won't survive a day in there — let alone three years. She won't even make it through that — I can't believe they've even still sent her there."
Describing the conditions in the prison, she said: "I've seen pictures and if you kept a dog in there and the RSPCA saw it — you would lose your dog. It's honestly THAT bad." She also said that her sister was now covered in mosquito bites, had a scabby face, and that her hair was falling out.
"She's been bitten from head to foot in mosquito bites and she's like a ghost. Her skin is translucent and the muscles in her legs don't work — they're like jelly. That's why she had to be seated during the court hearing," she said, speaking on her sister's plight.
She also said that the verdict had felt like a 'life sentence' for the family themselves and that there had been nothing on the travel guide website about Tramadol being illegal in the country. The family will have to wait at least 60 days to appeal the sentence but are worried what will happen to Laura in the span of those days.
Speaking on the case, a foreign office spokesperson said: "We are continuing to provide assistance to Laura and her family following the court ruling in Egypt, and our embassy is in regular contact with the Egyptian authorities."
Karl Turner, MP of the region Laura hails from, said that the ruling had come as a devastating blow to the family but was hopeful that good sense would eventually prevail. He also said that the case had been raised with the Egyptian authorities by Foreign Secretary Boris Johnson and Foreign Office Minister Alistair Burt.
Turner told BBC Radio 4's The World At One: "I am hopeful that good sense will eventually prevail." This is a damning indictment actually of the Egyptian authorities in the sense that good sense and fairness certainly hasn't prevailed in this case. This is a decent woman who has made a terrible mistake who shouldn't be incarcerated in any prison, never mind an Egyptian prison."
Turner also told Sky News that the hearing had been adjourned because they wanted to find a new interpreter. He said: "Apparently something was lost in translation, the defense lawyer wasn't confident that Laura was understanding the questions first of all, and the interpreter wasn't correctly translating what Laura was saying in her answers."
He continued: "The evidence is pretty clear that she didn't know the drug was banned and she was taking it out there to help her boyfriend, who has come up with the evidence that he does suffer from a severe back problem."
That was a sentiment backed by her lawyer, Mohamed Othman, who said that the plane tickets show she did not intend to sell the tablets found in her suitcase considering the fact that she paid twice as much for the flight as she did for the tablets.
He said: "For someone to be found guilty of drug smuggling they have to be aware that they are possessing narcotics. Laura did not know that what she was carrying was a narcotic. It is illogical that she was dealing in Tramadol. She had only 280 pills — even the plane ticket is almost double the price of those pills."
The sentence may be changed as the case progresses through Egypt's judicial system. It is expected to take a minimum of one month for the second stage of the case to begin but that Laura's lawyers have filed an immediate appeal.
If you have any views or stories that you would like to share with us, drop us an email at writetous@meawwworld.com