Black teenager brutally beaten up by cops in Alabama; parents want to know why
An investigation is "open and active" into why this incident occurred. It is not clear if the officers have been put on leave WARNING: GRAPHIC IMAGES
A 17-year-old boy in Troy, Alabama was brutally assaulted by police officers on the night of December 23 in a shocking incident that has left the boy bloody and battered, his face swollen beyond recognition. Ulysses Wilkerson's family took to Facebook to share the horrifying images of their son, who might need surgery for his injuries.
The photos, one of which was posted on Facebook by his mother Angela Williams, show Ulysses in a hospital bed, the white sheet beneath his head bloody. His nose and lips are crusted in blood, and his left eye is swollen shut.
According to a report, Ulysses was walking behind a closed business in the downtown area late on Saturday night. Police got suspicious and exited their vehicle to approach him when the teenager took off. The cops gave chase and finally caught him a few streets over. A struggle took place which left Ulysses looking like pulp.
The police chief of the Troy PD has asked for an independent investigation after public outrage over the incident. When BuzzFeed News asked questions about the incident, a spokesperson from Troy PD told them to ask the Alabama State Bureau of Investigation.
The Bureau of Investigation confirmed in a statement that Troy police had arrested a 17-year-old at 11:52 pm on Saturday, December 23. The teen was injured during the arrest and he was taken to Troy Regional Medical Center. Later, he was transported to University of Alabama Medical Center in Birmingham. He was later released.
The bureau's statement also said: "City of Troy Police Chief Randall Barr requested the Alabama State Bureau of Investigation (SBI) conduct an independent investigation into the use of force by his officers. Chief Barr's request was approved and Agents from SBI immediately responded to Troy, conducting interviews and collecting evidence."
Lt. Heath Carpenter told BuzzFeed News that he could not say if any of the officers involved in the incident were put on leave and that the investigation was still "open and active". He said, "[The] SBI does not have the ability to place any member of another department on leave."
The boy's family is demanding answers and justice
In a Facebook post that has now gone viral, Angela Williams, Ulysses's mother, wrote: "Troy police officers did this to my son while he was in handcuffs." She said that she still knows only very little about what happened to her son before he was taken to the hospital.
"Please share this," she wrote. "Shit happening in Troy, Alabama now."
The boy's father Sadot Wilkerson told WKRG, "From all over the world, people are commenting they want justice." His post about the incident has been shared almost 80,000 times.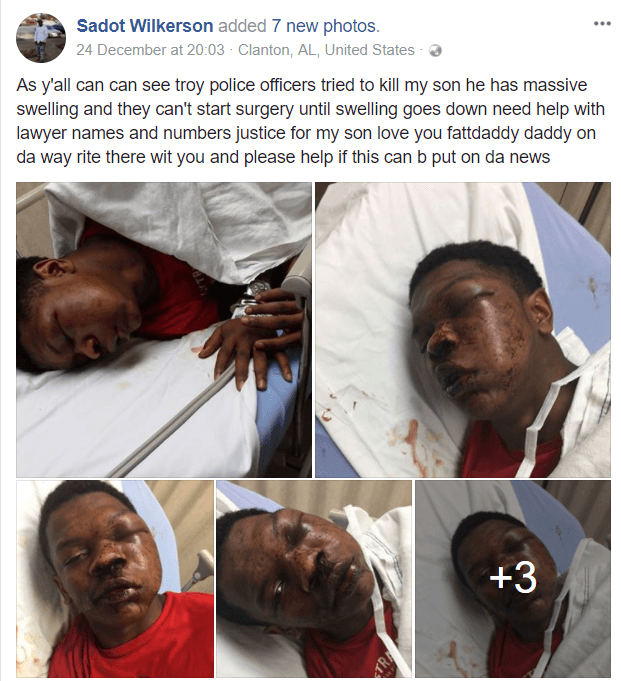 "As y'all can see troy police officers tried to kill my son and he has massive swelling and they can't start surgery until [the] swelling goes down," he wrote.
The boy ran away when officers had tried to speak to him, according to the station but a witness saw the officers responsible standing around the boy's unconscious body.
Ulysses's father told WKRG that "they had him handcuffed" when the family arrived at the hospital and that the officers said their son was charged with "obstruction of justice". His father said that the charges have since been dropped.
"He had trauma to the brain, swelling on the brain, and a cracked eye socket in three different places," he said.
According to an article written by WSFA, the officers said that Ulysses refused to put his hands behind his back when the officers asked him to and when he was struggling with them, they saw him reach for his waistband like he was trying to take out a weapon. When the officers went back to the scene of the incident, later on, they apparently found a handgun on the ground.
Rev. Al Sharpton wrote on Facebook that on December 30 at 11 am, civil rights activists are planning to demonstrate outside the Troy Police Department's headquarters.
A leader with Alabama's We Want Justice Now, Gerald Jackson, said in a Facebook post that the boy was walking with a friend and that he "feared for his life, safety, and ran from the police." 
If you have any views or stories that you would like to share with us, drop us an email at writetous@meawwworld.com