Barack Obama takes a sly dig at Trump in Prince Harry interview
Although Obama didn't name Trump at any point, he did talk about the issue of discussing Government on the internet instead of indulging in constructive debate within the system. The Prince and the ex-President discussed issues of mental health, the charitable sector, the Armed Forces and also Obama's preference for boxers over briefs!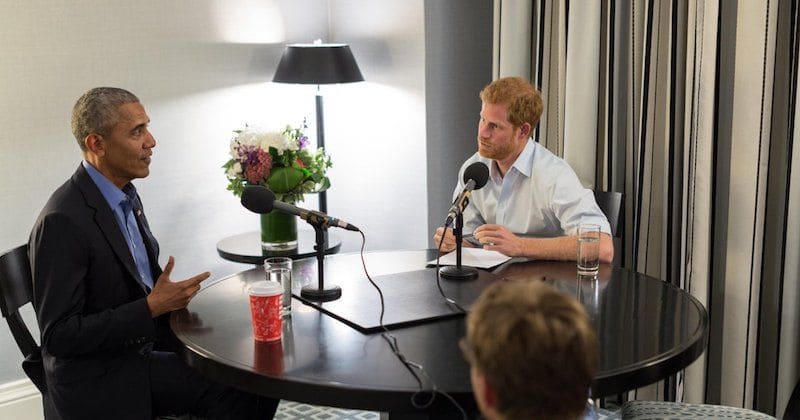 The BBC recently aired an interview of strange and epic proportions. The man asking the questions was Prince Harry. The man at the other end of the mic was former President of the United States, Barack Obama. Mid way through the interview, Obama made a thinly veiled attack at current President Donald Trump saying the irresponsible use of social media by 'world leaders' is distorting the public's understanding of complex issues and leading to the spread of misinformation.
According to a report by the Huffington Post, Obama didn't mention Trump by name — but the undertone was pretty clear and you don't get any points for guessing who he was talking about when he said that social media platforms are distorting the public's views and leading to a society where "people can have totally different realities... cocooned in information that reinforces their current biases".
---
Up next... Prince Harry interviews @BarackObama on his time in office and hopes for the future #r4today pic.twitter.com/q2cNVNfRvo

— BBC Radio 4 Today (@BBCr4today) December 27, 2017
---
The interview was a part of BBC's Radio 4 program and was guest-edited by the soon to be married Harry. During the interview, the former President said 'people in a position of power' should exercise caution when posting messages on the internet and that the current debates around politics in particular are weakening the fabric of society.
Obama went on to elaborate on the issue: "As a former Constitutional lawyer I'm pretty firm about the merits of free speech and the question I think really has to do with how we harness this technology in a way that allows a multiplicity of voices, diversity of views but doesn't lead to a Balkanisation of our society but rather continues to promote ways of finding common ground."
"I'm not sure Government can legislate that but what I do believe is that all of us in leadership has to find ways in which we can recreate a common space on the internet," he said.
---
The Obama/Prince Harry interview on #r4today was lovely. PH: "Can you give us a reason to be optimistic next year?" BO: "If I had to choose any time in history to be born, I'd choose now"

God I miss having grown-ups in charge.

— Sharon Ho-Ho-HO'Dea 🤶🏻 (@sharonodea) December 27, 2017
---
Since taking office in January 2017, President Trump has infamously used Twitter to launch multiple attacks on politicians, celebrities, the media and even members of the public, much to the delight of late-night entertainment talk show hosts, who've had endless amount of material for the whole year. He also caused a global uproar when he shared some tweets that were clearly anti-Islamic in nature.
---
Arnold Schwarzenegger isn't voluntarily leaving the Apprentice, he was fired by his bad (pathetic) ratings, not by me. Sad end to great show

— Donald J. Trump (@realDonaldTrump) March 4, 2017
---
---
Wow, Matt Lauer was just fired from NBC for "inappropriate sexual behavior in the workplace." But when will the top executives at NBC & Comcast be fired for putting out so much Fake News. Check out Andy Lack's past!

— Donald J. Trump (@realDonaldTrump) November 29, 2017
---
---
Great, and we should boycott Fake News CNN. Dealing with them is a total waste of time! https://t.co/8zJ3j7g5el

— Donald J. Trump (@realDonaldTrump) November 29, 2017
---
---
Everybody is asking why the Justice Department (and FBI) isn't looking into all of the dishonesty going on with Crooked Hillary & the Dems..

— Donald J. Trump (@realDonaldTrump) November 3, 2017
---
Not to mention the fact that Obama has also often been at the end of these hate-filled tweets. The most memorable of them being the one where Trump accused Obama publicly of tapping his phone and then later conveniently covered up the issue with some other scandalous tweets!
---
How low has President Obama gone to tapp my phones during the very sacred election process. This is Nixon/Watergate. Bad (or sick) guy!

— Donald J. Trump (@realDonaldTrump) March 4, 2017
---
---
By the way, if Russia was working so hard on the 2016 Election, it all took place during the Obama Admin. Why didn't they stop them?

— Donald J. Trump (@realDonaldTrump) June 22, 2017
---
Obama said in the interview that when such politically sensitive issues and 'toxic debates' are discussed outside the Government, it could do a lot oh harm. He suggested a few ways to tackle the issue: "A good way to fight against that is to make sure online communities don't just stay online, that they move offline," the former President said.
"The truth is on the internet everything is simplified and when you meet face to face it turns out they're complicated. There might be someone you think is diametrically opposed to you when it comes to your political views but you root for the same sports team or you notice that they're really good parents and you find areas of common ground because you find things aren't as simple as things are portrayed in chat groups," he continued.
In a thinly veiled remark that might be suggesting that Trump should stay off Twitter and focus on real-world issues, Obama said, "... it's also harder to be as obnoxious and cruel in person as people can be anonymously on the internet."
Obama and Harry have become close friends after meeting at the Invictus Games at Toronto earlier in September but their relationship is reported to be close to sparking a diplomatic crisis over invites to his upcoming wedding to Meghan Markle which is set to take place on May 19 next year. The diplomatic ties between The British government and the Trump administration are not all milk and roses and Trump might not take it well if Obama (who he has expressed hatred towards time and time again) gets an invite before Trump even gets a chance to meet the Queen.
According to a report by The Sun, a senior British government official said: "Harry has made it clear he wants the Obamas at the wedding, so it's causing a lot of nervousness. Trump could react very badly if the Obamas get to a Royal wedding before he has had a chance to meet the Queen."
During the interview, Obama also looked back on the day he handed over power to Trump and despite feeling satisfied he says it was "mixed with all the work that was still undone".
---
"Overall there was serenity there. More than I would have expected."@BarackObama on his feelings after @realDonaldTrump was inaugurated as US President #r4today pic.twitter.com/lNilKhml6D

— BBC Radio 4 Today (@BBCr4today) December 27, 2017
---
Addressing the change-over of Governments and the situation after a year after Obama's term ended, Prince Harry asked: "At the end of 2016 many people were relieved it had finished, it was a turbulent year - 2017 hasn't exactly been easy for the world and many people are worried about the direction the world is headed — can you give a reason for people to feel optimistic for the year ahead?
To which Obama replied in his usual eloquent style: "I don't think in terms of one year but I can tell people what I genuinely believe which is that if we take responsibility for being involved in our own fate, if we participate, if we engage, if we speak out, if we work in our communities, if we volunteer, if we see the joy that comes from service to others then all the problems we face are solvable."
---
Listening to Obama on @BBCr4today and thinking about what and who replaced him.. It's not that he was perfect but was a grown up and could embrace complexity.

— mary beard (@wmarybeard) December 27, 2017
---
Harry, who stepped in as a guest for the BBC's Today program on behest of the production team, also went on to speak about a host of issues which included mental health, the charitable sector and the Armed Forces - all topics that he himself chose for the interview. On a lighter note, during a rapid-fire session in the interview, Harry also asked Obama if he prefers 'briefs or boxers'! 
---
'Boxers or briefs?'

Download the full interview with @BarackObama here: https://t.co/1Vvy6h4y7O#r4today pic.twitter.com/GpIUJ0QNYc

— BBC Radio 4 Today (@BBCr4today) December 27, 2017
---
If you have any views or stories that you would like to share with us, drop us an email at writetous@meawwworld.com