2017 in pictures: 30 most mesmerising and riveting images of the US Armed Forces
It has been an eventful year for the United States Armed Forces and they have the pictures to back it up! The United States accounts for more than one-third of military spending worldwide and spends 3.5% of its GDP or a whopping $585 billion every year on its armed forces. That being said, it is considered to be the world's most advanced and technologically capable, and every year is involved in operations across the planet; helping disaster-struck countries in aid efforts, helping new regimes stabilize, and engaging in numerous covert operations.
The US Navy, in particular, is the largest and most capable one in the world and has over 300,000 personnel on active duty at any given time. 2017 has been a very busy year for them, with Hurricane Harvey, Irma, and Maria meaning that rescue efforts were required in many of the country's states and territories. As the year winds down, the Armed Forces have released their most powerful images and we've collected the 30 of their best:
#30
This gorgeous shot of the amphibious assault ship USS Makin Island was taken as it was transiting the Arabian Sea on March 3 this past year. The Makin Island was delivered to the US Navy on 16 April 2009 and initially put into service on June 26, 2009. The ship's main task is to embark, deploy, and land elements of a Marine landing force in an Amphibious Assault by helicopters, landing craft, and amphibious vehicles. 
#29
A sailor can be seen signaling the launch of an F/A-18E Super Hornet from the flight deck of the USS Reagan on November 18. Super Hornets have been in service with the U.S Navy since 2001 and were regularly used during the country's war in Iraq.
#28
A Green Beret provides over-watch security during a small-unit tactic training exercise in January at Fort Carson, Colorado. The Green Berets are a special operations force tasked with unconventional warfare, foreign internal defense, special reconnaissance, direct action, and counter-terrorism.
#27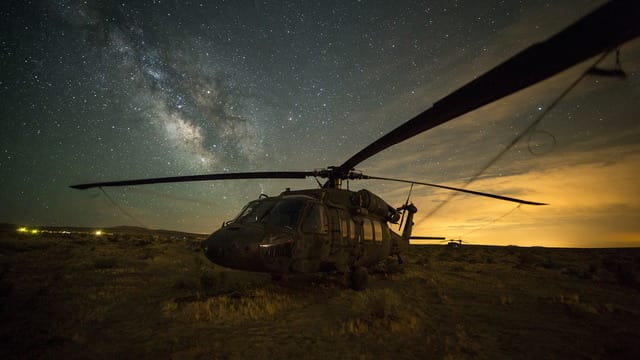 A UH-60 Blackhawk helicopter is pictured with a beautiful, starry backdrop in the Mojave Desert on May 30 at Fort Irwin, California. Black Hawks have a long and storied history with the U.S military having been named after Native American war leader Black Hawk and in service since the late 70s. Black Hawks have served in combat during conflicts in Grenada, Panama, Iraq, Somalia, the Balkans, Afghanistan, and other areas in the Middle East.
#26
Soldiers can be seen securing an objective on top of a mountain during Decisive Action Rotation 17-08 at Fort Irwin National Training Center on August 21. Located in the Mojave Desert in northern San Bernardino County, California, it houses a population of over 8,000 and is regularly used in training exercises.
#25
Members of the Leap Frogs, a US Navy parachute team, are pictured jumping out of a C-130 Hercules during a skydiving demonstration exercise above the Biloxi High School in Mississippi on April 6.
#24
US personnel from the 75th Expeditionary Airlift Squadron conduct C-130J Super Hercules airlift operations in East Africa on July 19. While the public is concentrated on petitioning for U.S soldiers to come back home from Afghanistan, it's estimated that there are 5,000 to 6,000 troops in Africa on any given day.
#23
A special moment is captured as sailors bring the USS Washington (SSN 787) to life during the commissioning ceremony for the Virginia-class attack submarine. Taken at Naval Station Norfolk on October 7, the USS Washington is said to have earned the highest Figure of Merit score to date on any new construction of Virginia-class submarine.
#22
Members of the Royal Australian Navy Clearance Diving Team observe as US Navy Sailors assigned to the Underwater Construction Team 2 (UCT) conduct a pier inspection in Apra Harbour, Guam, during the Western Pacific Naval Symposium diving exercise conducted on June 13.
#21
In a rare moment of calm, soldiers can be seen chilling out and having fun. This picture shows sailors assigned to the littoral combat ship USS Coronado (LCS 4) swim in the frigid waters of the South China Sea on February 23.
#20
Captured here are the USS Nimitz, USS Ronald Reagan, and the USS Theodore Roosevelt aircraft carriers and their strike groups in the Pacific Ocean on November 12. The US Navy has the world's largest aircraft carrier fleet, with eleven in service, and a further two under construction.
#19
Sailors are seen manning the rails of the Arleigh Burke-class guided-missile destroyer USS Oscar Austin (DDG- 79) as the ship departs Oslo, Norway, following a port visit on October 31. The ship was named after Medal of Honor and Purple Heart recipient Oscar P Austin and is the 29th destroyer of her class.
#18
Captured in this sweet moment is Lt. Commander Nate Michael, assigned to the 'Gray Wolves' of Electronic Attack Squadron (VAQ) 142. He returned to the Naval Air Station on Whidbey Island on December 4 having completed a six-month deployment. He was operating in the US 5th Fleet area of operations, with Carrier Air Wing (CVW) 11 while aboard the Nimitz-class aircraft carrier USS Nimitz.
#17
Seen here is a medium-range ballistic-missile target launched from the Pacific Missile Range Facility in Hawaii. It was successfully intercepted by SM-6 missiles fired from the USS John Paul Jones on August 29. Such exercises are carried out often to ensure readiness in the case of an unmitigated disaster.
#16
An F/A-18F Super Hornet Assigned to Air Test and Evaluation Squadron (VX) 23 flies over the aircraft carrier USS Gerald R Ford (CVN 78) in the Atlantic Ocean on July 28.
#15
The American flag is in the forefront as US Navy guided-missile destroyer USS Porter (DDG 78) carries out strike operations while in the Mediterranean Sea. The US Defense Department later confirmed that this was a part of a cruise missile strike carried out against Syria on April 7.
#14
The United States Naval Construction Battalions, better known as the Seabees, fill a crater using a 'super sack'during a rapid airfield damage repair exercise on October 17. The 'Seabees' or 'C.Bs' were conceived as a replacement for civilian construction companies working for the US Navy during the World Wars; during World War 2, it's estimated that as many as 70,000 civilians were working on military installations overseas.
#13
In a picture-perfect moment, the Arleigh Burke-class guided-missile destroyer USS Oscar Austin (DDG 79) is captured as it fires its Mark 45 5-inch gun during a live fire exercise conducted in the icy waters of the Arctic Circle on September 12.
#12
In a display of sheer strength, Chief Aviation Support Equipment Technician Daniel Wynne is seen powerlifting weights. This picture was taken during the Strength Fest competition in the hangar bay of the aircraft carrier USS Dwight D Eisenhower (CNV 69) on February 10.
#11
In a beautiful moment, US Navy Logistics Specialist 3rd Class Michael Zegarra is seen passionately kissing his wife Caterina on the pier. Zegarra is from Miami and was assigned to the aircraft carrier USS Nimitz (CVN 68), with this picture taken during the ship's homecoming in Bremerton, Washington, on December 10.
#10
A light-hearted snap captures sailors on board the USS Dwight D Eisenhower creating snow angels after returning home from a long deployment.
#9
In one of their most mesmerizing snaps, the new USS Gerald R Ford aircraft carrier is seen as it transmits the Atlantic Ocean in the background of a stunning night sky populated with thousands of stars.
#8
A U.S Army Reserve Sniper and infantry soldier poses at the Joint Base McGuire-Dix-Lakehurst in New Jersey on July 26. A sniper's effectiveness is punctuated by some statistics released by the United States Department of Defense: the average number of rounds expended in the Vietnam War to kill one enemy soldier with the M-16 was 50,000. The average number of rounds expended by U.S. military snipers to kill one enemy soldier is 1.3 rounds.
#7
Instructors assigned to the 1st Special Operations Support Squadron, Operational Support Joint Office, jump from a 15th Special Operations Squadron MC-130H Combat Talon II above northwest Florida on June 28.
#6
Soldiers conduct sling-load and air-assault training with M777A2 howitzers at Bemowo Piskie Training Area near Orzysz, Poland, on June 7. Having made its debut in the war in Afghanistan, the M777 Howitzer is regularly used by the United States Armed Forces as well as the armed forces of countries such as Australia, Canada, India, and Saudi Arabia.
#5
Construction mechanic Matt Adams, a member of the Naval Mobile Construction Battalion (NMCB) 5, is seen traversing a mud-filled pit while participating in the endurance course at the Jungle Warfare Training Center (JETC) aboard Camp Gonsalves in Okinawa, Japan, on February 17.
#4
Pararescuemen from the 82nd Expeditionary Rescue Squadron prepare for a night jump from a C-130 Hercules over Grand Bara, Djibouti on March 20. The pararescuemen (or PJs) are the United States Air Force Special Operations Command (AFSOC) and Air Combat Command (ACC) operators tasked with recovery and medical treatment of personnel in humanitarian and combat environments.
#3
US Army paratroopers conduct an airborne operation from a C-130 Hercules in Pordenone, Italy, on December 12.
#2
Seen in this haunting image are army mortarmen deployed in support of Combined Joint Task Force Operation Inherent Resolve. They fired mortars near Al Tarab, Iraq during the offensive to liberate western Mosul from the grips of the terrorist group ISIS on March 19.
#1
Paratroopers conduct Hollywood jumps at Joint Base Elmendorf-Richardson in Alaska on July 27. They're known as Hollywood jumps because the paratroopers wear nothing but a parachute and a reserve. The other type of jump is the combat jump, where a soldier is fully equipped and loaded.
If you have any views or stories that you would like to share with us, drop us an email at writetous@meawwworld.com