17-year-old Texas school shooter sang "Another one bites the dust" every time he shot at a student
Student Kole Dixon told the New York Post Pagourtizis even had a "kamikaze song" playing on loudspeaker off his mobile phone (Source:Getty Images)
The teenager who carried out the horrifying school shooting in Texas reportedly sang "Another One Bites The Dust" each time he shot a student.
17-year-old Dimitris Pagourtzis burst into the art room of the Santa Fe High School with a shotgun, shouting "surprise!" on Friday morning. He went on to shoot eight innocent students and two teachers to death. He was equipped with an AR, a shotgun and pipe bombs, according to police.
In a conversation with the New York Post, student Kole Dixon said that Pagourtzis even had a "kamikaze song" blaring off the loudspeaker on his phone.
Dixon, who is a sophomore, said, "My friend Trent was in the classroom and said after Pagourtzis would shoot a student he would sing, 'Another one bites the dust."
"He also kept playing a kamikaze song over and over as loud as he could."
According to Dixon, the 17-year-old gunman had uploaded the same "kamikaze military anthem" on his YouTube page, which has now been removed.
Pagourtzis surrendered himself to cops after a short encounter in Santa Fe, Texas. He was immediately arrested.
He had intended on killing himself, following the pattern of recent mass shooters, but could not go through with it, according to local law enforcement.
The disturbed 17-year-old's family released a statement that read, "We are as shocked and confused as anyone else by these events that occurred."
"We are gratified by the public comments made by other Santa Fe High School students that show Dimitri as we know him, a smart, quiet, sweet boy."
"While we remain mostly in the dark about the specifics of yesterday's tragedy, what we have learned from media reports seems incompatible with the boy we love."
Among the victims are classmates Kim Vaughan, Chris Stone, Aaron Kyle McLeod, Christian Garcia, Shana Fisher, Sabina Sheikh, and Angelique Ramirez. Sheikh was an exchange student from Pakistan.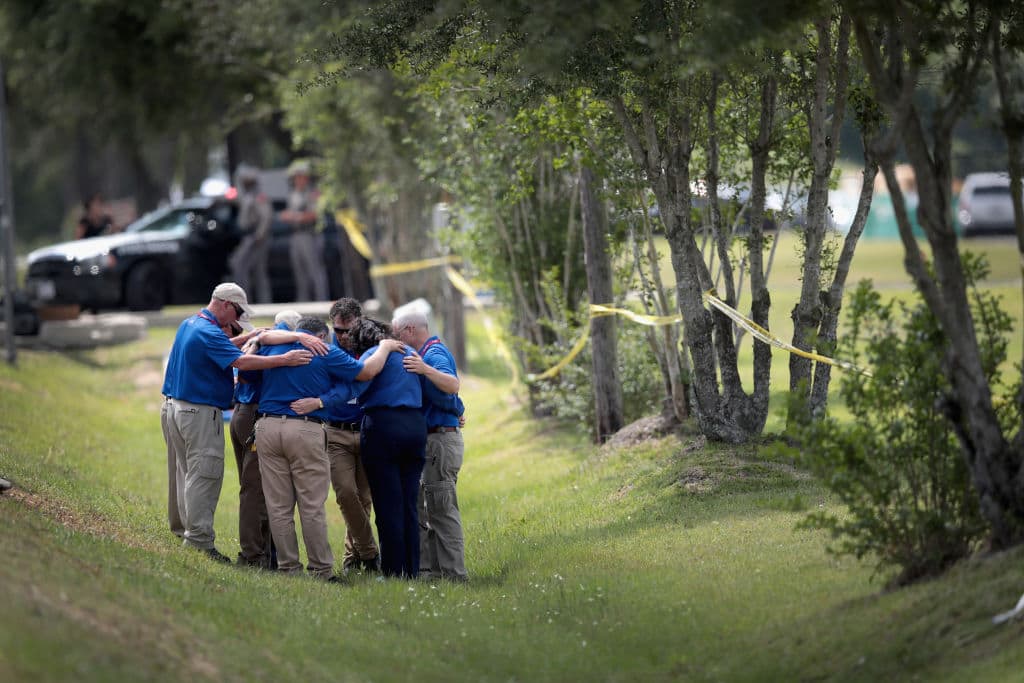 Among the wounded is 49-year-old John Barnes, a School district police officer who was shot in the arm.
In a shocking event, 16-year-old classmate Rome Shubert survived a bullet to the back of his head. The bullet allegedly traversed dangerously close to his brain, but the teenager needed only bandages and no further invasive surgery.
A now-stable Shubert told CNN, "I just feel lucky to be here.
"I just wish this didn't happen. This shouldn't happen to anybody in that school."
The news comes after the judge in Galveston, Texas, read the shooter his rights while the teenager skittishly looked down at his feet. According to a CCTV footage, he was denied bail while being shackled and wearing a green prison jumpsuit.
The judge then asked him if he was a United States citizen and asked him if he wanted a court-appointed lawyer. The assailant replies, mumbling to the judge, "Yes sir."
When asked whether if he was on bond for any other criminal offenses, he quietly replies, "No sir."
Allegedly, Pagourtzis posted bone-chilling pictures on his Instagram account before the act and also during the shootout.
According to reports, one image appears to have been posted during the massacre, showing a swat team officer approaching the building under siege.
The caption to the image which was captured from an upstairs window simply read "stop". Pagourtzis reportedly also posted a meme from the same account, which read "days since last mass shooting: 0".
The figure in the photo smiled and clapped his hands with pride as he donned a shirt emblazoned with the US flag.
"Another one bites the dust" the caption read while his profile bio said, "just trying to start a cult."
The suspected killer's Facebook and Instagram accounts reportedly featured a slew of racist, graphic images with petrifying captions, and have been suspended since the attack.
Texas Governor Greg Abbott said, "Not only did he want to commit the shooting, but he wanted to commit suicide after the shooting. He didn't have the courage to commit suicide."
The campus of the school, sitting 30 miles southeast of Houston, is still being considered an active crime scene, according to Sheriff Ed Gonzalez.
Secretary of Education Betsy DeVos has issued a statement, "My heart is heavy from watching the horrific events that unfolded at Santa Fe High School today. My prayers are with each student, parent, educator and first responder impacted."
"Our schools must be safe and nurturing environments for learning."
"No student should have to experience the trauma suffered by so many today and in similar events prior. We simply cannot allow this trend to continue."
US president Donald Trump claimed, "This has been going on too long in our country."
"Everyone must work together at every level of government to keep our children safe."
Deedra Van Ness, a mother of one of the students, recounted in a Facebook post on Friday night how her daughter Isabelle Laymnace hid a closet and evaded the attention of the shooter.
'Isabelle has called the police and is whispering into the phone. They tell her to stay quiet and that help is on the way,' she wrote.
'Then silence on the phone. They hear the gunman in the classroom next door yelling "Woo Hoo!" and firing more shots.
'The gunman then comes back into their room and they hear him saying, "Are you dead?"
Then more shots are fired. By this time, cell phones all over the classroom are ringing and he's taunting the kids in the closet asking them, "Do you think it's for you? Do you want to come answer it?"'
Pagourtzis resumed fire sending bullets across the wooden part of a door, killing a student instantly by hitting him in the chest.
According to AP, witnesses said that the gunman loitered for about 30 minutes in a space adjoining four different classrooms as he shot at the students and teachers.
Pagourtzis was a member of a dance squad with a local Greek Orthodox church and was also part of the school's junior varsity football team.
Investigating officers said that the shotgun and pistol used by Pagourtzis belonged to his father. However, it was unclear if his father knew that he had taken them.
Numerous reports claim that Pagourtzis was being bullied by his football coaches at the school.